Good morning from Jacksonville Beach!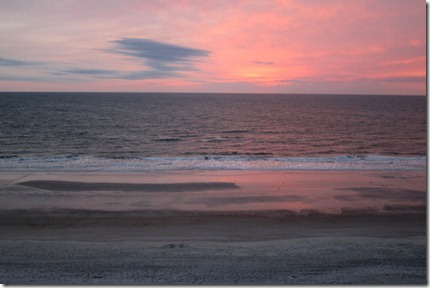 Late yesterday afternoon, I did my best to assemble everything I think I may need during our upcoming vacation.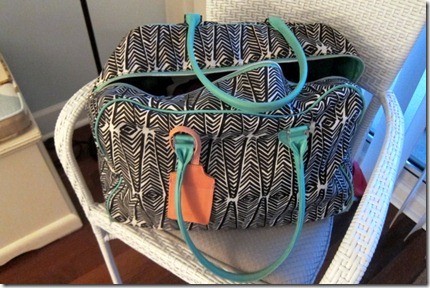 Packing is one of my least favorite activities, but it thankfully went by fairly quickly. I didn't have to worry about cramming everything I want to bring into a carryon suitcase like I did for my last trip to Europe, so the extra room made it easier to pack. (Just in case you're interested, here's a former blog post I did about What to Pack for a Trip to Europe when you do have to fit everything in a carryon.) 
Since I was all packed, last night, after a Junior League meeting, I decided to make the drive to my parents' place. My parents will be watching Sadie while we're away and I figured I could drop her off and spend an extra day in Jacksonville to help break up tomorrow's travel time.  I left Ocala a little after 8 p.m. and arrived in Jacksonville right around 10:30 p.m. My mom is in Raleigh at my aunt's house at the moment, so my dad and I enjoyed some father/daughter time until we couldn't keep our eyes open any longer.
I woke up at 5:55 a.m. thanks to a pup that had to pee and worked on setting up a few guest posts and giveaways for you guys while I am away next week. (I hope to pop in and blog from time-to-time as well, but soaking up Ireland and London will naturally take precedence. Woop!)
Ryan actually left for England on his work trip on Sunday night and I can't wait to join him! I will be leaving late tomorrow and arriving super-early on Friday. Let's hope I quickly adjust to the time change since Ryan has a decent head start on me!
Breakfast
Breakfast this morning came together fast because I wanted to have time to eat it while I worked on this blog post because I am hoping to make it to an 8:30 a.m. BodyPump class this morning!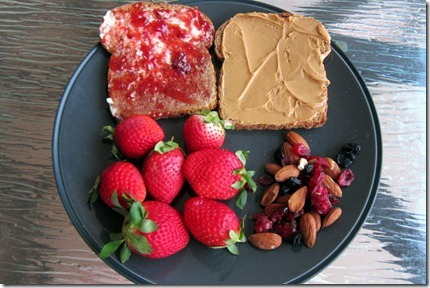 I toasted two pieces of Ezekiel bread and topped one with peanut butter and the other with a smear of butter and a bit of strawberry jelly.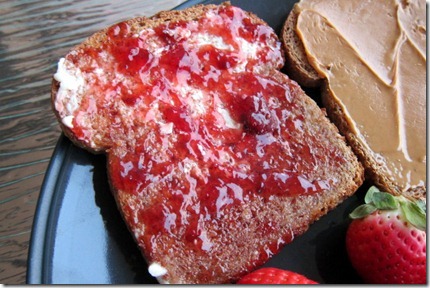 Plus fresh strawberries, dried fruit and almonds on the side.
Time to change for BodyPump! Best class everrr!