This morning I awoke to a swift kick in the stomach.
Allow me to paint you a little picture. The alarm went off at 5:05 a.m. and Ryan got out of bed first as he normally does and headed into the bathroom. I remained in bed, as I normally do, trying to soak up another five minutes of sleep. My sweet dog lay facing me, deep in sleep, breathing in and out, looking as innocent and adorable as ever.
And then it happened.
Three kicks in the gut courtesy of the nut job herself.
Her kicks were unintentional (I think), but they did the trick and got me moving.
I made sure to start my day by ridding Sadie's eyes of dog eye boogers to get her back and annoy her. I win!
Workout
My workout was less exciting than the ruckus that occurred in my bed this morning, but it was still a good one.
Ryan and I began by doing 20 minutes of cardio on the elliptical. We noticed, for the third day in a row, that our gym was blasting Britney Spears over the speakers. Though I love Britney, Ryan and I both said we'd like to hear a little more of our boy, Biebs. Never Say Never…
After peddling away on the elliptical, I headed into BodyPump and felt the burn for a good 50 minutes.
Post workout, I took the stomach-kicker on a walk around the lake near our apartment before heading home for breakfast.
Breakfast
All I am seeing on the local Orlando news (besides the Casey Anthony trial – crazy!!!) is "dangerously high temperatures." It was already close to 80 degrees when I took Sadie on a walk, which means that once the sun is really blazing it's going to be a scorcher.
The solution to beating the heat? One guess…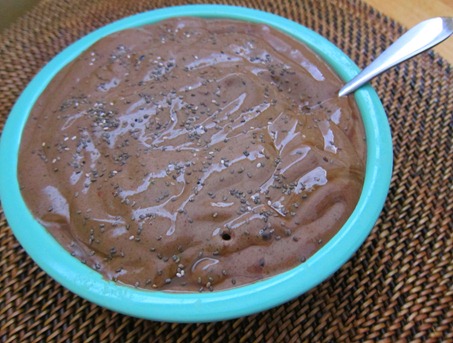 Oh yes, the smoothie bowl.
Chocolate Chia Seed Smoothie
1 1/2 c. almond milk
1 scoop chocolate protein powder
1 c. frozen strawberries
1/2 frozen banana
1 tbsp. cocoa powder
1 tsp. xanthan gum
1 tbsp. chia seeds (plus more for garnish)
1 large handful fresh spinach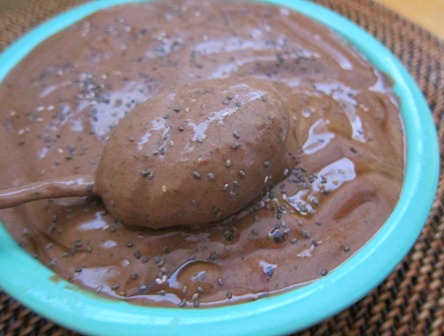 And now I'm actually a little chilly! It's amazing how food or drinks can totally heat you up or cool you down.
Time to set up a giveaway for this afternoon. I think it's one that will appeal to those of you who love fashion and fitness. See ya around lunchtime!
P.S. Ass grass is REAL! Proof that it happens to dogs other than Sadie may be seen on Gina's blog.