Today's volunteer story submitted by a PBF reader comes from my friend Megan!
Megan was my sorority sister at UCF and recently got engaged to her adorable fiancé, Aaron. The two of them are active volunteers with Tampa Bay Watch, an organization dedicated to the protection and restoration of the marine and wetland environments of the Tampa Bay estuary through scientific and educational programs.
You may learn more about Tampa Bay Watch by clicking the link below:
Megan's Story
I am a very happy and very proud St. Petersburg, Florida resident. Living in St. Pete has become a huge part of my identity. I love what this city has grown into and I can't wait to see the progress we will make in the future. Many of my reasons for loving this city so much revolve around the water and enjoying Tampa Bay.
From boating and kayaking to fishing or just strolling down a waterfront park, it's safe to say the bay gives us more than a handful of our weekend activities and is a huge part of our lives here. When my fiancé, Aaron, and I found an organization whose sole purpose was to give back to the environment we are so blessed to call home, we jumped at the chance to get involved.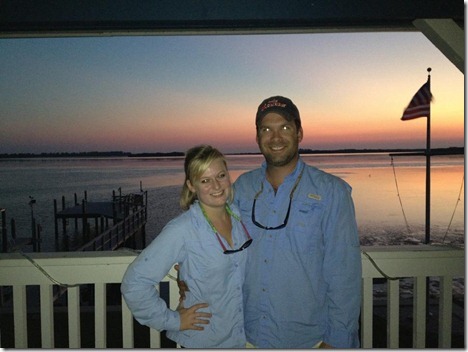 Aaron and I at Tampa Bay Watch on Tierra Verde, Florida (excuse the crazy eyes)
Tampa Bay Watch is a non-profit organization that was founded in 1993 to promote education, restoration and protection of the Tampa Bay Estuary. With the support of thousands of local volunteers, Tampa Bay Watch's programs generate measurable results and improve the quality of life for our community's inhabitants – plant, animal and human. Tampa Bay Watch relies on their volunteers to complete all of their habitat restoration projects. These projects are not only a great way to participate in a cause that is near and dear to our hearts but also give us a great chance to have a fun filled day in the bay.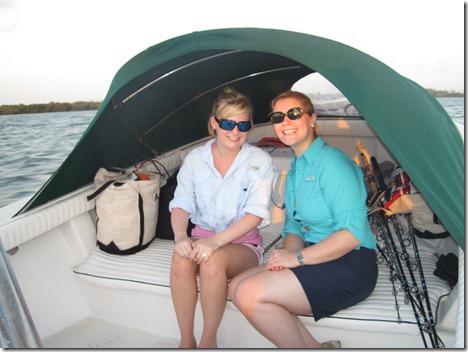 Heading out on the Bay for The Ed Alber Tarpon Rodeo
Some of the habitat restoration volunteer opportunities include Oyster Reef Enhancement, Salt Marsh Plantings, Coastal Cleanups, Sea Grass Transplanting and The Great Bay Scallop Search.
Aaron and I will be participating in an upcoming coastal clean up event with Tampa Bay Watch in partnership with 10News and Keep Pinellas Beautiful on Saturday, July 14, 2012 from 9 a.m. – 12 p.m.
These Coastal Clean up volunteer events help save countless numbers of wildlife from injury or death by removing marine debris and fishing line from bay beaches and bird nesting islands. This particular event is an effort to clean up after the Fourth of July holiday weekend. Any one in the Tampa Bay area who is interested in joining in can register at www.tampabaywacth.org.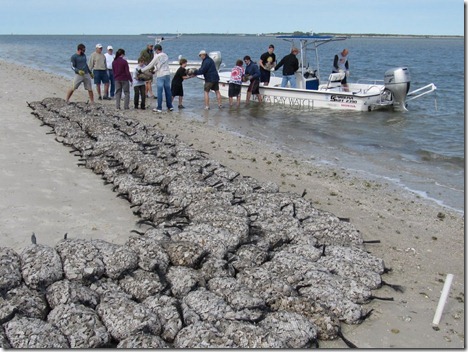 Tampa Bay Watch volunteers building an oyster bar
Other noteworthy projects Tampa Bay Watch has created include a partnership with the Tampa Bay Rays called Break a Bat Plant a Ball, which will support Tampa Bay Watch by funding the construction of an oyster dome when the first bat in every home game during the 2012 season is broken. The Ed Alber Tarpon Rodeo is their annual catch and release fishing tournament aimed at both fundraising for the organization as well as further research for Tarpon conservation.
Check out the great catch my fiancé nabbed at this past Tarpon Rodeo over Father's Day weekend.
My great catch's great catch 😉
After he caught the fish we collected a DNA specimen for the Tarpon Genetic Recapture Program. By just scraping the fish's jaw we were able to collect DNA that will help biologists determine survival rates, health, migration, and movement of individual fish within the fishery, this is just another step we can make to ensure that the Tampa Bay we know and love today will be here for our children and grandchildren to enjoy.
***
Additional reader volunteer stories: