The 26th annual Taste of Ocala was a delicious and highly filling extravaganza! The event takes place every spring and raises money for student scholarships for the College of Central Florida. It's always a blast!
I spent all day on Friday and Saturday helping with event set up (I've been on the planning committee for the past three years) and it was so great to see everything come together. After a quick dash home to shower and change on Saturday afternoon, Ryan and I drove back to the College of Central Florida to help again before the event began at 6:30 p.m.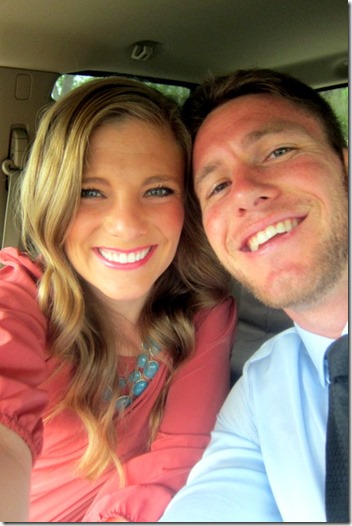 Local restaurants had their stations ready to go about 30 minutes before doors opened so the judges could come through and taste everything and make notes about presentation, flavor and creativity before ticket holders made their way inside.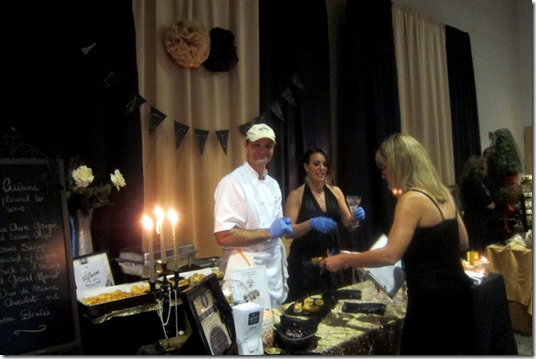 While the judges visited the restaurants inside, I headed out into the courtyard with Ryan to enjoy cocktail hour and mingle.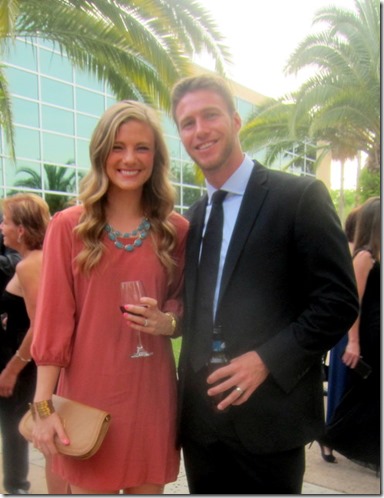 We lucked out with the weather on Saturday and enjoyed warm temperatures with a slight breeze. The intense heat hasn't quite hit Florida yet, but it will be here soon!
During our planning committee meetings, once we realized that the University of Florida had a decent chance of making the Final Four, we worked with the IT department at CF to make sure we could have televisions broadcasting the Final Four games since there are a billion University of Florida fans in Ocala. People seemed to appreciate this added touch and gathered around the TVs periodically to check the score.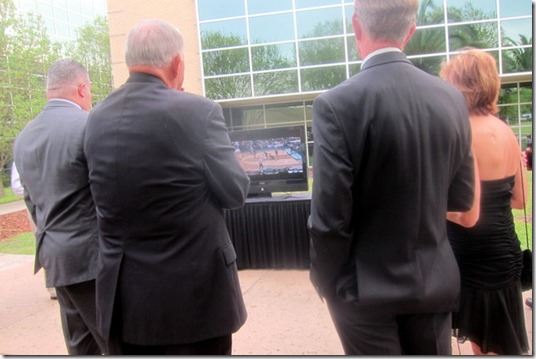 In addition to the games, once the doors opened, everyone enjoyed entertainment from a live band!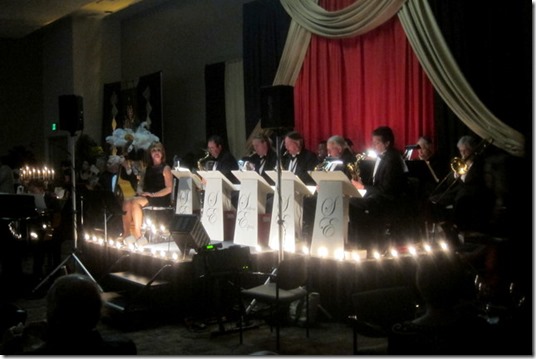 And then it was finally time to dig into all of the fabulous food!
Ryan and I immediately made a beeline for The Ivy House's table. I've heard great things about this restaurant for more than a year now, but since I've never been, I couldn't wait to sample their food.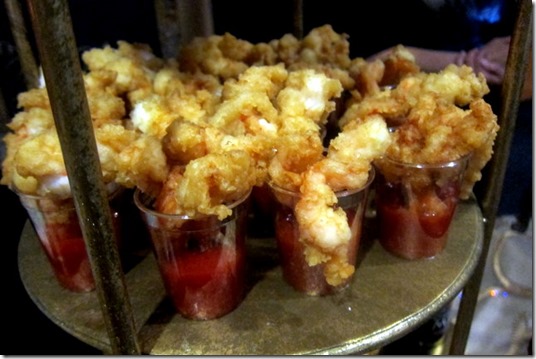 The fried shrimp was wonderful – nice and light for a restaurant specializing in indulgent southern fare – and the sample cups of their famous peanut butter pie had my name written all over it.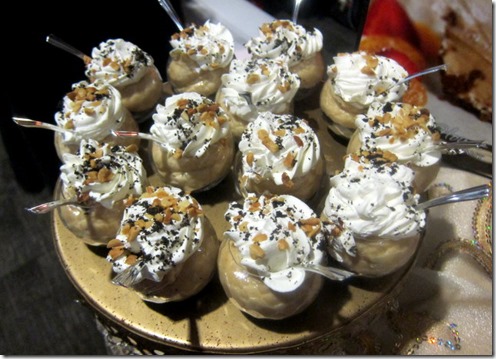 I ate one and loved every bite and came back for another one at the end of the evening which pushed me over the edge into "Thanksgiving full" territory. But sometimes a little peanut butter pie is worth it, right!?
Ryan and I made sure to sample a little bit of everything. There was no shortage of sweet treats, fresh salads, indulgent sides and flavorful entree samples.
These lobster rolls (featured below) from The Braised Onion were one of my favorite dishes. The tequila lime butter sauce and guacamole on the side took the crispy roll to another level. So good!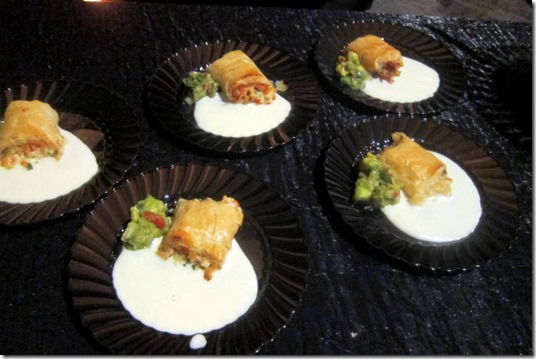 The kale salad from Latinos y Mas was another standout. After so many plates of buttery risotto and stick-to-your-ribs food, a crisp green salad was more than welcome!
Though sampling some of the best food in Ocala is obviously a huge draw for the attendees of the Taste of Ocala, one of my favorite aspects of the event is the opportunity to chat with local restaurant owners and chefs.
Smallcakes Cupcakery is new to Ocala and Ryan and I had fun getting to know the owner and gushing over her fluffy cupcakes. The peanut butter cup cupcake was my favorite but the vanilla sprinkle cupcake was a close runner up. A fantastic classic!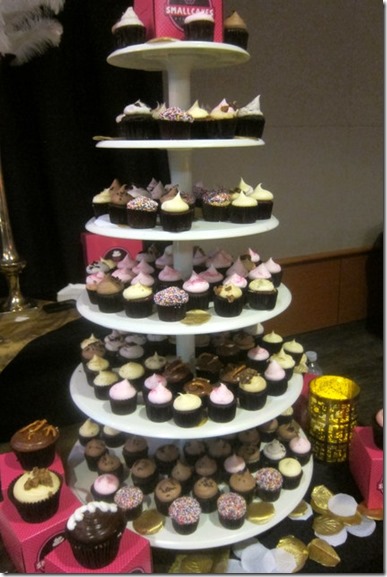 As we ate, we chatted with friends and a few of my coworkers from the gym who also came to the event. I had a feeling I knew which restaurant was going to take home the coveted People's Choice prize at the end of the night because whenever we asked anyone what their favorite dish was, the shrimp and grits from Eaton's Beach seemed to be on the top of everyone's mind.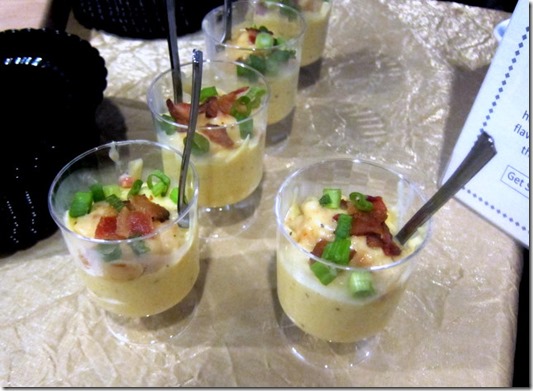 It was wonderful and the house pastrami they also passed out to guests helped them claim the prize during their first year at the Taste of Ocala.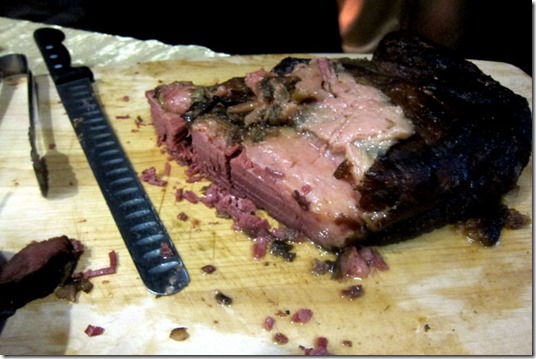 When I spoke with the owner, he said that he actually moved away from Tampa just to open the restaurant. He was so friendly and upbeat and I was thrilled for them when they won.
The event lasted until 10:30 p.m. and I had a wonderful time. Ryan and I left full and happy! It was definitely the highlight of our weekend!