I also have to take a moment to say thank you to those who have endured loss so much farther along in pregnancy or loss of an infant, baby, child, grandchild, niece,  nephew, brother or sister who still somehow found a place in your heart to reach out to me and express your sympathy, your support and your love. It honestly humbles me and seeing those whose grief, by comparison, should be much greater than mine take a step back from their own grief to share words of comfort with me makes me feel something I cannot describe in words. All I can possibly say is that I truly believe in my heart there are some incredibly proud little ones in heaven looking down upon you right now.
You all truly inspire me to try my very best to live a life that would make my babies — all of them — proud.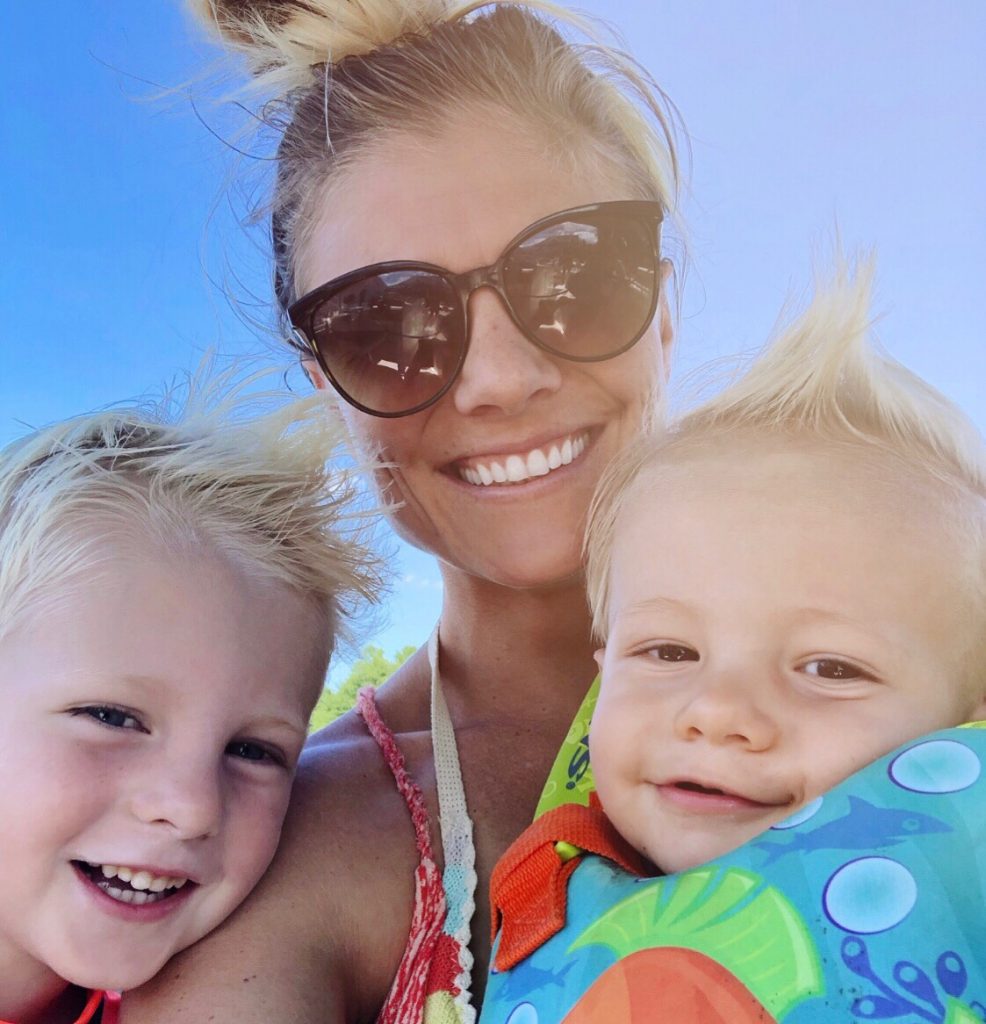 After I woke up this morning, I felt the urge to sit down at the computer and write again. It was a welcomed feeling, especially since I've felt mentally exhausted for the past two weeks and didn't want to think about blogging. My brain is still a bit foggy and my heart is still aching but something about Chase's first day of preschool yesterday helped restore a much-needed sense of normalcy in my life. The school year feels like a fresh start and while no part of me is ready to completely move on from our loss, I am ready to feel more than just an ache in my heart.
Writing about miscarriage is hard. It's draining yet incredibly therapeutic and helpful all at the same time. It's really mentally exhausting and after writing about miscarriage, I almost always feel similar to the way I feel after I've had a really good, long, exhausting cry. To be honest, sometimes it's easier not to write about it. Sometimes it's easier not to talk about it. You guys know I will continue to write about our loss and talk about it in this space as the feelings bubble up and I feel a need to share and release my emotions but I also want to have an outlet right now that allows me to feel like myself and focus on the good things in my life. And sometimes that outlet is as simple as sharing a glimpse into our day with you.
Back to School
Yesterday was Chase's first day of four-year-old preschool. To say he was excited to begin the school year is a serious understatement. He loves school with some serious intensity and I hope this never fades.
With the onset of the school year, I tried my best to establish a morning routine we can stick to most week days. I woke up early to check emails and do my morning devotional and then, once Chase was up, we read stories in his room and talked about the day ahead until Ryder was awake and it was breakfast time. The boys dug into yogurt and fresh berries while I ate an RXBar and packed Chase's lunch. We then headed outside for the obligatory first day of school pictures.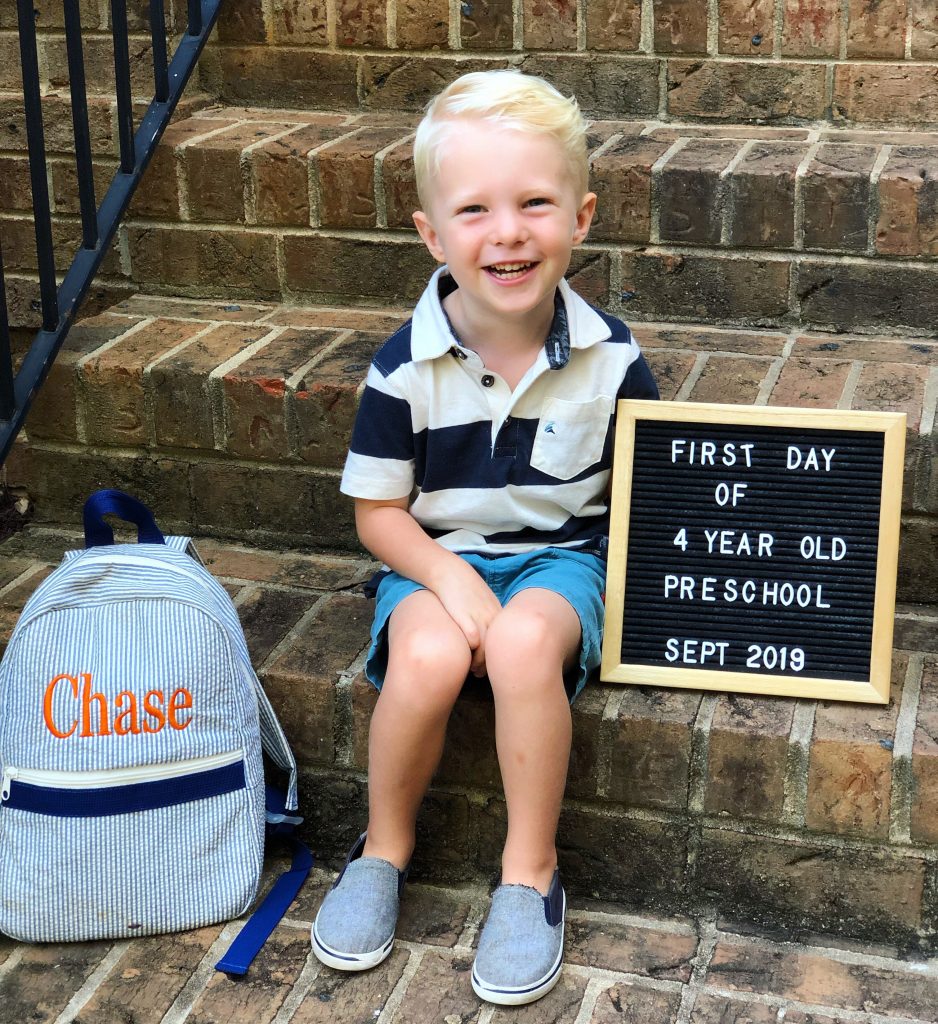 Chase was all about the photos this year (and even requested a little gel in his hair!) and I snapped away while I told him jokes. Telling Chase jokes or asking him to answer silly questions is the only way to get him to smile his "real smile" rather than his awkward four-year-old closed-mouth "picture smile" that looks more like he's in serious pain than feeling even a small sliver of happiness.
Once photos were done, we piled into my car and headed to preschool. Ryder and I walked Chase into his room — he was the first one there and sprinted inside! — and then headed off to Burn Boot Camp where I completed a leg day workout and Ryder played in childcare.
The workout was HARD but really, really good.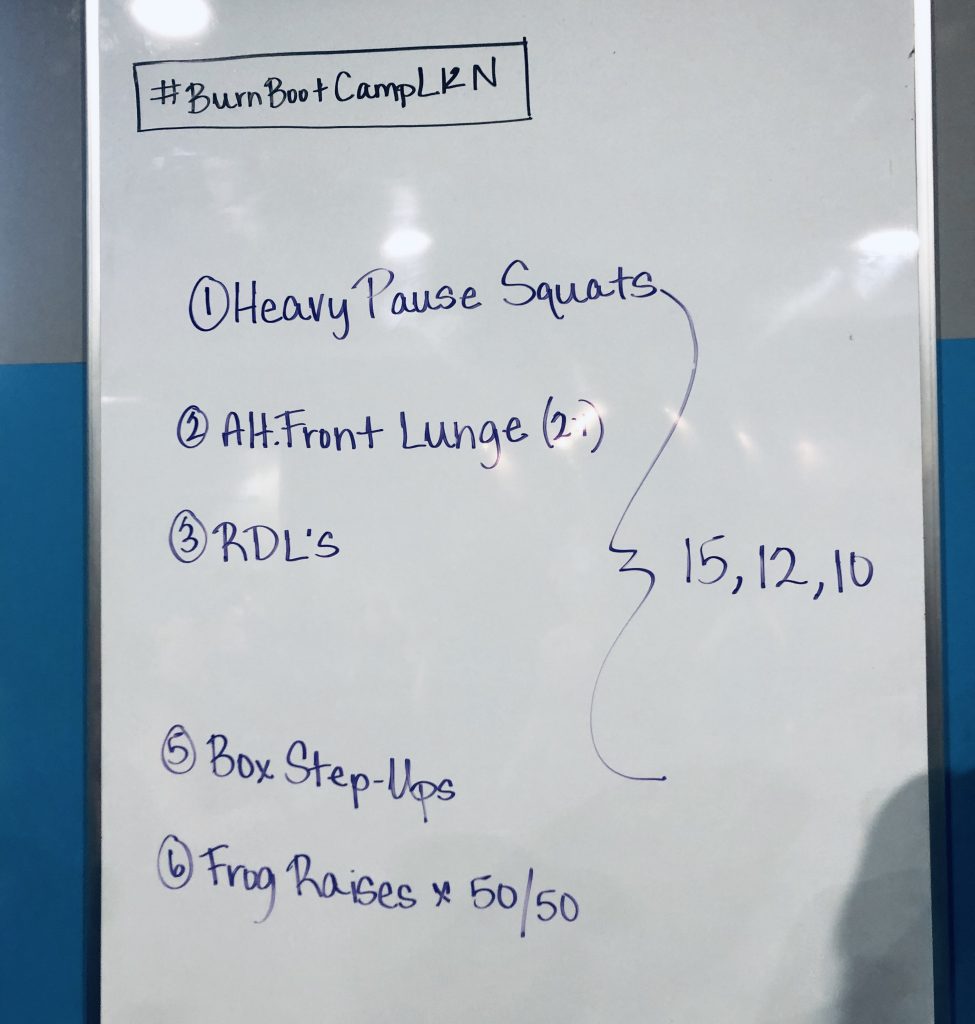 It gave me 45 minutes of "me time" and let me escape my thoughts and feel more like myself than I have in a while.
Once my workout was complete, I quickly scooped Ryder up from childcare and we headed off to his ISR lessons. We're on week four of lessons now and Ryder did his first unassisted float with Faith which was really cool to see!
After ISR, I brought Ryder home, settled him down for a nap and quickly made myself a bowl of three-minute egg white oatmeal with frozen wild blueberries stirred in.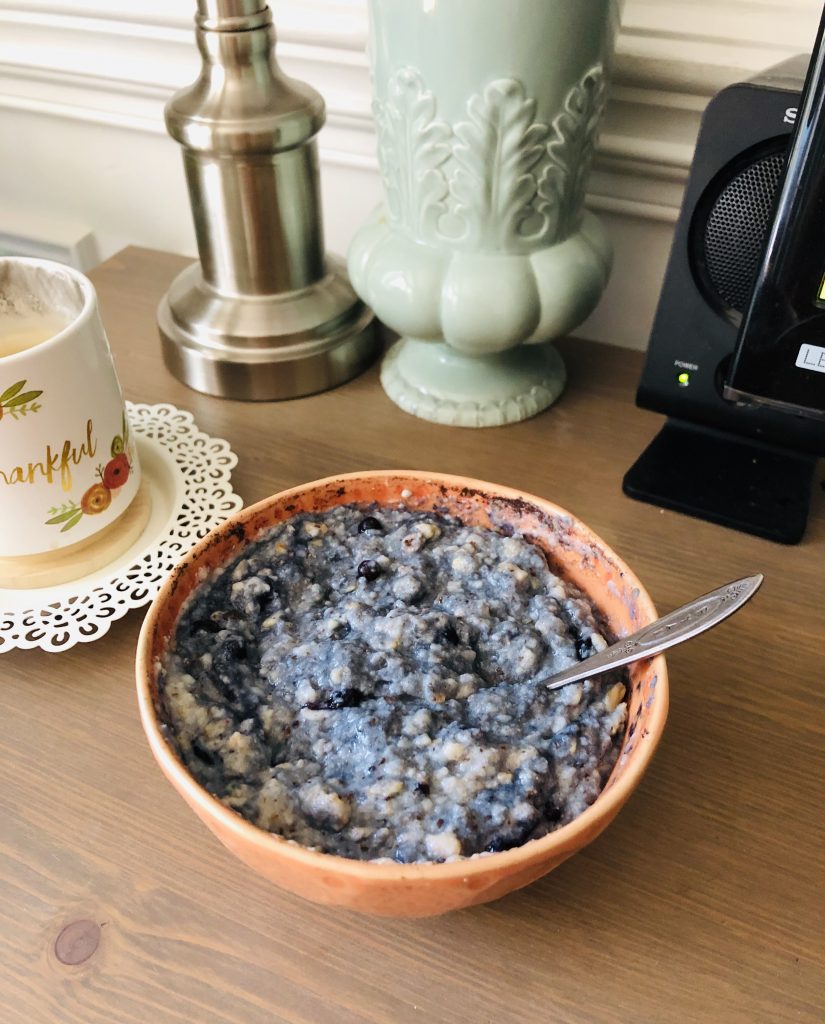 I ate my oats as I began typing up this blog post and then used the rest of Ryder's 90-minute nap to work on an upcoming campaign before grabbing a shower 15 minutes before it was time to pick Chase up from school. (Clearly it was a dry shampoo kind of day.) Ryder was already tossing and turning in his crib before I went in his room which was great since last year I always had to wake him up for pickup (so painful) and he seemed happy when he got to enjoy some park playtime at the playground outside of Chase's school with the big kids!
Afternoon
Once we made it home, I made the boys smoothies and while they sipped their smoothies, I dug into some leftover salad.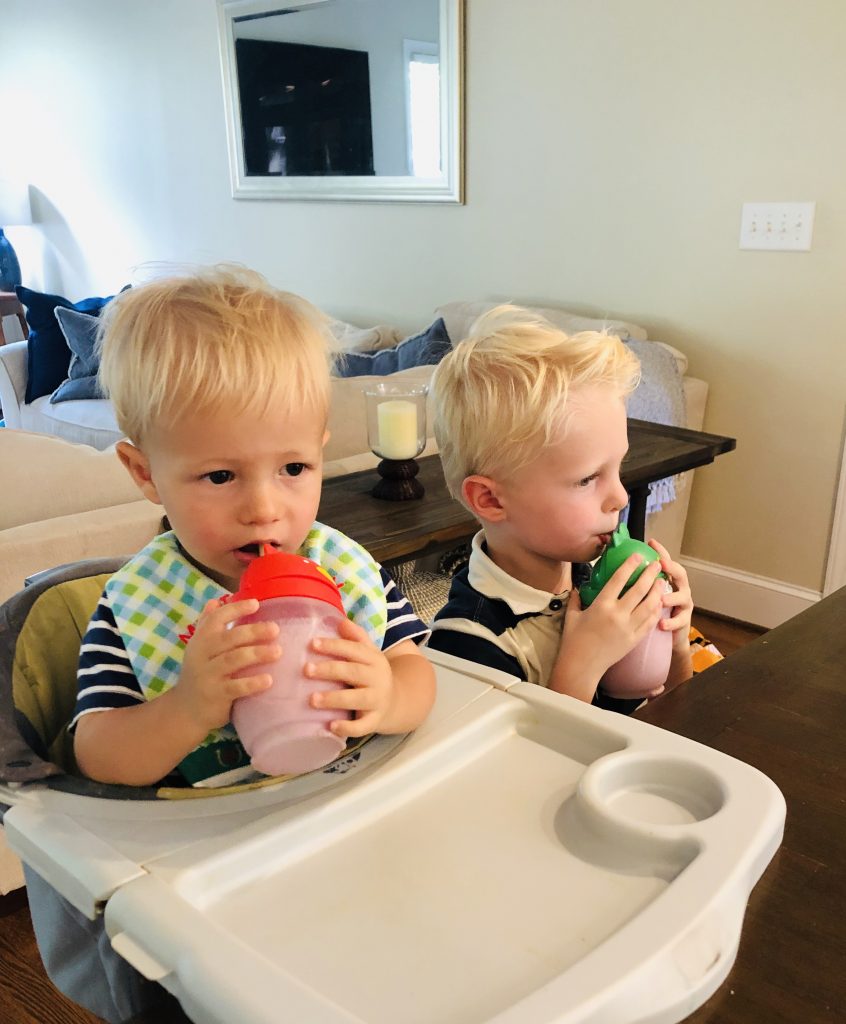 We had friends in town over Labor Day weekend and did a lot of cooking at home and so leftovers are carrying us through the first part of the week. My lunchtime salad was another Ina Garten slam dunk: Charlie Bird's Farro Salad! With so many different flavors and textures, this salad is a big-time winner.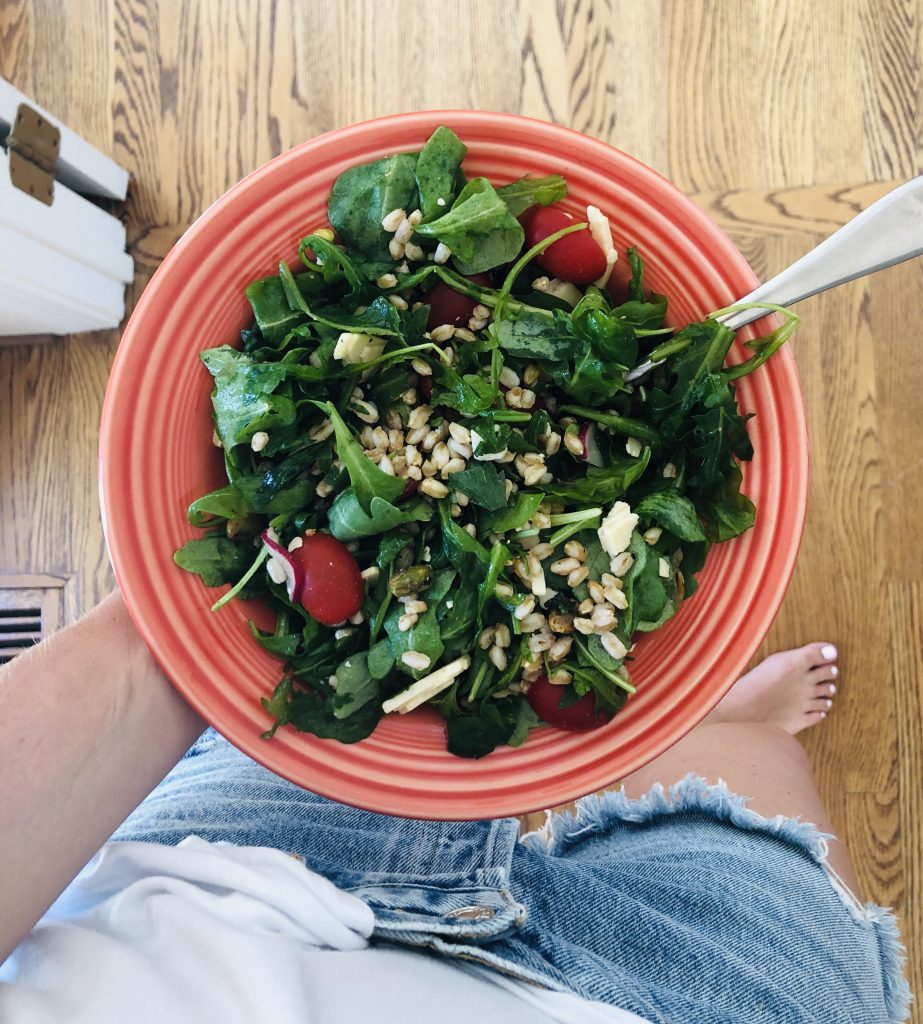 The boys and I had about an hour to kill at home and spent it outside playing fetch with Sadie before it was time for Chase's ISR lesson. Our schedule is kind of nuts right now since Chase's school just started and we still have another week of ISR for him. Typically the boys have back-to-back lessons but since their original ISR time conflicted with preschool, Chase has to go at 3 p.m. for a week or so until he's done. (ISR lessons are every week day for 4-6 weeks.)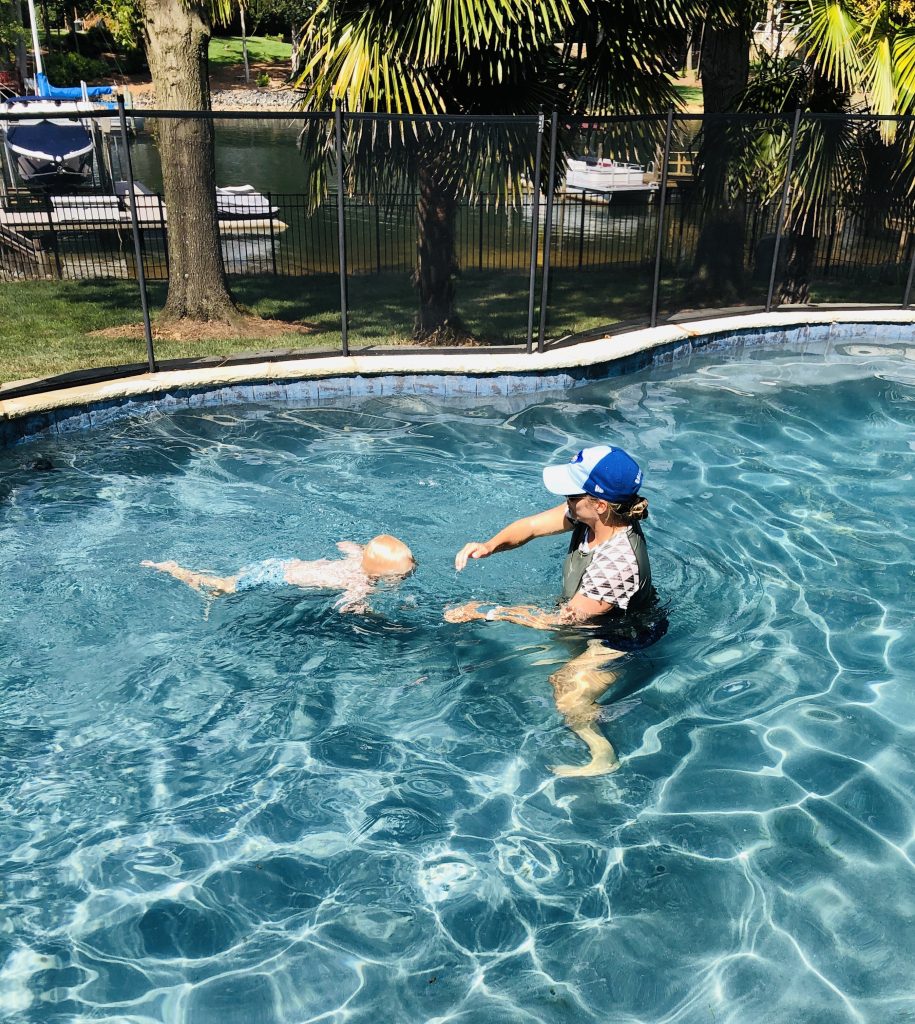 Chase did great at his lesson and we were home about 45 minutes later — just in time for a brief afternoon cat nap for Ryder. (Chase is down to two-ish naps a week now and it was a no-nap day for Chase.) As Ryder slept, Chase and I met up with a painter for a quote on our screened-in porch and then I tackled laundry that piled up over the weekend while Chase played in the blanket fort we made and took play breaks every once in a while to "help" me.
Evening
Once Ryder was awake and Ryan was home from work, we were ready to eat and dig into a hodgepodge of weekend leftovers for dinner.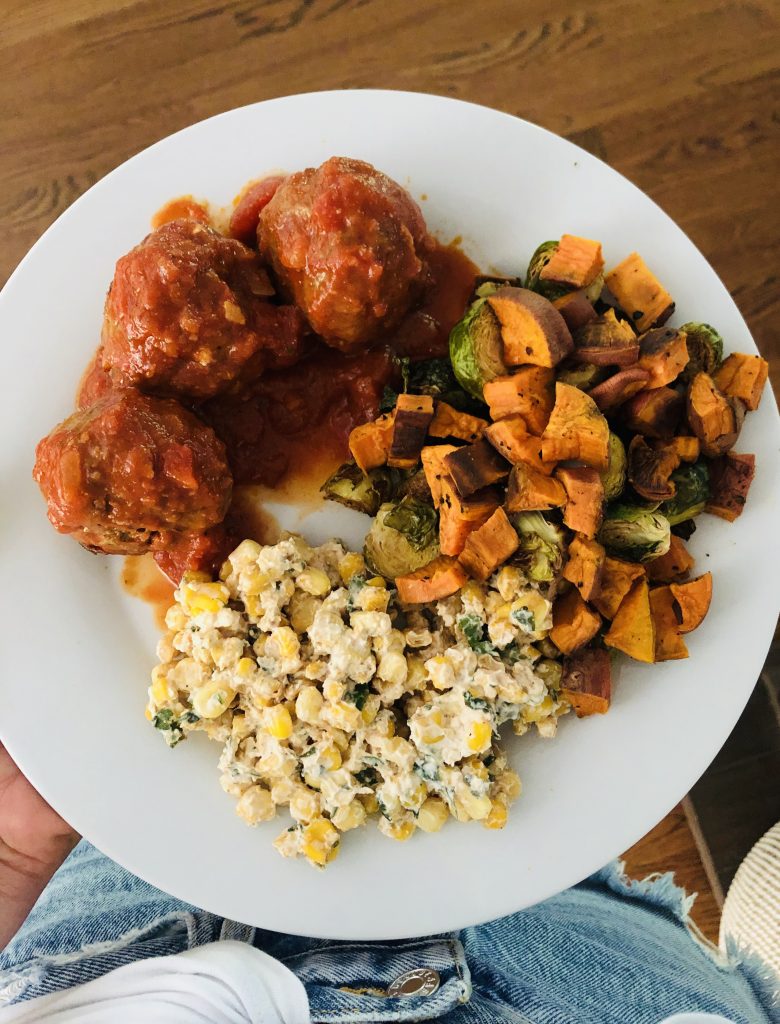 On my plate: Leftover meatballs (homemade by our friend Pete who make the BEST Italian food!), a mix of roasted sweet potatoes and Brussels sprouts and a creamy chili-lime corn salad. It was quite the random assortment of conflicting cuisines but it was all delicious.

We played at the house, did the whole bath time routine (which included a bath scrub-down thanks to Ryder's affinity for pooping in the tub) and then managed to get both boys in bed by 7:30 p.m. Ryan and I were both exhausted by the end of the day — we're blaming a very full holiday weekend — and I read for about 30 minutes before my eyes would no longer stay open. I was on the lookout for an easy, breezy beach read (aka nothing overly emotional or heavy) and so far Summer of '69 by Elin Hilderbrand is fitting the bill.

As for the week ahead, Chase has preschool through Thursday, ISR will still be taking over our lives and I have an ob/gyn appointment on the calendar to make sure everything is looking okay.

I hope you all have a good Wednesday and a wonderful rest of the week! And for any teacher friends reading this post out there, please take a minute to read this caption and know how much you are appreciated. I am so incredibly thankful for the teachers out there who pour so much knowledge, time, energy, and love into not only teaching our children but caring for them every day as well. The work you do is incredible and, like Lindsay says in her caption, truly changing lives, our communities and our world. Thank you.

Hi friends. There is no other way I can begin today's blog post other than with a heartfelt thank you. Thank you for your prayers, your kindness, your support, your personal stories and your love. You guys have no idea how much you help give me strength. I was in tears reading your comments and your emails and was, yet again, blown away by all that so many of you have endured. Whatever seeds of doubt I felt in my heart that made me consider keeping something like this private faded away immediately when I read your comments. I hate that blogging about the losses we've experienced have resonated with so many of you and I hate that this is something that connects so many of us but I am also incredibly grateful for the wisdom, support and strength I receive from your stories.