Good morning! I hope you had a wonderful weekend and were able to catch up on sleep and spend quality time with loved ones.
I enjoyed a laid back weekend with Ryan and Sadie and managed to get some work done yesterday which wasn't super fun, but I feel good going into the workweek, so that's a nice benefit!
Sadie Update
Though we haven't heard back from the vet with the results of the biopsies of the lumps Sadie had removed last week, in the shocker of all shockers, someone doesn't seem to mind her cone… at all.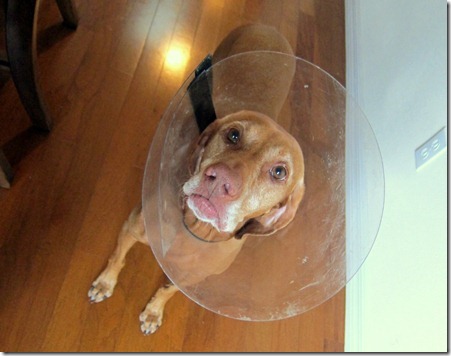 It's the strangest thing and totally unanticipated.
I assumed she'd detest the cone, but she seems rather oblivious to the giant martini glass surrounding her face. We took it off of her a few times this weekend when we were around to supervise her and she didn't fight us at all when we put it back on.
Maybe she thinks it's some kind of a costume or an outfit. She seems to love wearing clothes, so I guess it kind of makes sense? Kind of?
Such a goofball.
Workout
Today's workout began with an interval workout on the elliptical (similar to this one but with shorter intervals) before it was time to kick off Phase Four of Tina's Best Body Boot Camp! (Just FYI, registration for Tina's fourth round of BBBC is now open. The fourth round begins on January 7.)
Today's workout targeted my upper body and was seriously tough, but in a very good way. I loved it! The workout incorporated tabata weight training which had me feelin' the burn. (You can read more about tabata weight training on Tina's blog.) While I've done tabata workouts before, they've focused solely on cardio, so this type of strength training was new to me and I'm a fan.
Breakfast
Breakfast this morning was a no-brainer thanks to some prep work last night.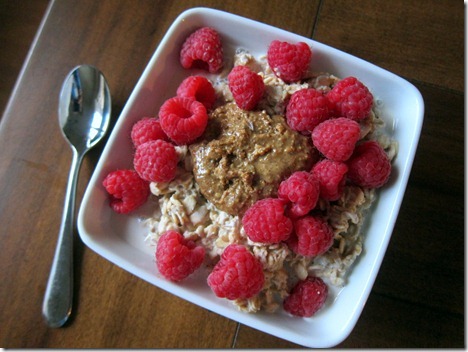 I topped a bowl of overnight oats with almond butter and fresh raspberries.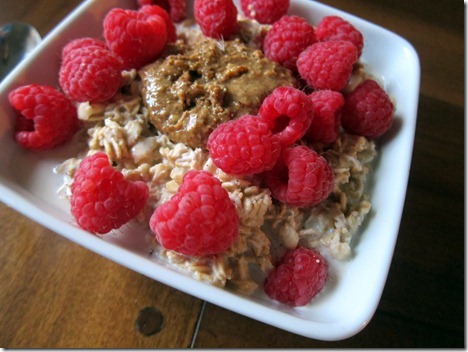 Nice and filling!
I hope your Monday is a good one!
Harry & David Gift Basket Giveaway Winner
Congratulations to…
Molly C.: "Wow, what a beautiful gift basket. I think the chocolate cherries and of course the pears sound amazing, but I want to send this to my mom; it's hard to find a gift that's amazing enough for her because she's such a wonderful person (and never asks for anything!)… this would be great!"
Please email me at pbfingers@gmail.com with the mailing address where you'd like the gift basket sent and we'll send it out ASAP! Congrats!