And just like that, another weekend is here! This week passed by in a blur of appointments, commitments and to-dos and now it's FRIDAY. Woop!
Thank you all for your sweet words about Sadie on Wednesday's blog post. She's handling her little bootie like a champ and we should be able to get it off today.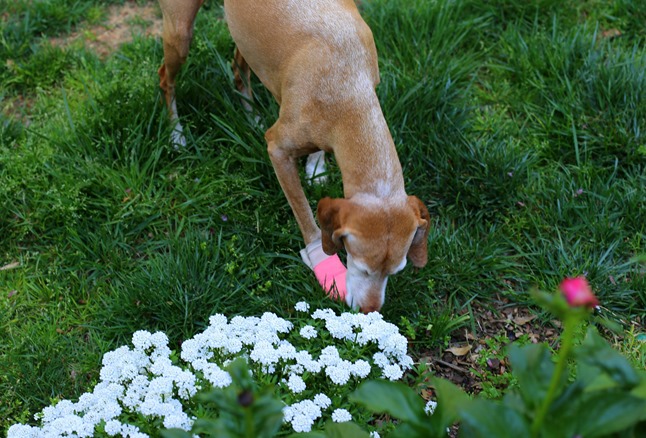 Here's hoping her limp is gone soon and that she'll be cleared for plenty of walks in the beautiful spring sunshine!

MY LATEST VIDEOS
Now let's dive right into our usual Friday shenanigans, shall we? Below you will find a short roundup of a few things that are making me smile this week. As always, I'd love for you guys to join in and tell me about something you're loving right now in the comments section.
Have a fantastic weekend!
Things I'm Loving Friday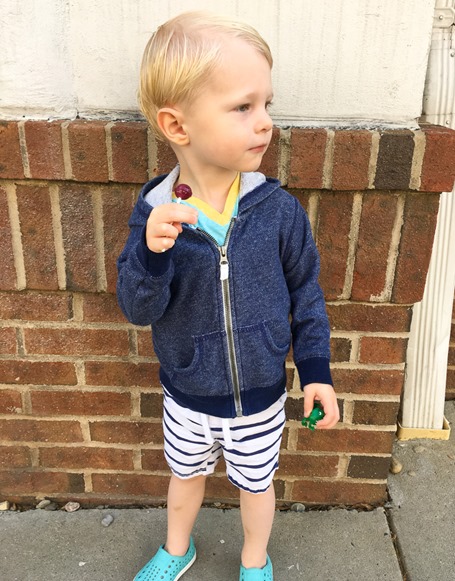 Chase has his preschool class pictures on Monday so we headed off to Snip-Its to get his haircut yesterday morning. I'm not sure what it is about toddler haircuts but whenever a toddler gets their haircut, I think it's just the cutest thing. They look so grown up and fancy! Maybe it's because Chase is often running around like crazy and his hair is usually a disheveled mess, but when I look at his perfectly trimmed and combed hair after a haircut my mama heart melts. I swear he always leaves Snip-Its looking so grown up and at least a full year older.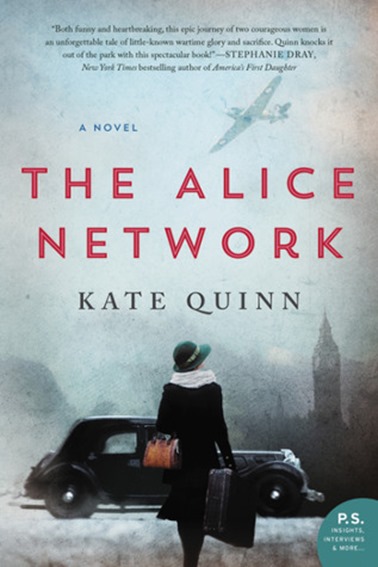 The Alice Network was easily one of my favorite reads of the year so far. It hops back and forth between 1915 and 1947 and follows the lives of Eve Gardinier, a bright but unassuming woman recruited to be a spy during World War 1, and Charlie St. Clair, a pregnant college student holding onto hope that her beloved cousin Rose, who disappeared from Nazi-occupied France during World War II, might still be alive. The writing is fantastic and the story moves along quickly with plenty of intrigue, as the lives of Charlie and Eve collide and troubled pasts and secrets are revealed. While this novel is historical fiction, The Alice Network was very real and I was fascinated to learn more about the lives of women spies and their incredible bravery during World War I.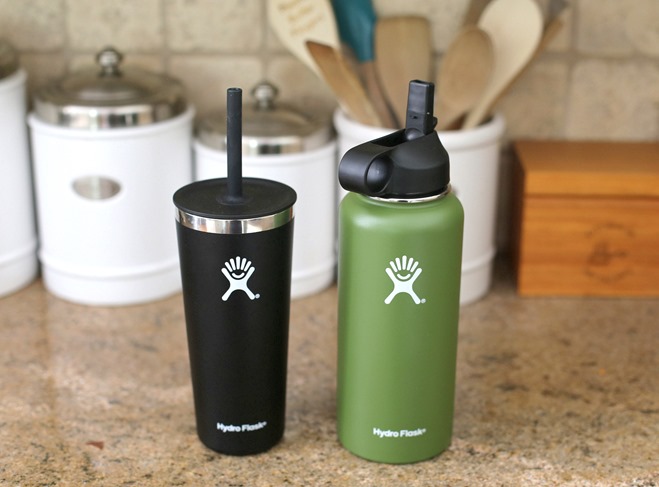 Now that I've discovered cups and water bottles that keep my liquids cold (or hot!) for a long period of time, there's no turning back. The PR team behind Hydro Flask recently reached out to me about their insulated water bottles and tumblers and since I feel like I cannot go to Burn Boot Camp these day without seeing the Hydro Flask logo on at least four or five different water bottles, I had a feeling I was going to become an instant fan. I have nothing but great things to say about the 22-ounce tumbler (I use this one on an almost-daily basis with the tumbler straw and lid) and the 32-ounce wide-mouth water bottle which is ideal for use on days when I know I'm not going to have the chance to refill my water bottle for several hours. Since I'm on a bit of a coffee hiatus at the moment, I've only used the tumbler and water bottle for water, but love the way they both keep my water cold for hours and hours. Plus, I'm a sucker for anything olive, so I'm a little partial to the army green color of my water bottle, too!
High Road Cinnamon Crumble Ice Cream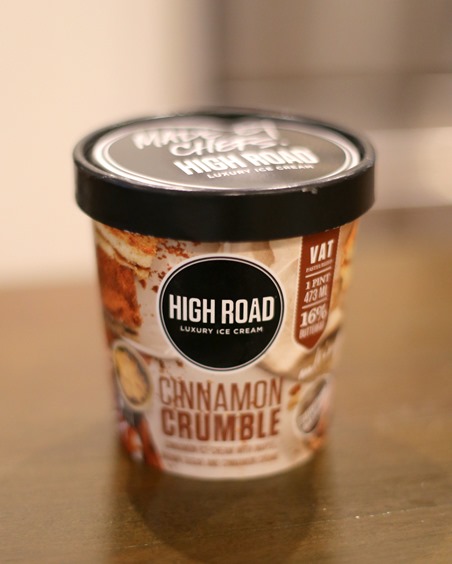 I've had a soft spot in my heart for cinnamon ice cream ever since I discovered the now-retired Ben & Jerry's flavor Oatmeal Cookie Chunk. (Still bitter about that "retirement," by the way.) When I saw this High Road Cinnamon Crumble ice cream at Publix over the weekend, I knew I had to give it a try. The base is a creamy cinnamon ice cream laced with a maple brown sugar swirl and pieces of cinnamon streusel. It's rich and creamy and a cinnamon ice cream lovers dream. They knocked the flavor of this one out of the park and now I am on a mission to try more High Road ice cream flavors. A pregnant woman must have goals, right!?
Coffee and Kettlebells Podcast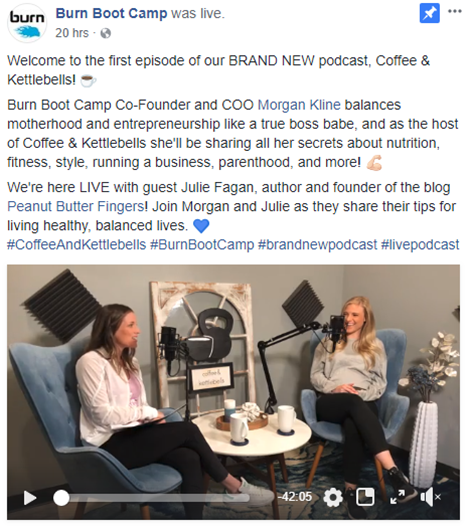 On Wednesday morning, I headed off to the Burn Boot Camp headquarters to chat with Burn Boot Camp Co-Founder Morgan Kline on her brand new podcast, Coffee and Kettlebells! We had a lot of fun discussing everything from finding time for fitness, balancing a healthy lifestyle with motherhood and more. If you'd like to check it out, you can see a recording of the Facebook Live video on Burn Boot Camp's Facebook page! (I'll also be sure to share a link to the podcast when it's available to listen to on iTunes, Spotify, etc.) Morgan was such a great podcast host and I swear you'd never know this was her first podcast episode. Thanks so much for having me, Morgan!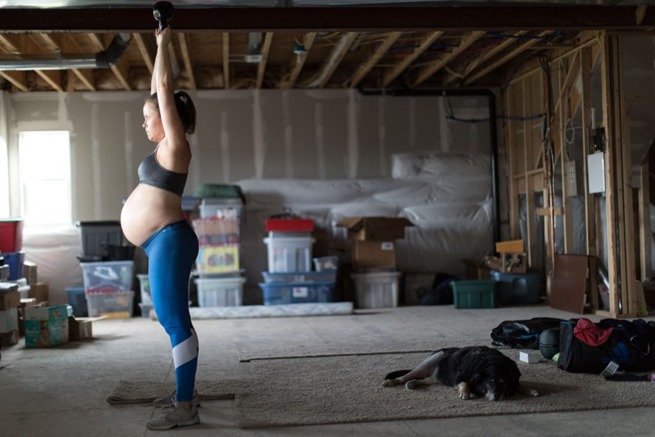 Last week I stumbled upon a blog post written by my friend Heather, the author of the blog Just A Colorado Gal. I've had the pleasure of meeting Heather a few times through the blog world and always found her to be incredibly genuine and open. Her vulnerability and honesty come across perfectly in the way she details her feelings about her body changes during pregnancy and the feelings she's currently experiencing related to her postpartum body. Her blog post is worth a read, whether you struggle with postpartum body image or just want to read a truthful take on what it's like for some women who don't find body changes, pregnancy weight gain and postpartum weight loss to be a total breeze.
I didn't lose the weight I gained after I gave birth to Chase until he was over nine months old and I remember feeling insecure at times when I'd see other postpartum moms posting pictures of themselves with abs and toned arms so soon after delivery. It wasn't my reality (nor was it my focus) and sometimes I think social media can make us feel inadequate when we don't "bounce back" 2.5 seconds after we have a baby even though that's just not realistic for most women.
Do Anywhere Workout (I did this workout earlier this week and absolutely love it! To complete the workout, begin by completing 16 repetitions of each exercise before beginning at the top and completing 14 reps, 12 reps, 10 reps … decreasing the reps by two until you reach your final round of 2 reps per exercise.)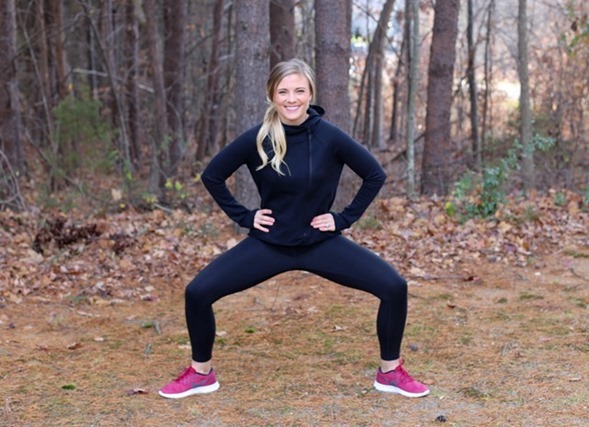 Greek Yogurt Whole Wheat Muffins (A healthy toddler-approved recipe)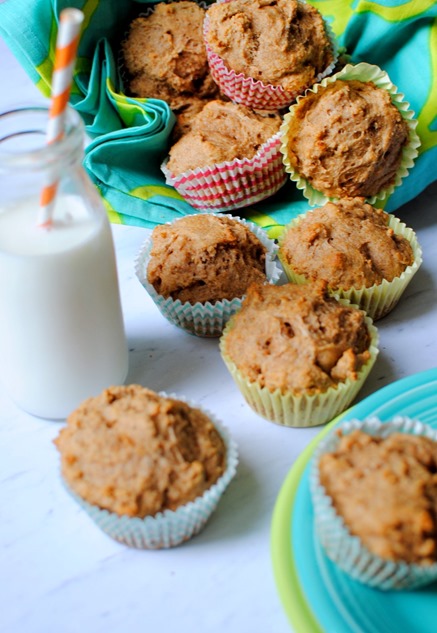 Question of the Day
What is one thing you are loving this week?