everything
to do with the extra energy I felt in the room. I'll take it!
I am feeling rather chipper because Ryan and I have plans to head to Raleigh this weekend and while we're there, we'll be seeing my aunt, uncle, cousins and grandma! Family fun!
But before I get too ahead of myself, let's dive into our usual Friday post.
This weekly Things I'm Loving Friday blog post is my favorite post of the week to write because chatting about the things we all love is so darn fun and uplifting. Thanks so much to all of you for participating in the comments section and sharing a little bit about something that's making you smile. I love reading them!
Things I'm Loving Friday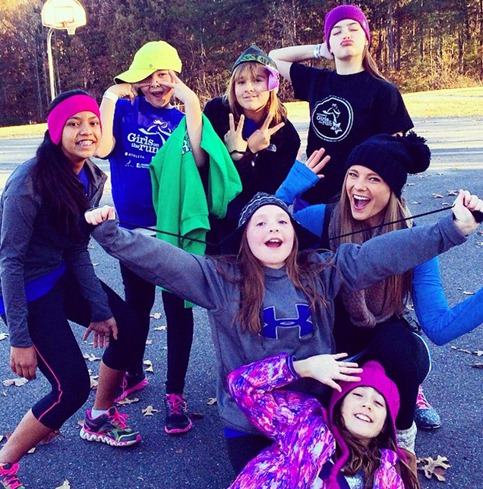 I have to work hard not to include Girls On The Run in every Friday post, but I just had to mention it today! I left yesterday's practice 5K feeling so incredibly proud of our girls! They did so well and are more than ready for race day on December 13. (If you happen to be local, you can run, too!! The race is taking place at Catawaba College in Salisbury and is open to everyone. Come run with us!) Also, the goody bags I put together were a HUGE hit yesterday. I am still incredibly grateful for the generosity of Columbia, Reebok and Fabletics. The girls were so, so excited! Also, I am planning to do a big comprehensive post about my GOTR experience once this season ends, so if you're interested in volunteering with the organization, stay tuned.
Whole Foods Carrot & Ginger Dressing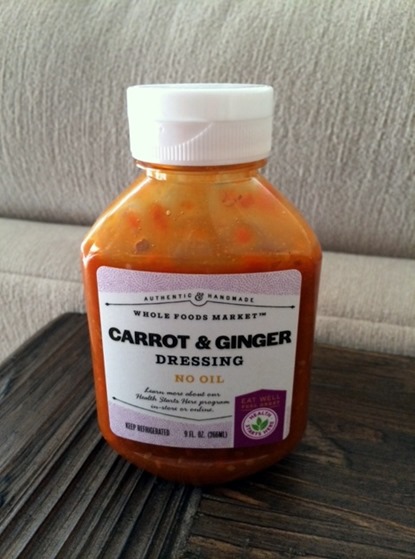 I am always tempted to try new salad dressings but I hate buying a bottle only to taste it and hate it. Such a waste! I apprehensively bought a bottle of Whole Foods carrot and ginger dressing which caught my eye because it featured their Health Starts Here logo, meaning it's nutrient dense and made with whole foods. I am happy to report that it is awesome. It reminds me a lot of the ginger salad dressings I've enjoyed at some of my favorite sushi restaurants.
This Ridiculous(ly Awesome) Sweater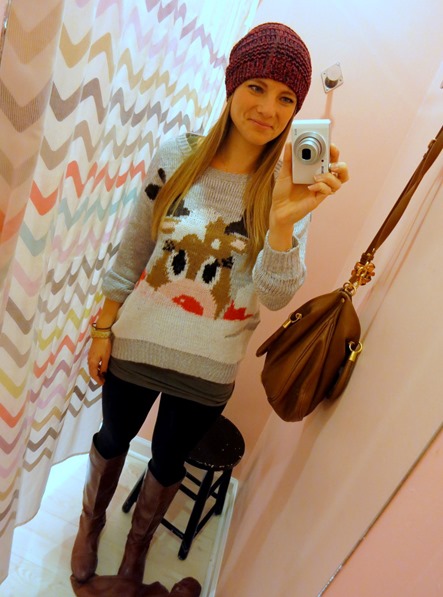 No, I didn't end up buying it, but I do think it's all kinds of awesome. I stumbled upon this sweater at a local boutique (Julie's Boutique in Birkdale for locals!) when I was out with my sister last weekend and am kind of regretting not adding it to my winter sweater collection…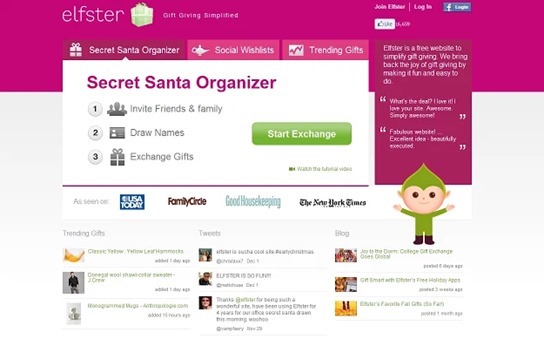 The holiday season is upon us and if you're anything like me, you get a little too into shopping for holiday gifts for loved ones. Well, rather than buy a bunch of individual gifts, my friends and I opt to do a Secret Santa gift exchange which is obviously more affordable but adds an element of mystery and fun to the holidays, too! Every year, I use Elfster to set it up because it allows me to add everyone to the group and randomly draws names for me without telling me who drew whom. It's great and totally free. You can also have multiple exchanges going on at once like I do and it never gets confusing because everything is very organized. I highly recommend it for anyone interested in setting up a Secret Santa gift exchange this year.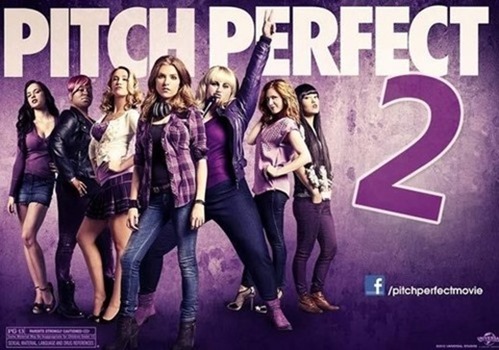 I AM SO EXCITED for this movie! If you've been reading this blog for a while, you've probably picked up on my intense love for a cappella music. Naturally a movie that centers around a cappella music is going to be one I love and I thought the original Pitch Perfect was terrific. I immediately watched the trailer for the sequel when it debuted this week and I cannot wait for it to arrive in theatres!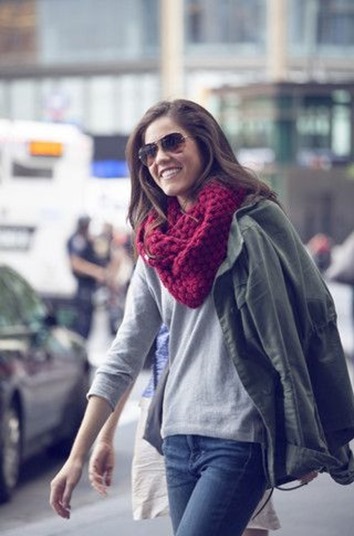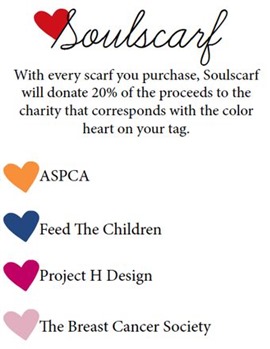 Soulscarf scarves will be featured in my annual Gifts That Give Back gift guide, but I couldn't wait until that comes out to mention them! These gorgeous and oh-so-cozy scarves first caught my eye at my local Pure Barre studio. When I found out that they give 20 percent of the proceeds from the sales of their scarves back to the charity that corresponds with the color heart on each scarf, I fell even more in love with them! The cranberry infinity scarf (pictured above) is my favorite, but they have a bunch of beautiful colors available including teal, black, cream, gray and more.
Okay, okay, I finally caved. I bought a pair of lululemon Wunder Unders. And I get the hype. They are ridiculously flattering and comfortable and I bought a pair that are reversible to help *kind of* justify the cost. (Very thankful for the trainer discount! FYI, if you are a trainer/group exercise instructor, you get 15% off lululemon apparel all day every day.)  And yes, I definitely did bend over in the dressing room to make sure they weren't see through before I bought them! While I was there, I also couldn't help buy eye some of their adorable winter clothing and quickly fell in love with this studio jacket, this yoga jacket and this running vest. Please, lululemon, just take all of my money. 
One guy shares his experience after he took Pure Barre with his fiance and it is hysterical. Thanks so much to a bunch of you for sharing this one with me. I passed it along to my local studio and shared it with my barre buddies and it had us all cracking up!
Congratulations to Rebecca, the winner of the Starbucks/American Express giveaway and Kristin, the winner of the three-minute snacks giveaway! Both winners were selected and emailed first thing this morning.
Question of the Morning
What is one thing that is making you smile this week?
It's Friiiiday! Woohoo! People were particularly peppy at this morning's Pure Barre class and I'm pretty sure the fact that it is Friday has