Check out this morning's breakfast!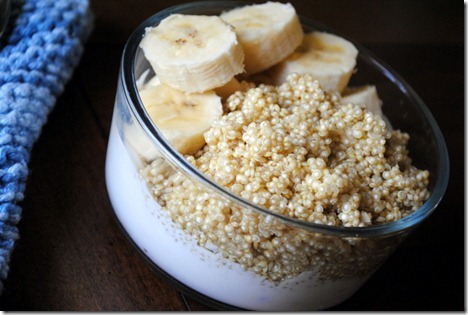 Right now you're only three ingredients away from a fantastic morning meal!
Last night I cooked up a batch of quinoa to have on had throughout the week. This morning I topped a cup of Chobani strawberry banana Greek yogurt with the cold quinoa and a sliced banana for a creamy quinoa breakfast bowl.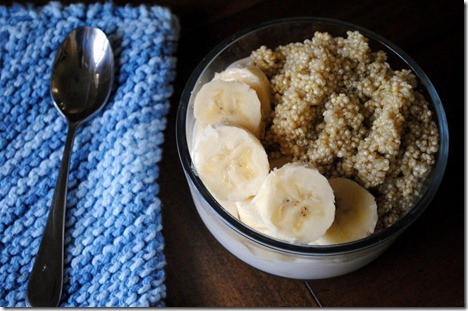 It was such an easy breakfast to throw together and I loved all the different textures and flavors. Though I probably prefer my barley breakfast bowls to this quinoa breakfast bowl, both are tasty and fun to eat.
Workout
Today's workout was a strength workout courtesy of the Best Body Boot Camp program I'm following.
It was the easiest workout for me of all the boot camp workouts I've completed so far, which probably means I didn't use weights that were challenging enough. I used the weights I'm used to using for certain exercises, but since the workout had me doing 10 reps instead of my typical 15, I definitely could've challenged myself more by selecting heavier weights.
Something to keep in mind for next week!
My favorite move today was the walking lunge with a medicine ball twist.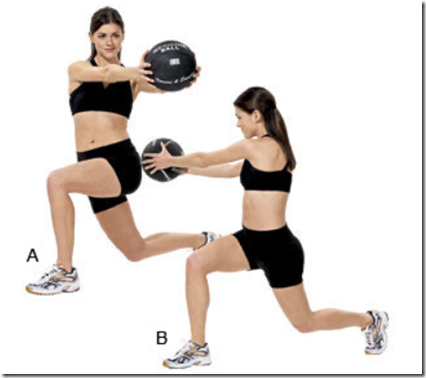 Me? Liking lunges? What?
I think the medicine ball twist helped distract me from the awfulness of the lunges and made me feel more powerful than I usually do when I'm just lunging. Believe me, I was shocked that I liked this move, too.
Off to download a new podcast and take Sadie for her morning walk before parkin' my butt at the computer 'til lunch!
See ya then!
Question of the Morning
What strength training exercise or cardio workout are you loving lately?