Today's blog post recaps a Toddler Book Exchange party I hosted in our house last week. My friends and I had so much fun swapping books for our little ones and snacking on delicious foods from ALDI. Thank you so much to ALDI for sponsoring this post! You may find the ALDI nearest you by clicking here.
Last Wednesday night, I had a handful of my girlfriends over for a toddler book exchange party! My mom actually inspired the party when I was talking with her about how Chase absolutely loves some of his books and then never shows even the slightest bit of interest in others. We read lots of books in our house every day and will often go through phases where certain books are Chase's favorites for a week or so and then he'll move onto a new favorite but he'll still enjoy reading his old favorites for a long time.
And then there are the reject books. The books he never got into that just fell flat from day one. When I was explaining this to my mom, she suggested swapping books with girlfriends who have kids of a similar age and the Toddler Book Exchange Party was born!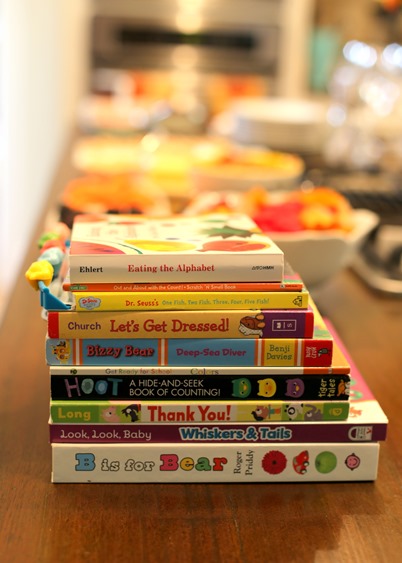 I texted some of my usual play date buddies about the idea and everyone was immediately on board. I knew from the beginning I wanted the party to be laid back and casual, so I opted for a simple spread of appetizers, snacks and wine and invited everyone over for a couple of hours of chatting and book swapping!
The rules for the party were simple: Bring a book, take a book! I had loose guidelines to bring around three books but more or less was fine and you could leave the party with as many books as you brought to the party. The book exchange ended up being SO fun and also oddly interesting! I was shocked when some friends brought books Chase LOVES (like Go Dog, Go) because they fell flat with their little ones and it just proved once again that every child is different and what works for one kid doesn't always work for others.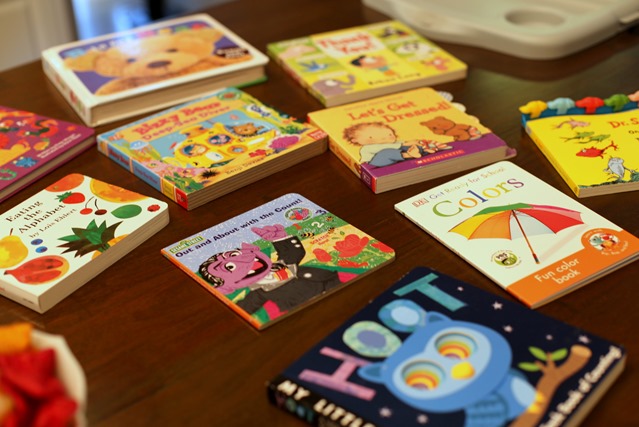 As for the party food, ALDI saved the day! I got everything for our book exchange party at ALDI, from the wine, stuffed olives, grass fed cow's milk cheeses (did you know ALDI sells Kerrygold!?) and Specially Selected Hand Rolled Goat Cheese Logs (so creamy!) to the crackers, hummus, caramels and flowers!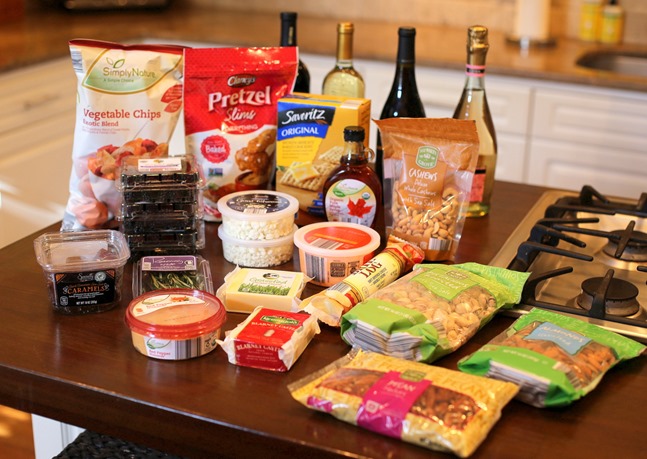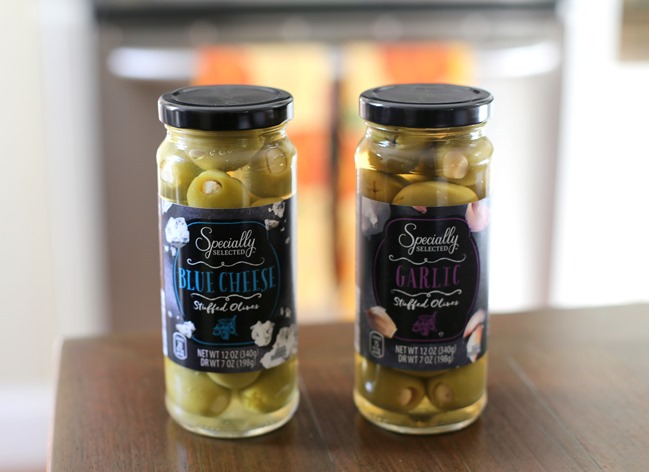 I used a handful of the ingredients to put some homemade touches on a few of the dishes, including a goat cheese blackberry dip (made with one container of Specially Selected Crumbled Goat Cheese + 1 teaspoon SimplyNature Organic Wildflower Honey + 1 half-pint organic blackberries) and maple rosemary roasted nuts.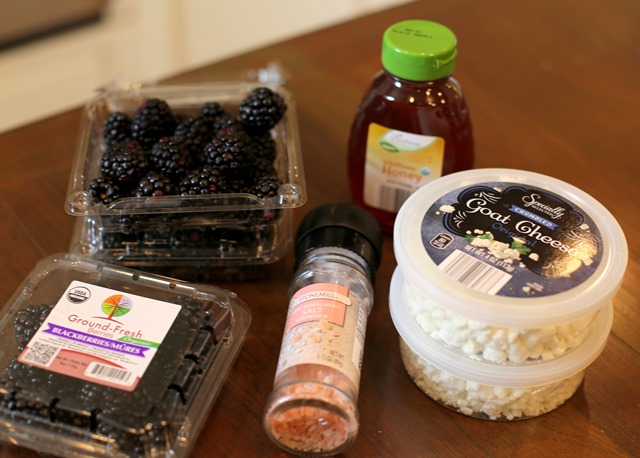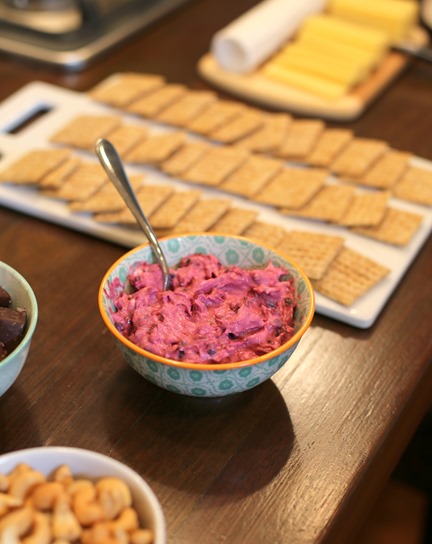 More than one of my girlfriends requested the recipe for the nuts, so I wanted to be sure to share them here as well since they were so tasty and EASY to make!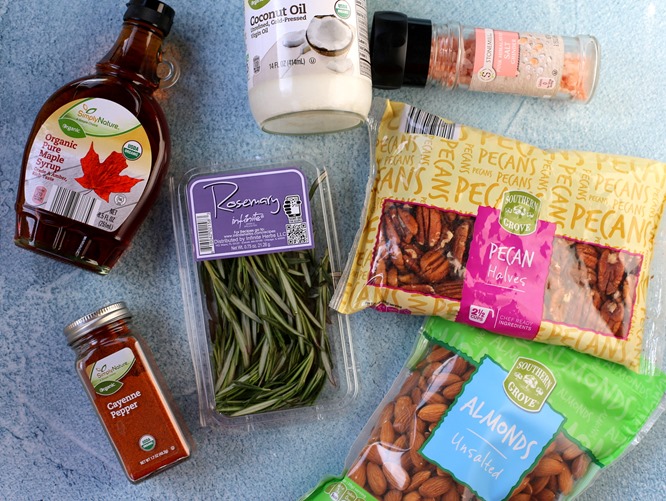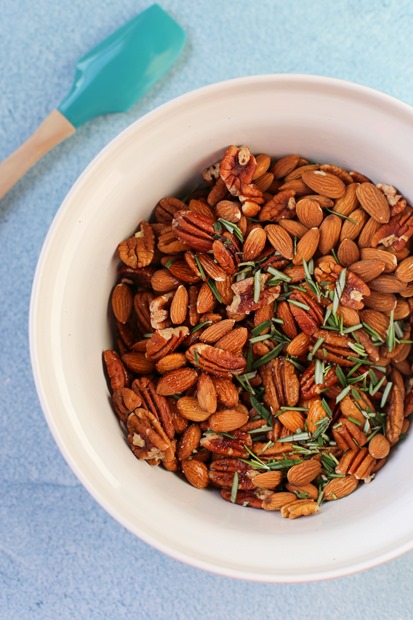 Maple Rosemary Roasted Nuts
Prep Time: 5 minutes
Cook Time: 25 minutes
Makes sixteen 1/4-cup servings
Ingredients
2 cups Southern Grove Pecan Halves
2 cups Southern Grove Unsalted Raw Almonds
2 tablespoons SimplyNature Organic Coconut Oil, melted
3 tablespoons SimplyNature Organic Maple Syrup
1 teaspoon chopped fresh rosemary
Pinch of SimplyNature Organic Cayenne Pepper
Stonemill Pink Himalayan Salt, to taste
Directions
Preheat oven to 350F degrees.
Combine all ingredients in a large bowl and toss to thoroughly coat nuts in the oil, syrup and rosemary.
Pour onto a large baking sheet sprayed with cooking spray. Sprinkle with additional salt if desired.
Roast for approximately 25 minutes, flipping the nuts regularly to ensure even roasting.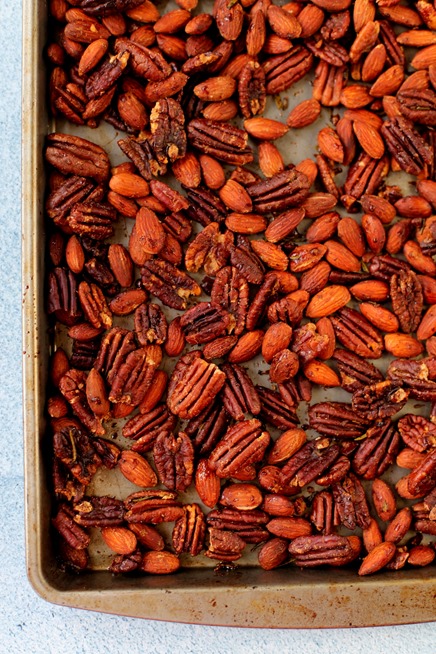 I served the nuts along with Southern Grove Roasted Pistachios and Southern Grove Roasted Cashews (can you tell I'm obsessed with ALDI's bulk nuts!?) and had someone comment on my Instagram Story about the party telling me the nuts would've looked really awesome on a big slab of butcher's block with an assortment of cheese, berries and dips.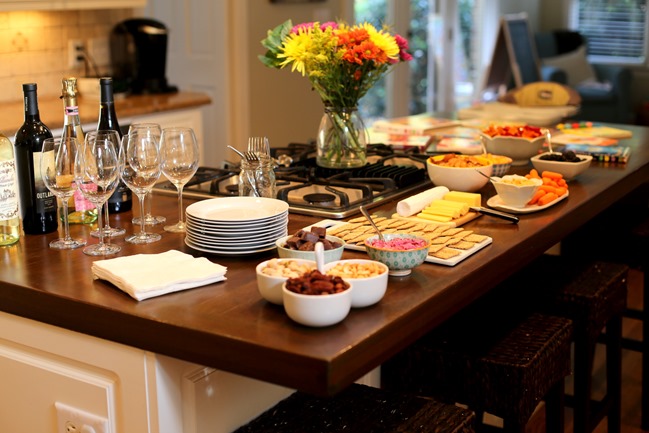 I love this idea (how fancy, right!?) and always think the deconstructed cheese/snack spreads look so pretty without looking too formal. So now a big butcher's block is on my Christmas list! (Any tips on where to find something like this?)
I also selected an assortment of red, white and bubbly wine from ALDI to serve and every bottle I chose was under $10.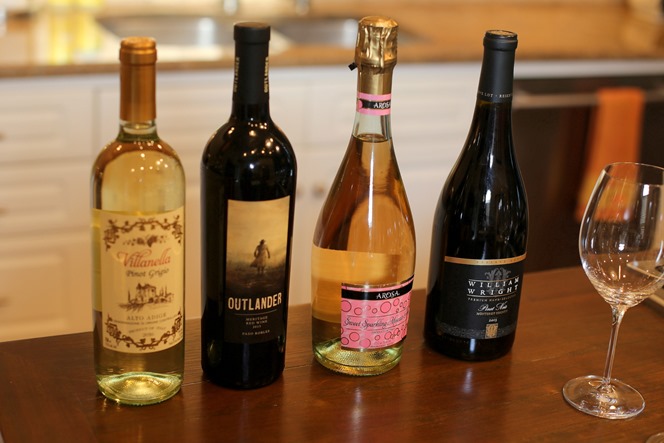 Ryan and I have really enjoyed ALDI wines in the past (their Outlander Cabernet Sauvignon is my personal favorite – it was a 2017 Chefs in America Masters of Taste Gold Medal winner – and I love their Villanella Pino Grigo) and I couldn't resist picking up a bottle of the Arosa Sweet Sparkling Moscato Rosé because it seemed like a fun, festive option that I knew my fellow sweet-loving wine friends would enjoy. I added a bottle of the William Wright Reserve Pinot Noir to my bottle because it received 90 points and a Gold Medal at the 2017 BTI World Wine Championship and the 2017 Chefs in America Masters of Taste Gold Medal.
Here's a glimpse at my snack plate from the evening: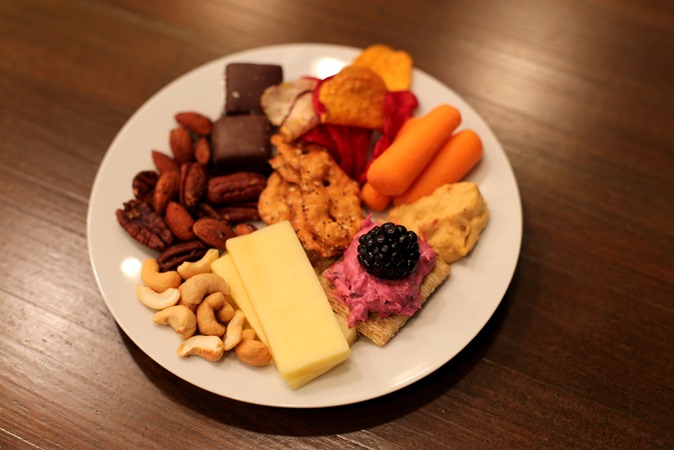 And if you think the two Specially Selected Sea Salt Caramels on my plate are the only two caramels I ate all evening long, you're definitely mistaken. They're way too good and way too addicting!
I truly had the best time at our Toddler Book Exchange Party! Everyone left with full bellies and some new-to-them books to try out with their little ones. Success!
Question of the Day
Have you ever been to a swap/exchange party?
I would LOVE to host a clothing/accessories swap/exchange party with friends and think it would be a blast and a great way to refresh your wardrobe without spending any money!