Thanksgiving Eve is here! Did it creep up on anyone else!? Ryan, Chase and I are off to the airport to pick up my in-laws later this morning and we have a lot of fun stuff and good eatin' planned while they are in town.
Yesterday blended Thanksgiving prep with usual toddler craziness and began a little later than usual. I opted to sleep in until 6:30 a.m. because I was randomly awake the night before from 1 – 3 a.m. No fun! I was so restless and tossed and turned like crazy until I gave in and ended up reading for nearly two hours. On the bright side I finished All By Myself, Alone and began reading First Family, another political thriller by David Baldacci, which I'm thoroughly enjoying.
My late start to the day meant a quick breakfast was in order before Chase woke up so I fixed myself two over-easy eggs with toast and remembered to snap a pic when I was in the middle of eating.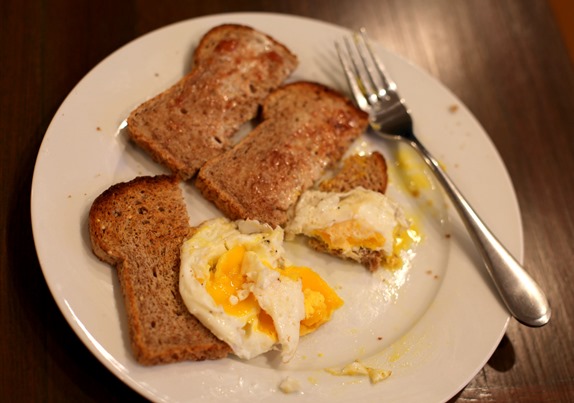 I swear the minute you get out of the habit of taking food pictures regularly, it's hard to remember!
Ryan headed off to work as I was eating and I said goodbye to him before sitting down at my computer to finish up yesterday's Toddler Book Exchange blog post. After publishing the post and checking a few emails, Chase was up and ready for attention. He requested Cheerios for breakfast (he's obsessed with the new banana nut flavor) and while he ate, I sat with him and we chatted while I sorted through a bunch of recipes I printed off over the weekend and made a giant grocery list to get us through Thanksgiving and the next few days.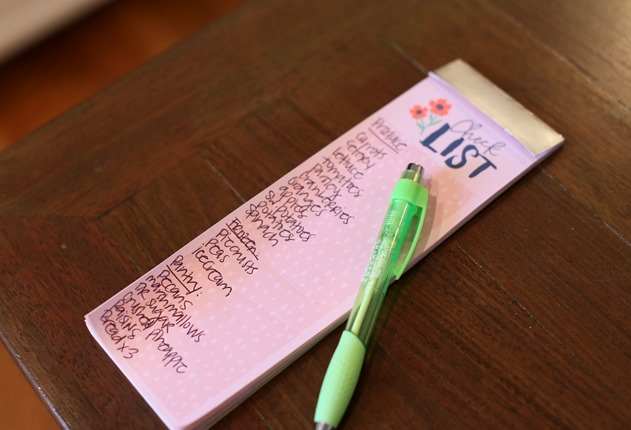 Since I'm always curious about what people serve when they have guests in town, I figured I'd give a rundown of our loose menu that I'm hoping will last us through Saturday afternoon when my in-laws head back to Florida. (All recipes I plan to follow are hyperlinked in case you want to check them out!)
Wednesday
Thursday (Thanksgiving):
Friday:
Saturday:
Creating a master grocery list made me feel a little more organized going into the next few days so I felt like we had some time to spare for a little fun yesterday morning as well. I had plans to meet up with my friends Lauren and Jess for a boot camp workout while our kids played in childcare and it was a good one! It was a tripod workout we performed in groups of three that targeted our biceps, triceps and shoulders.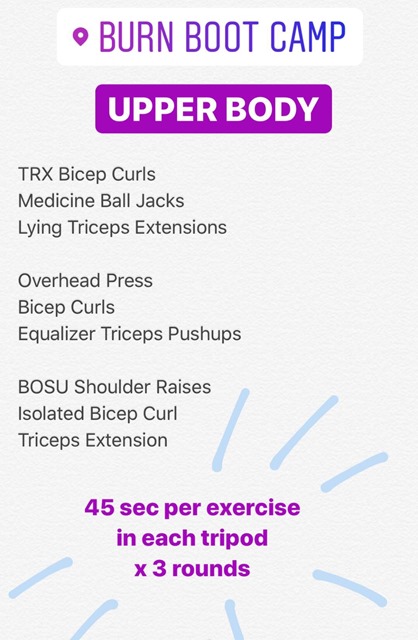 Our trainer also surprised us with some pop-up one-minute rounds of full burpees to spike our heart rates, too. Sweaty!
Once my workout was done and I said goodbye and Happy Thanksgiving to my friends, Chase and I made our return to Gymboree. We haven't been to Gymboree in a while and he had the best time running around one of his favorite places!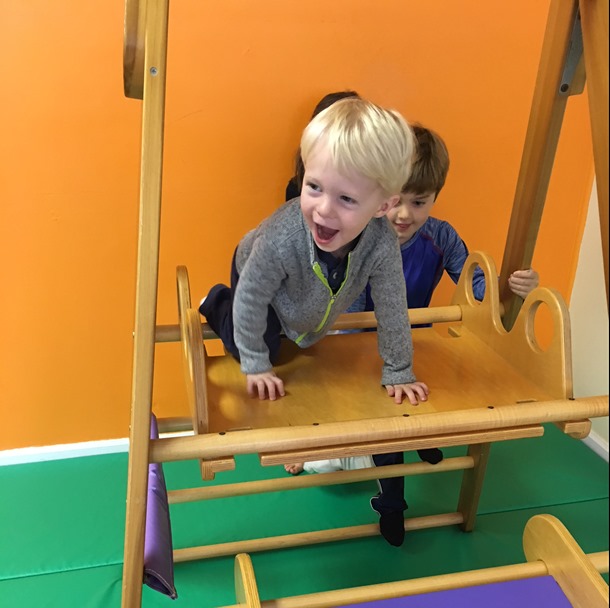 After Gymboree playtime, Operation Get Ready for Thanksgiving commenced and we popped into the grocery store and completely overloaded our cart before heading home. (Oh and before you think my child was an angel amid a Thanksgiving grocery shopping trip that took a solid 45 minutes, peanut M&Ms were most definitely involved. Sometimes you gotta do what you gotta do.) We arrived home, unloaded the groceries and played in the backyard with Sadie for about 30 minutes until Chase's attitude told me it was clearly naptime.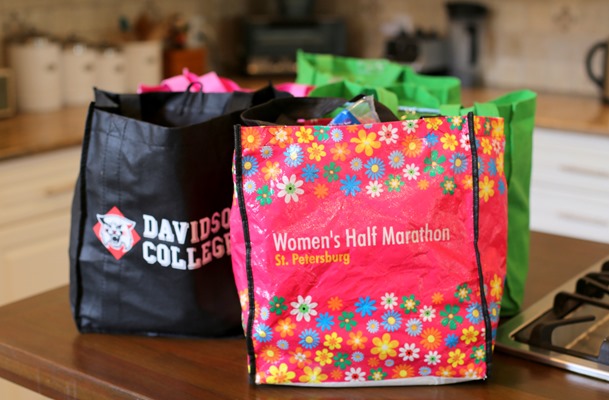 While he slept, I showered, made myself lunch and picked up the Stitch Fix box that was waiting for me on our doorstep.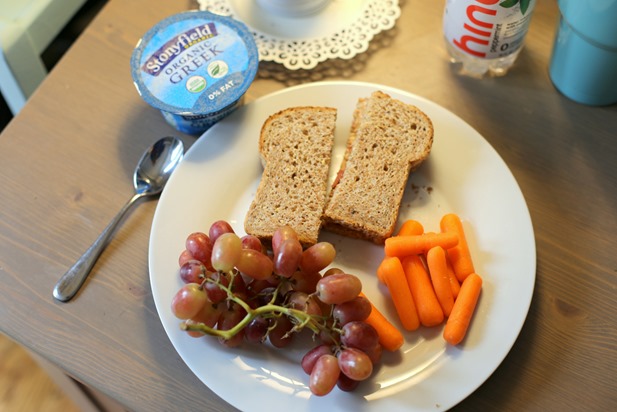 I haven't had the chance to try anything on yet but from the look of the box, it's going to be a winner! My stylist listened to my requests for comfy, casual apparel and everything looks cozy and functional but still very cute.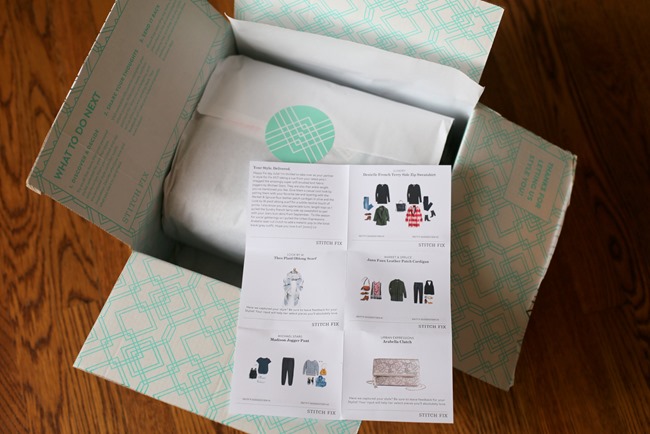 I hope there are a few keepers in there! (Quick reminder: Stitch Fix is waiving their styling fee for the next 30 days so if you want to try it for FREE, now is the time!)
After sorting through my Stitch Fix delivery, I went into overdrive mode and worked for two hours before doing my best to check off other to-dos centered around preparing for our guests' arrival (laundry, cleaning, etc.). Chase thankfully slept like a CHAMP which was awesome since his naps have been very hit or miss lately and when he woke up, we ate a snack and read some books together before he "helped" with a little bit of food prep for the next few days.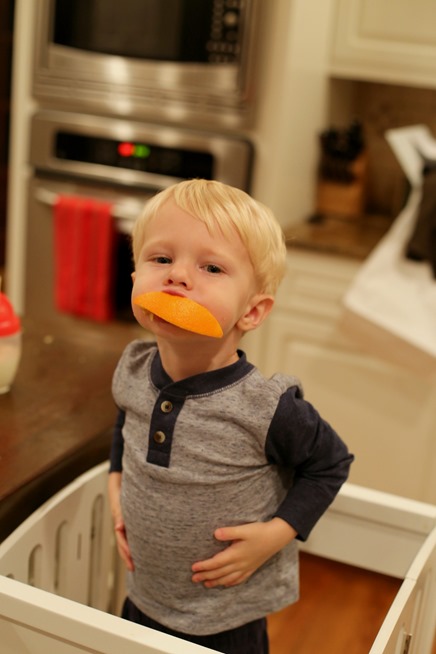 (Yes, I taught Chase the magic that is an orange peel smile yesterday.)
We stayed close to home for the rest of the day, coloring, playing outside and reading before Ryan arrived home from work and we dug into an easy dinner of chicken, roasted acorn squash and apple slices.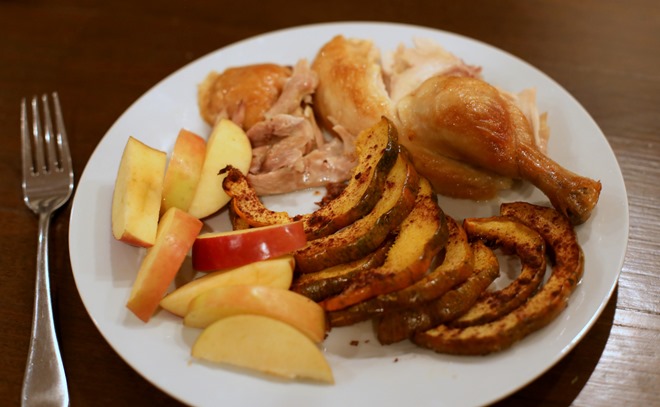 A few more last-minute chores and more playtime with Chase ensued before bedtime and I passed out before 10 p.m. after reading a little bit more of my book. I really hope you guys have a fantastic Thanksgiving and travel safe if you'll be out of town for your celebration!
Happy Thanksgiving! I am so thankful for YOU!