This is also the time of year I like to open up my comments section for your blog post topic requests! If there is anything you'd like me to write about in 2023 or anything you'd like to see more of in the new year, please let me know!
Top Blog Posts of 2022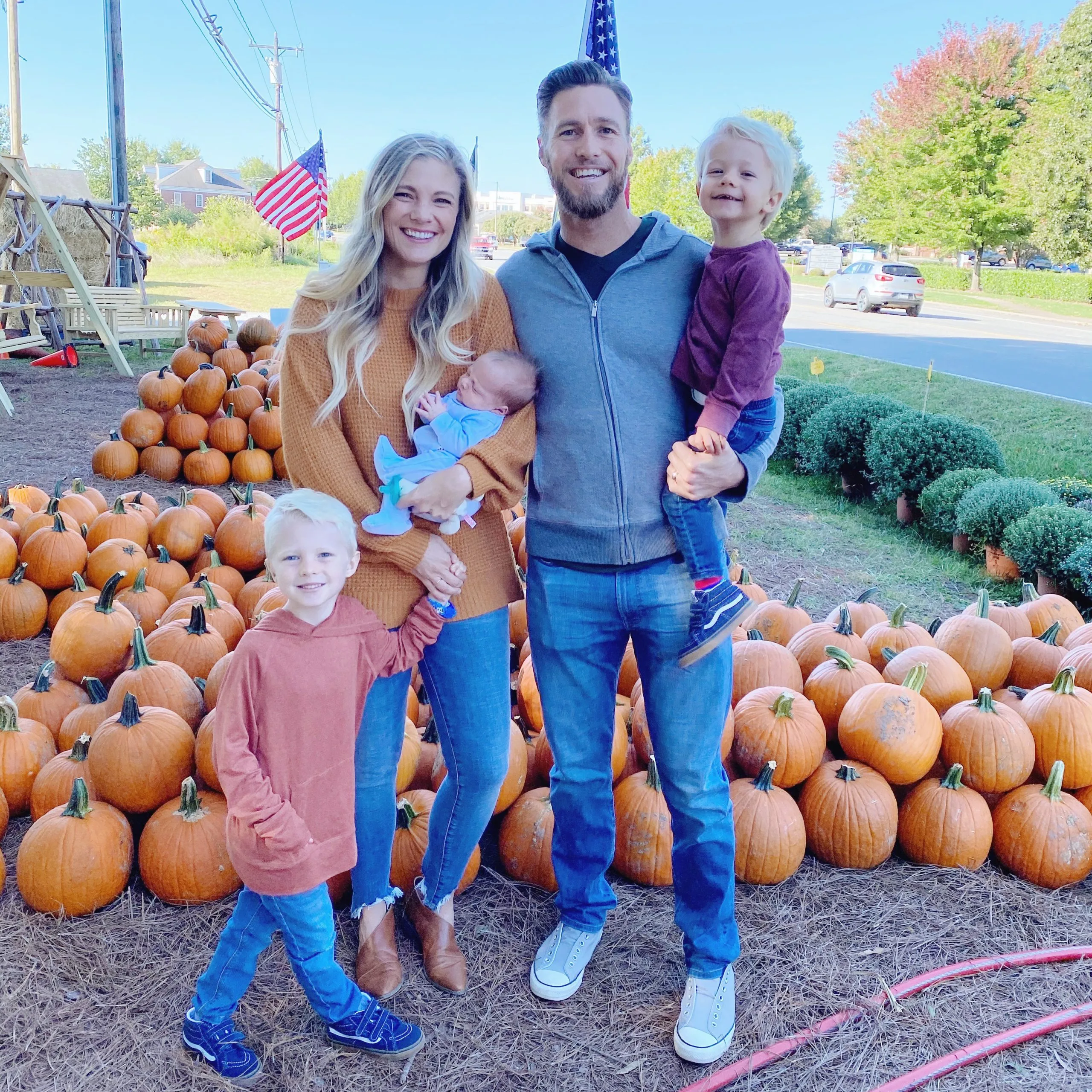 I typed up this blog post when Rhett was 4 months old and addressed a bunch of the questions I received from you guys about the transition from 2 to 3 kids.
I know I've been terrible with sharing house content and updates and this blog post only served as a reminder to me that you guys really do want to see more house stuff! There's always a lot of interest when I share home-related content and I'll try to be a little better about sharing more of this in 2023.
I shared this blog post as a follow up to the blog post I wrote when Rhett was a baby. This blog post dives into life with three kids once the youngest child reaches toddlerhood. Spoiler alert: The crazy kicks up a notch!
I poured over blogger pregnancy recaps when I was pregnant with Chase and found it so helpful to read about real women's experiences rather than generic blanket information about pregnancy. It is my hope that my pregnancy recaps have been helpful for you guys as well!
This is the blog post where I announced we were building a home! We were well over a year into the process when I shared everything but this blog post is the one where I finally broke the news and filled you guys in!
Take me back!!! This early 2022 ski vacation with college friends we've had for years was such a blast!!
Amazon hauls are always popular on this blog and I get it! You can't beat the convenience and they have everythinggg. I frequently receive requests to share more Amazon hauls in this space and have them on my radar to share more of in 2023 as well.
This is quite the throwback blog post but I think it ranked high this year based on Google searches by people looking for random survey-style questions.
These updates basically serve as an online baby book for our boys and I'm glad you guys seem to enjoy them, too!
Ryan did a guest post of sorts on the blog in the beginning of 2022 and answered a bunch of questions you guys sent his way about his first Half Ironman. (This was a fun one for ME to read!)
To quote this blog post, "If you feel like your kid is a sweet-and-spicy child who is the sweetest of the sweet but also a freaking habanero pepper, I feel ya. And if motherhood is kicking your butt lately, you are in very, very good company." Just a little real talk relating to mothering a toddler who did not get the "third baby is supposed to be chill" memo.
I need to do more Currently-style blog posts in 2023 because they're always a fun way to share little updates about what's going on over here.
Aw Lucky!!! Our little leopard gecko lady joined our family on Chase's birthday last summer and this blog post dives into what life with a leopard gecko is like! The short version: Lucky is so darn easy and we've loved having her in our family!
I loved seeing this gift guide make its way into my top blog posts of the year as it is my favorite of all my gift guides to assemble every holiday season. It's always a fun one to create because it allows me to share some of my favorite finds for the boys, my nieces and our boys' friends in one place! I've also heard you guys reference this one throughout the year for birthday gift ideas and really hope it's a helpful resource for you beyond the holiday season.
Our family's first ski vacation was so, so fun! We had a blast in super-snowy West Virginia and this blog post recaps our trip!
Hooray a book-related blog post made the list of top blog posts in 2022! I love sharing my latest book recommendations with you guys and credit you with introducing me to amazing books all year long through YOUR recommendations.
Gift guides are always a hit but it can be hard for them to crack the top blog posts list each year since they're not shared until the end of the year and don't have as much time to accumulate pageviews. Clearly that wasn't stopping you guys this year as this gift guide was the second one to make it into my most popular blog posts recap this year!
Hopefully this blog post will prove useful again soon! It incudes a roundup of some of the items we swear by for the boys all summer long.
I first became a Burn Boot Camp member when Chase was a baby and have never looked back. It is, hands down, my all-time favorite workout and this blog post recaps what you can expect when you attend your first camp!
Another book post! I remember this one taking me a looong time to assemble so it's nice to see it's been a helpful resource for you guys as you look for new books to read.
This blog post recaps one of my favorite memories from 2022: Our family's participation in the North Carolina 70.3 Half Ironman!
I was admittedly a bit of a mess when it came time to say goodbye to the first house Ryan and I owned together. We will never, ever forget this special place!
Question of the Day
Do you have any blog post topic requests for 2023?

What kind of blog posts would you like to see more of on this blog in 2023? 

I didn't really know what to title this blog post as it focuses on the most popular non-recipe blog posts that appeared on Peanut Butter Fingers in 2022. It's basically a "catch all" category for the blogs posts you guys viewed most often last year which means that, much like this blog, it's all over the place. Below you will find blog posts that touch on everything from motherhood and parenting to home content, book recommendations, personal posts and more.