Today's post details the top 22 recipes from PBF in 2022 according to your views. Hopefully this post brings to the forefront some recipes you haven't tried yet that might sound appealing to you to add to your list of recipes to try in the new year!
Top Recipes of 2022
I owe the popularity of this one to Pinterest! It's an easy recipe that tastes fantastic on top of leafy greens or sandwiched between freshly toasted sourdough.
I love a good chicken marinade and this one checks a lot of my boxes: Easy to make, simple ingredients, crowd-pleasing and versatile flavors that pair well with many different sides.
A hugely voluminous bowl of protein-packed oatmeal that comes together in three minutes! It's a great option for busy weekday mornings and a personal favorite since traditional oatmeal doesn't fill me up for long. I need a boost of protein with my oats and this one fits the bill!
Over the past year, I've actually found myself making this recipe as an afternoon snack more often than breakfast. It's chewy, slightly sweet and filling. I just need to get better about making a bunch of them at once so I can reheat and eat throughout the week!
Another Pinterest success story! This dip always peaks around holidays like the Fourth of July, Labor Day, etc.
If you're intimidated by seared tuna, don't be! This recipe makes preparing restaurant-quality seared tuna in your home a breeze. Anytime I make this recipe, my taste buds do a happy dance and Ryan's do, too! We love this one!
Kid-approved and a favorite with our whole family. I make this recipe year-round for our boys!
So many of you have reached out to me to share your love for this simple meal. It comes together in a flash and is a great combination of sweet and salty flavors.
Easy enough to whip up on a random Tuesday but delicious enough to serve for Thanksgiving!
I've made this recipe countless times and am always happy when this one makes my top recipes list! It's a set it and forget it recipe (no chopping required!) and was the winning recipe in the "non-traditional chili category" of a chili cookoff we attended with a bunch of friends!
This is, without a doubt, one of the recipes we make most in our house. If we have guests over for a cookout, this recipe is one I am guaranteed to make because it's a huge hit. I swear every time I make it, people request the recipe and it's a recipe I feel very confident recommending and serving!
Ah I love this recipe so much! It's jam-packed with vegetables and kid-approved!
A velvety curry recipe, this Instant Pot Butternut Squash Chicken Curry is one of those nourishing recipes that tastes indulgent but, in actuality, is packed with vegetables and nutrient-dense ingredients.
Finally a sweet recipe!! I'm glad this one made the list because it's a personal favorite, especially in the fall during apple-picking season. I think it's a requirement to serve this one with a scoop of creamy vanilla ice cream.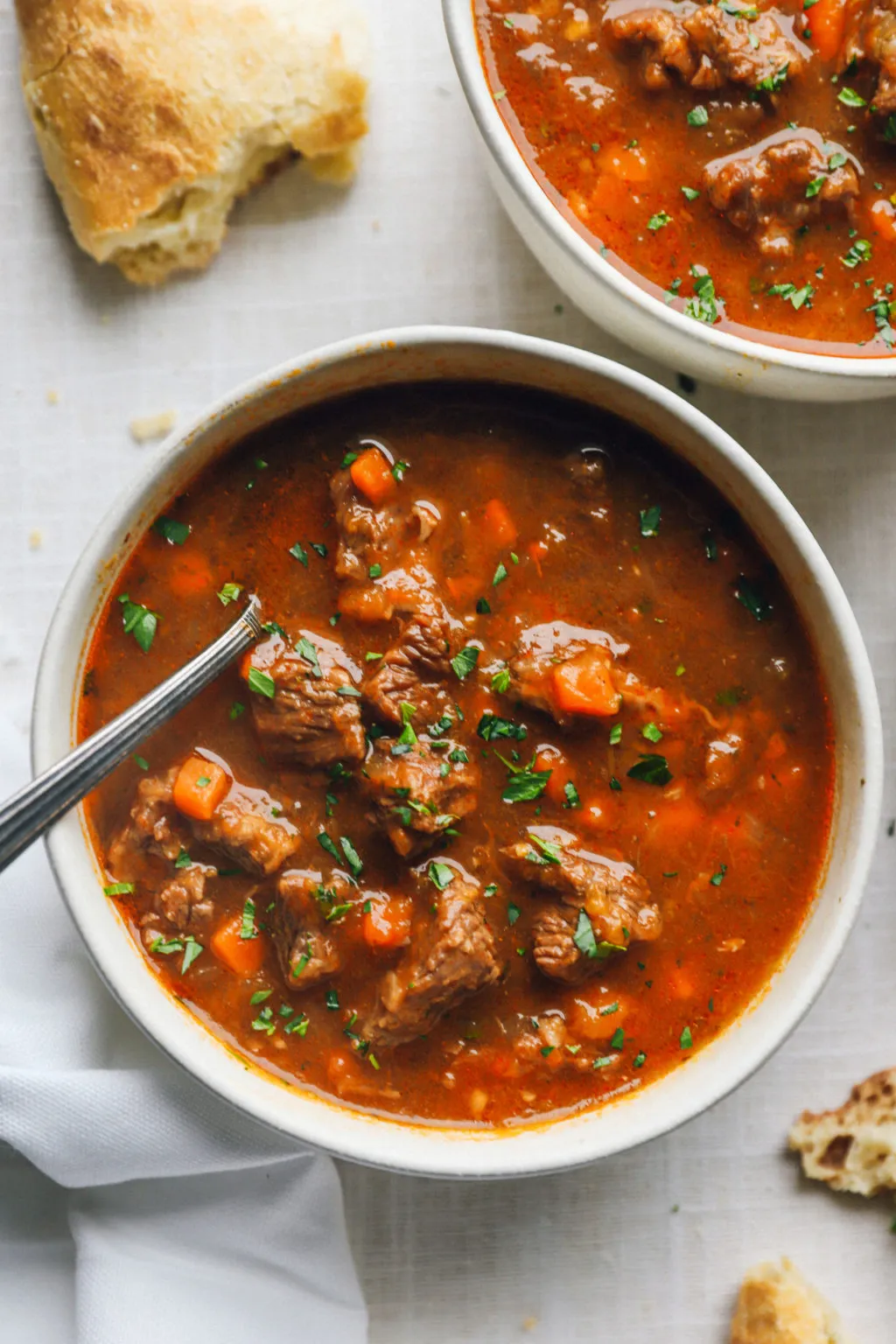 A personal favorite, this recipe tastes like comfort in a bowl and warms me up from the inside out.
An easy weekday breakfast option! When I make this one, I typically triple the recipe so I have a bunch of simple grab-and-go healthy breakfasts or snacks waiting for me when hunger strikes.
A throwback PBF favorite!!! I love that this recipe is still going strong because it's one I love and one I'll continue to make for all time.
A salad, a dip, a side! This is a versatile recipe we adore.
The underrated recipe I consider "small but mighty" since it only has four reviews but all of them are 5-star reviews. I love this recipe so, so much and it's a great way to use leftover or rotisserie chicken.
Not technically a recipe, this roundup-style post provides a short list of recipes I turn to when we have guests coming in town because they're always a hit!
Our family's Christmastime favorite! Easy to make and wonderfully festive!
I fell in love with this recipe when I was nursing. Oat bran is slightly higher in fiber and protein than traditional oatmeal and the texture is all kinds of nostalgic for me, as it reminds me of Cream of Wheat. Apparently I was a weird kid because Cream of Wheat was a childhood favorite of mine so this recipe is a slam dunk for me!
Question of the Day
Have you made any PBF recipes you enjoyed over the course of the past year?

Any recipe requests for 2023? Any specific recipe categories you'd like to see more of in this space (breakfast, easy dinners, kid-approved recipes, etc.)? 

It's official: From a pageview standpoint, recipes are king on Peanut Butter Fingers. When I took some time to sift though the 2022 analytics of this blog, recipes were, without a doubt, my strongest performers this year. I mean I get it — no one is going to go back to see what I did in a "day in the life" post from a random Tuesday in 2022 but they might return to make a recipe that intrigued them or a recipe they tried and loved. Recipes are a "slow burn" in that they're often not popular the minute they're shared but they gain traction through the years.