Even after eating scrambled eggs for breakfast, eggs were all I wanted at lunchtime today. Eggs are easily one of my favorite sources of protein because they taste great and are incredibly inexpensive. Double win!
I used two dippy eggs as "dressing" on a salad that was inspired by a salad I had a long time ago at Le Coq Au Vin in Orlando.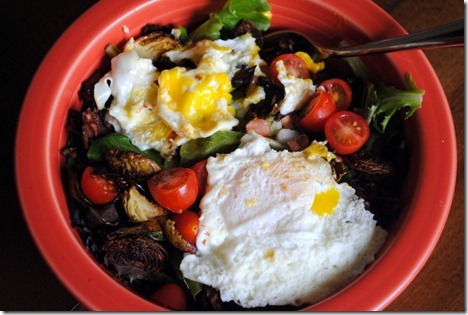 As you can tell from the above picture, I had a bit of an issue when I tried to flip the eggs today and both ended up looking a little rough, but the taste was all there.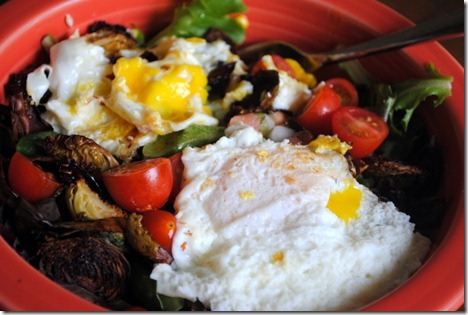 I broke into the yolks (well, the one yolk that wasn't already broken) and stirred everything up so the yolks could coat the salad.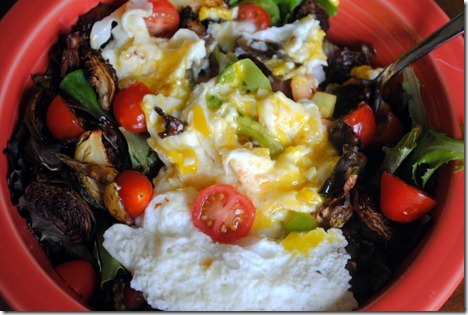 My goodness egg yolks make a fantastic dressing! I highly recommend giving it a go if you're a fan of dippy eggs like I am.
In the salad:
Spring mix
Two dippy eggs
Tomatoes
Onions
Green peppers
Roasted Brussels sprouts
Goat cheese
I rounded out my meal with three dates that I ended up dipping in peanut butter.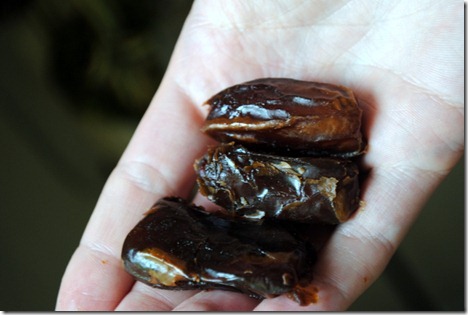 Yum!
Triathlon Playlist
Last Saturday morning, I created a playlist to help me power through my first indoor triathlon. I wanted a few upbeat songs to get me through the 15 minute bike and a 15 minute run portion of the race and ended up creating the following playlist:
Based on timing, this playlist could also easily work for a 5K!
As I was creating the above graphic this morning, I notice that, yet again, I created a workout playlist with '90s music. I can't seem to help it!
In addition to featuring some '90s jams, this playlist also incorporates a lot of music from old BodyPump tracks that I loved when that wonderful class was still in my life before we moved out of Orlando.
Oh, and those shoes in the background of the image?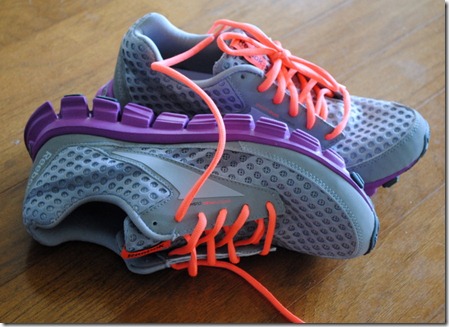 They are the new Reebok SmoothFlex Run in "Tin." I immediately fell in love with the neon shoe laces and color combination when I opened up a box from the company last week.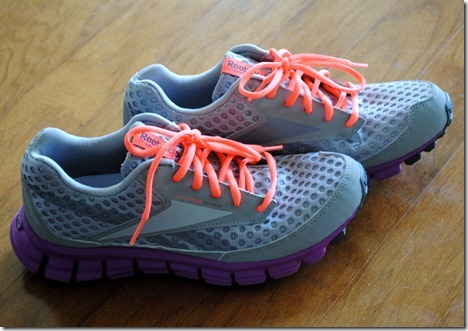 I always love lots of color and "pop" in my gym shoes and these shoes have quickly become my go-to sneakers. They are incredibly comfortable and lightweight thanks to the mesh on the top of the shoe.
Back to the playlist talk!
Just in case you want to check out any of the songs from my playlist, I've listed them below and linked them up with a YouTube video that plays the song right away (no waiting for advertisements) if you'd like to give them a quick listen.
I love listening to a new playlist because it's fun to see which songs immediately pump me up when they come on during my workout. "Poison" and "Scream" were my favorites from this playlist. There's something about that Usher, baby. His music always seems to get to me in the middle of a workout and make me want to run faster!
I've also found myself surprised at some slower songs that have energized me in the past. Back in college, I couldn't get enough of "Champagne High" by Sister Hazel. It's quite an odd choice for a workout song, but I love it!
Question of the Afternoon
What is an unexpected song that you love that always seems to pump you up?
This is kind of embarrassing to admit, but I feel like I could run for days when I listen to "Crazy Beautiful" by Hanson, and that's coming from someone who isn't a crazy Hanson fan like my sister.