In 2019, I launched a monthly series on the blog that shared a real-life glimpse into our weeknight dinners for one week every month. The series showcased our dinners photographed in real time (no fancy food photography allowed!) and made note of any substitutions or alterations I made to the recipes I followed.
After an unintended hiatus, I had more than a few requests to continue the series on the blog this year so we're back in action today with my first month of weeknight dinners!
Last week's meals were all over the place and included a bunch of warm and comforting recipes we loved! Below you will find some Instant Pot recipes, vegetarian dishes, simple shortcut meal ideas and more. Please feel free to drop links to recipes you've been loving for dinner lately in the comments section. I am always on the lookout for new recipes to try!
Week of Weeknight Meals: January 2020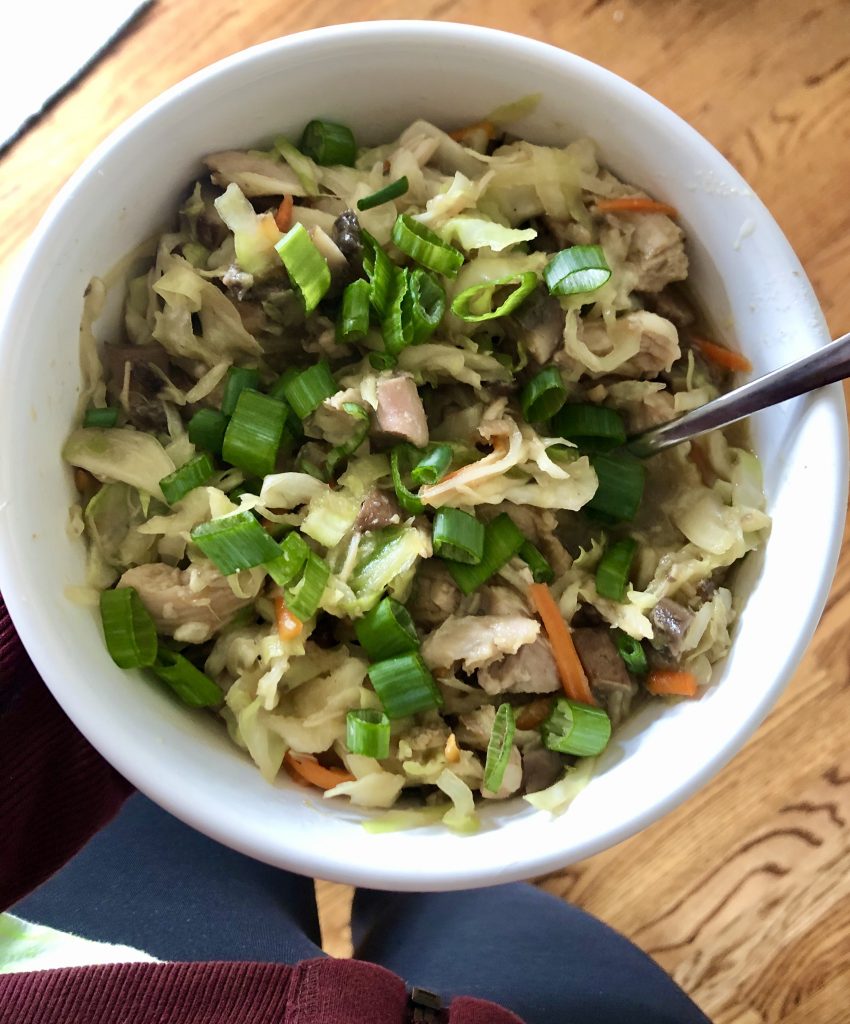 This is one of my all-time favorite blog recipes (I gave it the "Most Underrated Entree" award in my Recipe Superlatives post last year!) because the flavors are fantastic, the aroma is mouth-watering and the ingredients are good for you. It's packed with vegetables and the recipe is also a wonderful way to use up leftover chicken! And for my Paleo/Whole30 friends, this one can easily fit your dietary preferences by simply swapping the soy sauce for coconut aminos (which I usually do anyway).
On Tuesday night, I did a little experimentation with this recipe and tried making it in the Instant Pot which didn't go exactly to plan. It's definitely not an Instant Pot recipe as-written and needs a bit of tweaking which I did at the end once everything was done in the pressure cooker. I'm not giving up though and hope to have an updated Instant Pot version to share with you guys at some point!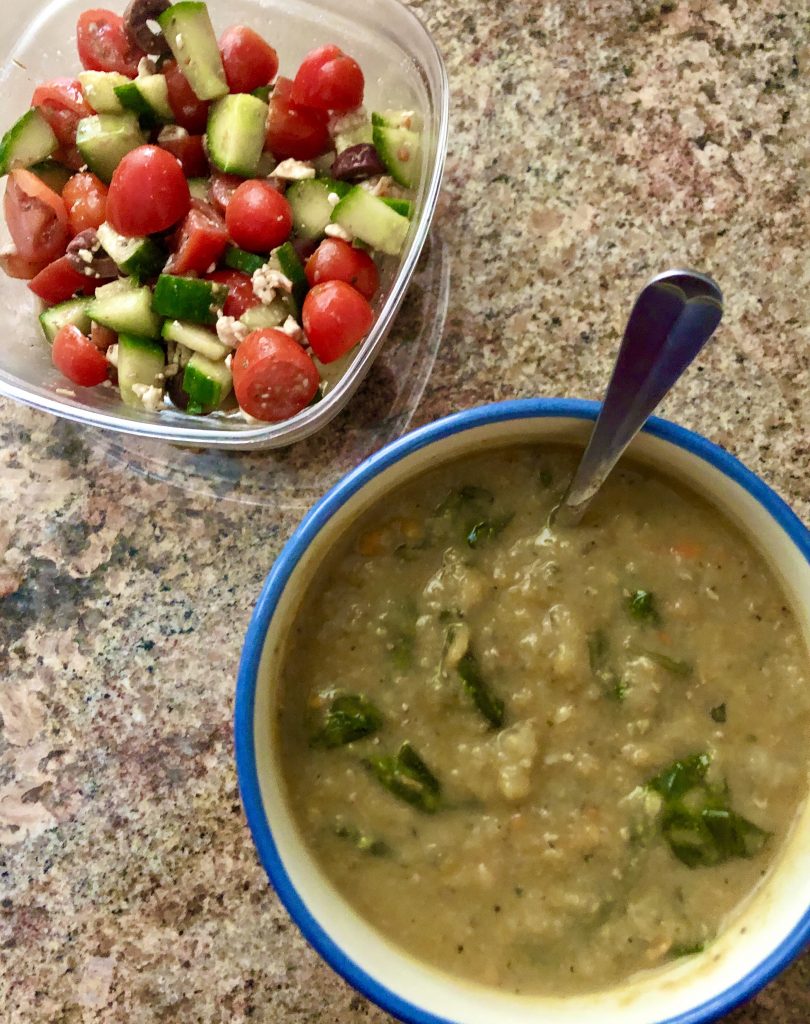 I've made this butternut squash lentil curry a handful of times and it's quickly become a household favorite. It's warm and comforting and a recipe I feel very good about feeding to our family thanks to a stellar list of nutritious ingredients. The small substitutions I make to this recipe include omitting the hot green chili, adding extra ginger and using whatever color lentils we have on hand. In Tuesday's rendition, I used green lentils and also some split peas and it was fantastic!
On the side, we had lettuce-less Greek salad, a recipe from my friend Brittany's blog, and one I've quickly come to love for a weekday lunch dish as well. When I make it for lunch, I'll add shrimp or chickpeas and usually have some crackers on the side. It's so, so good! Bonus: Chase loves helping to make this salad since he's in charge of slicing the kalamata olives and stirring up the dressing.
Wednesday: Shortcut Spaghetti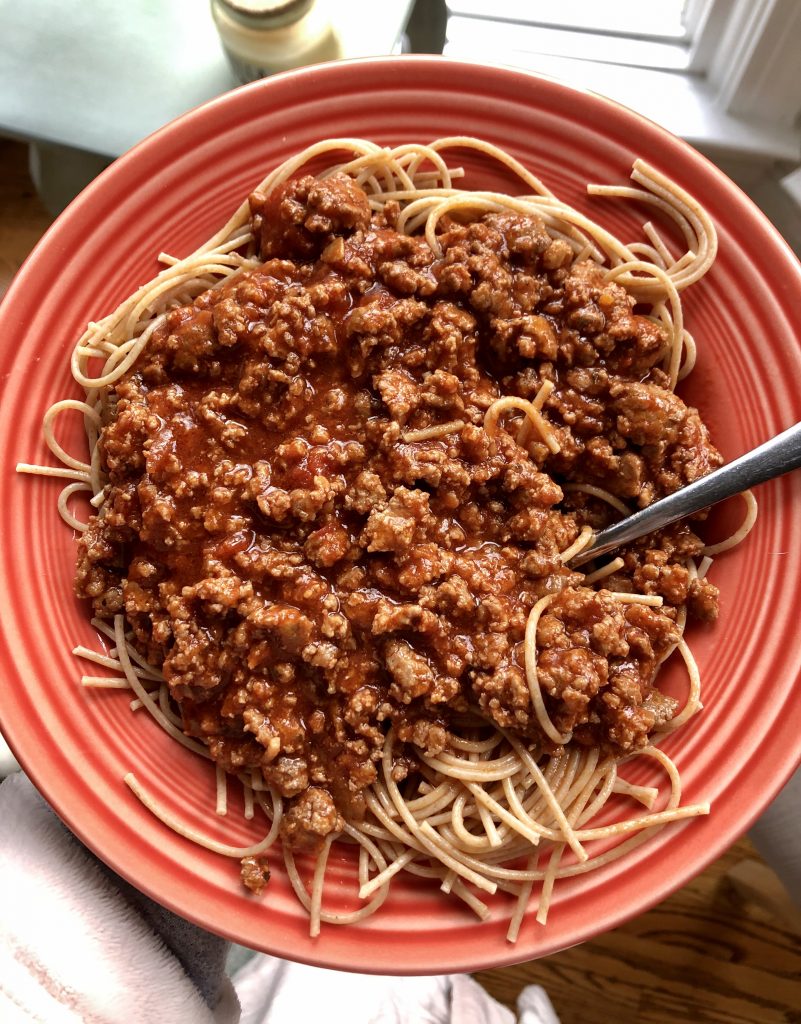 Wednesday was an especially busy day around here so shortcut spaghetti saved us! This simple throw-together spaghetti is my go-to for busy weeknights because I only need three ingredients to make it. I browned some pork in a pot before pouring in a jar of ALDI's Simply Nature organic marinara sauce (one of our favs!) and the sauce was d-o-n-e. (Sometimes I'll also add some pureed butternut squash to the sauce if I have some on hand because no one can tell.) The noodles were your average run-of-the-mill whole wheat spaghetti noodles and did the trick in filling us up!
I saw this recipe pop up on Fit Foodie Finds earlier this month and knew I had to make it! The ingredients in the stir fry sauce sounded simple and delicious (maple syrup, soy sauce, garlic, ginger, white rice vinegar) and while I did alter it a little bit by reducing some of the maple syrup in the recipe because I do not like an overly sweet stir fry, Ryan and I loved this dish! I also swapped the chicken breasts for chicken thighs and went a little rogue with the veggies in this dish, adding some zucchini and squash since we had some that needed to be used and thought it all came together quite well. Oh and I omitted the cashews from the recipe only because the only kind of cashews we had on hand were honey roasted and I thought that might detract from the flavors of the dish. I will definitely make this recipe again!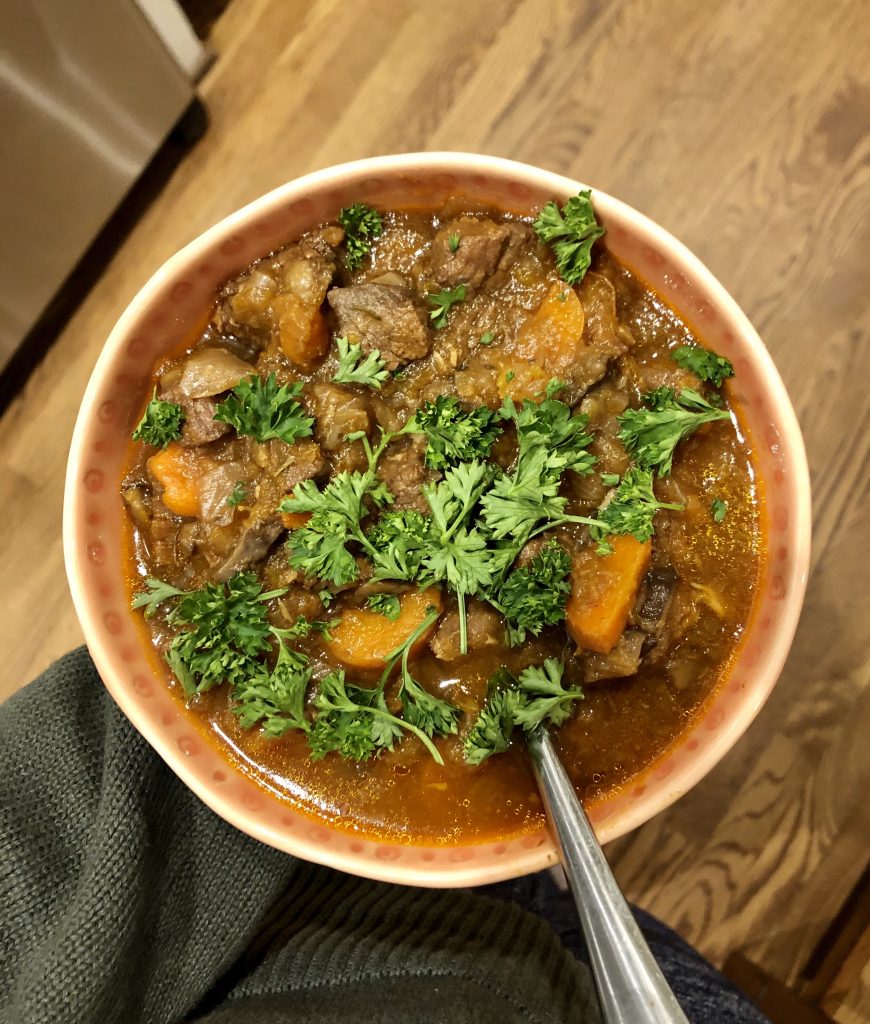 I made this recipe back in December when my parents were in town for Christmas and we all raved about it! To be honest, the simplicity of this recipe and the lack of liquid used in the dish still kind of blows my mind but it's so incredibly flavorful and easily one of the best beef stew recipes I've ever made. The only thing I alter with this recipe is adding a lot more carrots and butternut squash to the stew before pressure cooking and love the way the butternut squash seems to dissolve into the broth of the stew, making it thicker and richer. I highly recommend this recipe the next time you're craving a hearty beef stew on a cold winter night!
Question of the Day

What was the best thing you ate for dinner last week? 

Hello, hello! How are you guys doing today? We had a great weekend over here and filled the last two days with family time, a birthday party and a trip to the trampoline park with the boys. I didn't snap too many pictures this weekend so I'm forgoing my usual weekend recap in place of a look into our weeknight meals from last week.