I am beginning to wonder if it's possible to travel from Florida to the west coast without experiencing delays. It seems like nearly every time I travel out west, I am faced with delays.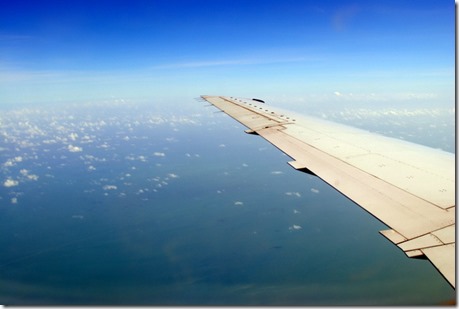 Fortunately today's delays only set me back two hours which is a heck of a lot better than the eight hours of delays I experienced when I traveled to San Francisco in June. I'll take it!
I actually was supposed to experience 4 hours of delays, but when my delayed flight landed in Houston for a three-hour layover, I checked the monitors and saw that a flight to Los Angeles was boarding at that very moment. I hauled my hiney from terminal B to terminal C and was able to book a seat on the earlier flight since I didn't check any bags. Score! Carry-ons for the win!
Lunch
Backing up a bit to cover lunch…
My first flight flew out of the Jacksonville airport and once I made it through security, I grabbed lunch at Starbucks.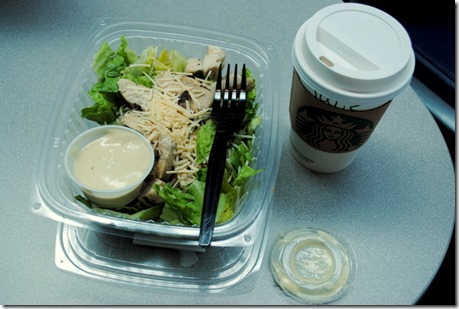 I bought a grilled chicken caesar salad and enjoyed it with a decaf vanilla latte and a Naked green machine smoothie that I picked up on my way to my gate.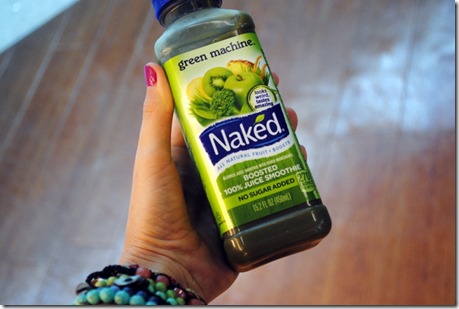 It did the trick!
I also bought a small packet of almonds that I ate about two hours later.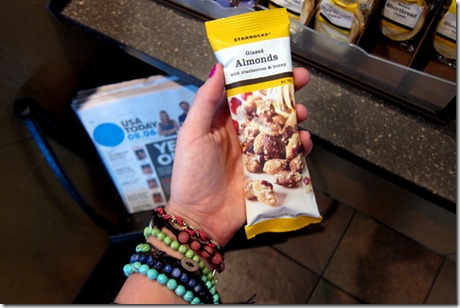 I initially hoped to grab dinner in Houston during my layover, but that didn't happen since I rushed to make the earlier flight to LA. Now I am blogging from the plane and food is on my mind! (This post will be published once I land and have internet access again.)
I hope you sleep well tonight. I am already looking forward to a solid sleep in a fluffy hotel bed. I love hotel beds!