It's the weekend. Hooray!
I hope your Saturday is going well.
My Saturday began with an early morning run with my favorite furry running buddy.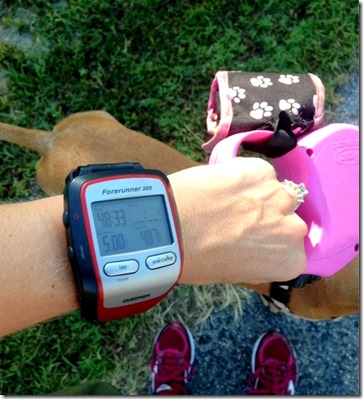 I actually had to work for a few hours this morning and seriously considered postponing my workout until after I was done, but, in the end, Sadie's enthusiasm got me out the door.
We covered five miles that felt very, very sluggish. I just couldn't find my running groove. Sadie morphed into the potty princess about a mile in our run and made us stop every five minutes for a pee break which didn't do anything to help my momentum. Sometimes Ryan and I think Sadie fake pees just to get some more time in the grass when she smells something extra enticing. We're onto you, Sadie.
Breakfast
Once I was done with my run, I quickly showered and grabbed the breakfast I prepared last night before heading into work.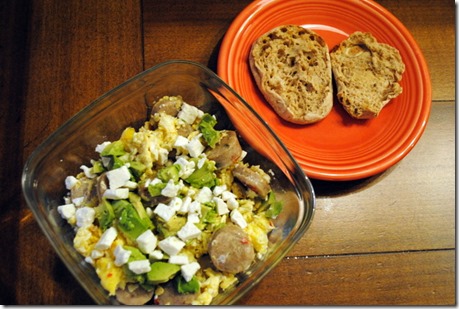 Scrambled eggs + Chicken sausage + Avocado + Feta cheese + Whole wheat English muffin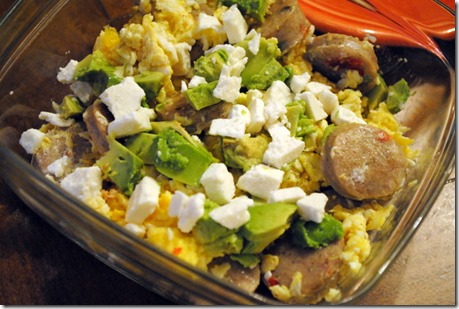 It fueled me through the morning with no trouble at all.
Once I was done working (more prep for the Livestrong program launch), I drove out to a local garage to get an oil change. I guess I wasn't the only one who purchased the Groupon for a $15 oil change yesterday because I am currently third in line and anticipating a two hour wait. I'm glad I brought my computer so I can get some work done!  
Hope you guy have a great Saturday!
ShoeMint Giveaway Winner
Congratulations to…
Rachel: "I would pick the Britt boot or the Sienna boots! I NEED new winter boots desperately!!"
Please email me at pbfingers@gmail.com with your mailing address and shoe size and we'll get you your boots right away!
Question of the Afternoon
What do you do when you set out to complete a workout and realize you're just not in the zone?
If I can't get myself in the zone, I usually scale back my workout. If I'm running, I'll incorporate walking breaks. If I'm strength training, I'll give myself longer rest breaks in between sets. If I know I'm just being a baby, I'll try to change my workout playlist to find some upbeat music and hope that a few energizing songs will help me get back into the groove.