If you were having issues with the blog today, it wasn't just you. You're not crazy, but I may be going crazy if PBF keeps going down every other week. Bandwidth business confuses the heck out of me, but I plan to do more research and hopefully rectify everything moving forward.
Back to your regularly scheduled blogging…
Workout
Today's workout was the same as last Friday's which meant I got to do my favorite circuit workout from Tina's Best Body Boot Camp! The workout included three different circuits of three exercises that I completed as many times as I could in a 10 minute timeframe.
I actually preferred this set up compared to the usual "complete four rounds of a certain circuit" drill because I felt like I was more focused on form and getting to the next exercise than I was on counting down how many sets I had remaining. Random, but I liked it! I'm also on the lookout for a fun cardio-based workout for tomorrow morning, so if you have any suggestions or workouts you've been loving lately, please send 'em my way. (Tabata and circuit-style workouts are always a favorite!)
Lunch
After my workout, I worked through the morning as usual before breaking to make myself lunch.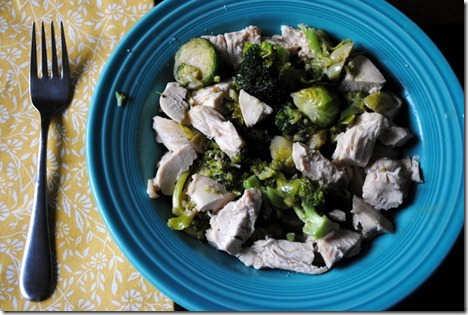 Lunch was nice and easy today thanks to leftovers from dinner.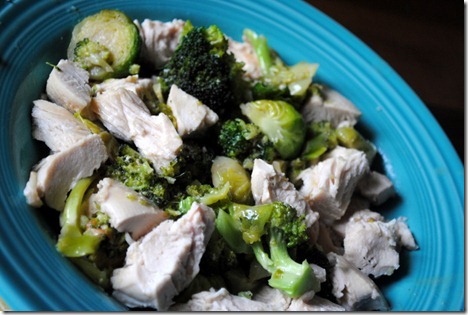 Last night I made a chicken dish on the stovetop using coconut milk and ginger. I added chicken, Brussels sprouts and broccoli to the pan and let everything simmer until the chicken was no longer pink. Ryan and I loved this dish and I was happy to have leftovers to enjoy for lunch this afternoon.
I also finished off the white chocolate pretzels that were calling to me from our pantry.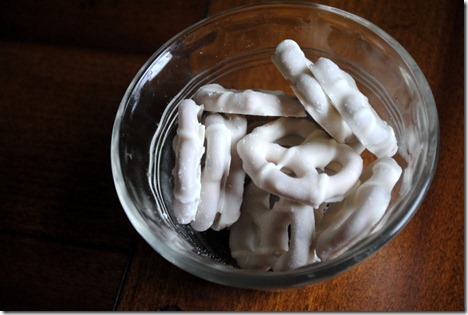 And now to hopefully make you smile on this lovely Friday afternoon, here are a few pictures some wonderful blog readers sent to me this morning of their beloved dogs in their weddings!
Meet adorable Bella:
And Annie and Cornflake: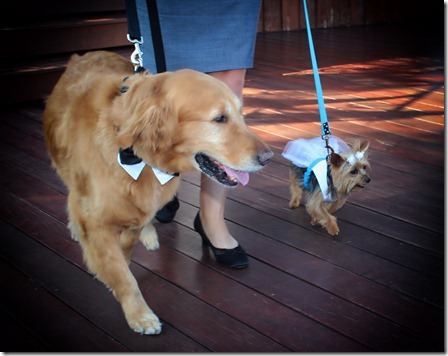 Courtney's chocolate labs, Miller and Ridge:
(Photo credit: Ali Lauren Creative Services)
Lindsay said that her sweet vizsla spent the day before the wedding at doggie daycare so she would be slightly less crazy when she appeared as the ring bearer on their wedding day:
Happy Friday!