Have you ever explored TripAdvisor.com and typed in the name of your home town? I always got a kick out of doing that when we lived in Orlando because the most touristy attractions and theme park restaurants were always ranked the highest while the hidden gems (see this post for my favorites!) were harder to come by.
Of course this makes sense since tons of people come to Orlando for the theme parks and rarely venture out to downtown Orlando or Winter Park, but I always thought it would be cool if TripAdvisor had a section for "Local Reviews and Recommendations" where you could get a glimpse at what those who live in the area think are the best parts of their hometown.
When Ryan set out to create a "Tour de Ocala" for me for Christmas, he turned to TripAdvisor.com for some ideas, figuring that the site offers some quality restaurant and activity reviews.
He said that when he read about The Canyons zip lining tours, he was immediately sold.
I couldn't wait to go and was really excited to get zippin' when we arrived around 10:45 a.m.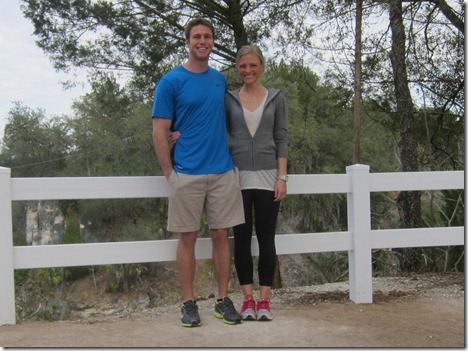 It wasn't called "The Canyons" zip lining for nothing. Check out the gorgeous views!
See that suspension bridge in the distance? We walked across it and I just about died. For some reason the zip lining didn't phase me, but that dang bridge turned my legs to Jello.
Our tour group, led by two knowledgeable and entertaining guides, Jay and Erika, included one other couple and was nice and small. Everything ran really smoothly and the whole adventure was a blast!
Not that the harnesses look  good on anyone, but they look particularly awkward on the guys. And now you all probably just looked at my husband's crotch. Awesome.
The zip lining adventure lasted about two and a half hours, included nine different "zips," two suspension bridges and one repelling challenge.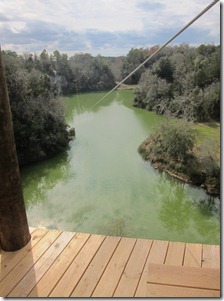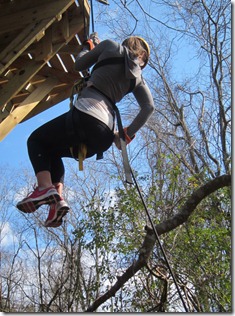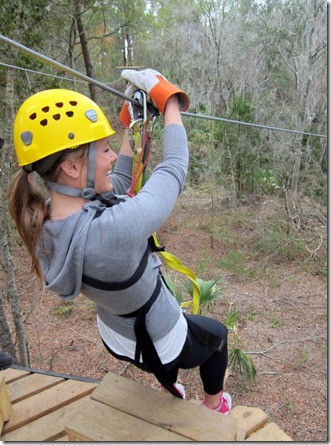 Here's a video of Ryan tackling "The Break Out" zip. (The Canyons name all of their zips, my favorite being "The Speed Trap" where they say they'll fine you for going more than 40 miles per hour on the zip!)
Ryan tackling "The Break Out" zip!
Everything was so well organized and the gear was brand new and high-quality. It was a great experience!
Lunch
By the time we were done it was close to 2 p.m. and I was starving!
When we got home we made BBQ pulled chicken subs using a big multigrain bread loaf that we picked up on the way home and briefly baked in the oven.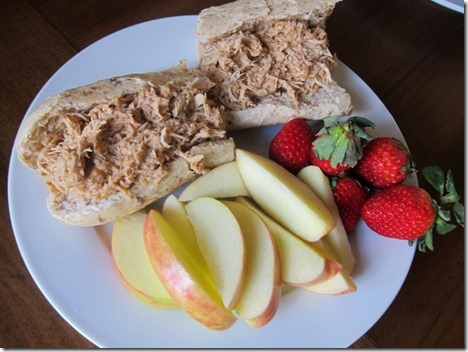 You can't beat warm, fresh, doughy sub bread!
On the side I had a sliced apple and a few strawberries.
Ryan and I also shared some peanut toffee candy that I bought on impulse at the grocery store.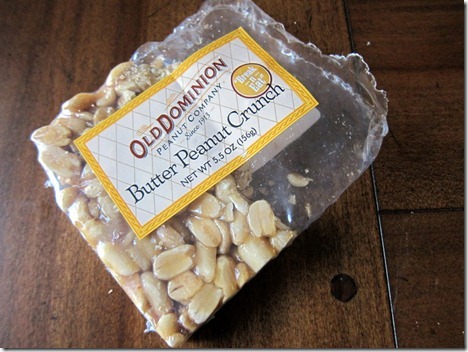 It looked too good to resist and tasted fantastic. You know I'm a sucker for peanuts!
The adventures for the day aren't over yet. We still have date night tonight! Hope you guys are enjoying your Saturday!