Yesterday I ran my fifth half marathon! It's always an incredible feeling to cross the finish line of any race, but yesterday's race was extra special because I set a personal record!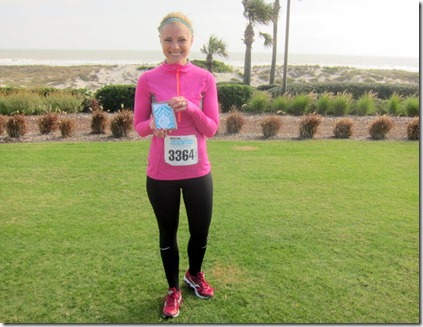 My alarm went off at 6:15 a.m. and I had a minor freak out when I realized I forgot to pack the the small bag I assembled on Friday with my race-day breakfast! Fortunately I was able to buy a blueberry bliss energy bar at the hotel coffee shop.
I ate the bar and drank a hot cup of coffee and a bottle of water. The race didn't start until 8 a.m., so I felt like I had enough time to digest everything and avoid cramping before it was go-time. Hooray for a late race start!
Before heading out, I filled up a wrist wallet Gu Ghomps and Clif Shot Bloks, my fuel of choice for the race.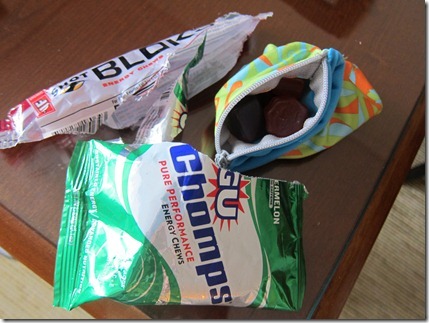 Once I was dressed and ready, I headed down to the hotel lobby and met up with Caitlin, Mary and Rachel to catch the 7 a.m. shuttle to the start line.
The shuttles left at 7 a.m. as promised and we had no issues finding a seat. I've never used a shuttle to get to the start of a race before so I was a little nervous about it since I've heard some horror stories surrounding shuttles at other races. I am happy to report that there were no issues and we arrived at the start with plenty of time to use check our bags at the gear check station and use the bathroom.
Remember the fears I expressed a week or so ago about running in the heat? Thankfully that was not an issue at all! Temperatures stayed in the 50s which made the wait for the race start awfully cold, but I warmed up once we started running.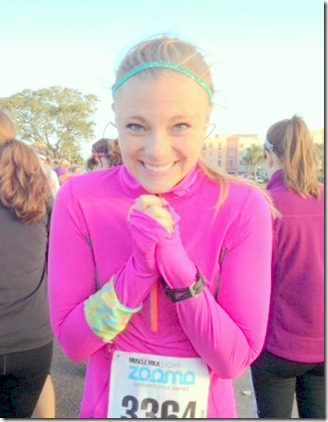 A few weeks ago, once I found out my sister would no longer be running with me due to a foot injury, I felt like I needed a new race-day goal since I was no longer focusing on our fun sister run. Sometimes I feel like I'm jinxing myself if I say my goals aloud, so I didn't tell anyone about my goal until this week, though a few of you guessed it based on the pace of some of my training runs! I was hoping to PR, which meant I needed to beat my previous PR of 1:58:49 from the Savannah Rock 'n' Roll half marathon.
Here's the thing: I thought I was going to die when I PRed in Savannah. Ryan really pushed me and paced me during the whole race and I while I finished feeling ecstatic that I broke two hours, my body felt like it had been hit by a truck. I was totally spent.
We didn't train at a specific pace during our training runs for that race, so I made it a point to focus on my pace a bit during my training over the past few weeks. I wasn't running crazy-fast or anything, but I was more aware of my pace than I have ever been in the past.
My strategy going into today's race was to try to be consistent and maintain nine-minute miles throughout the race. The first mile of the race took us though an adorable historic district before we ran through Fort Clinch State Park for around 4.5 miles. There were some very slight hills in the beginning of the course, but once we entered the park, the race was flat as a pancake. The trees of the state park provided shading and protected us from the intense wind.
I spaced out my fuel quite a bit and took a few Gu Chomps or Clif Shot Bloks at miles 3, 4, 6, 8 and 10.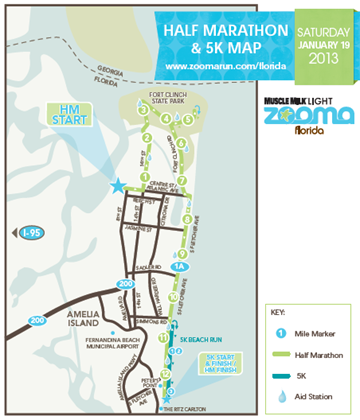 For the first half of the race I struggled a bit with self doubt, wondering whether or not I would be able to keep up my current pace. I tried to get into the zone by focusing on my half marathon playlist and I kept my eye on the two-hour pace group.
And then I hit mile seven. Right when I saw that mile marker, I mentally flipped a switch and said I would finish in under two hours and I would PR. (I actually visualized a light switch in my mind, which was kind of weird. I'm not sure where that came from, but it worked, so I went with it.)
The last four miles were basically a straight shot to the finish line which was great because it was flat, but also kind of daunting since you could easily see just how far you still had to run since there were no curves in the road. I focused on my breathing and kept a steady pace.
The big killer of the course occurred during the final third of a mile. Runners finished the race on the sand which was really challenging.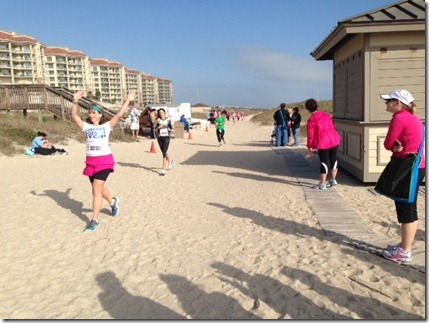 Let's just say there was absolutely no sprinting through the finish line at this race!
I knew a PR was within my reach and mentally committed to achieving it at mile 7. The mental shift that occurred then was HUGE for me. I started believing in myself and in my training. I repeated my one-word mantra. Both of my feet started cramping up at mile 11, but I ran through it. I hit the sand and tried to keep my pace up and though my run through the finish wasn't a victorious sprint, I felt incredibly proud the minute I crossed the finish line.
My final results: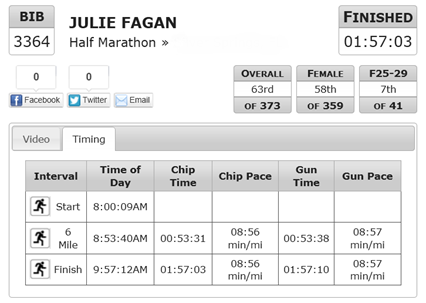 1:57:03
Apparently I ran a very consistent race, huh? I was surprised to see my average pace was the exact same for the first half of the race as it was for the second half of the race. I'll take it! 
I happily claimed my necklace at the finish (the race passed out necklaces in lieu of medals) and headed over to the post-race party with Caitlin. (<—She's a new mom and ran an incredible race. I was so psyched for her!)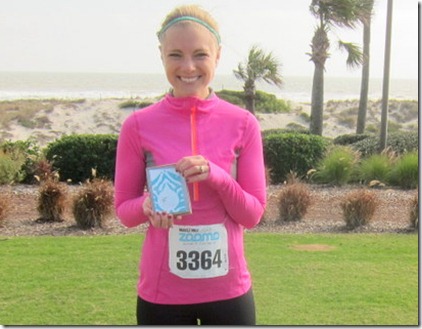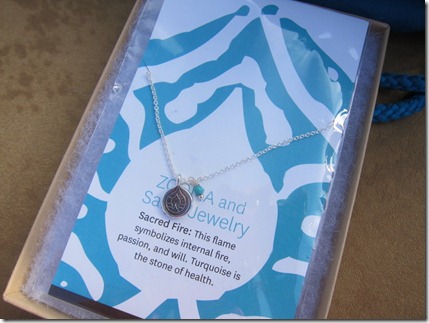 Check out the par-tay!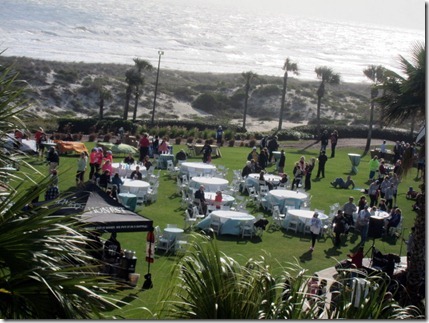 They had a live band, post-race yoga and massages, free wine, hot coffee, snacks and more.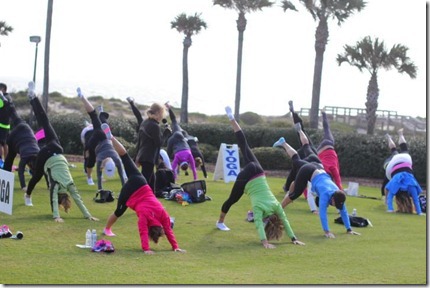 I had a great time hanging with the other blogger ambassadors and chatting about our race experiences.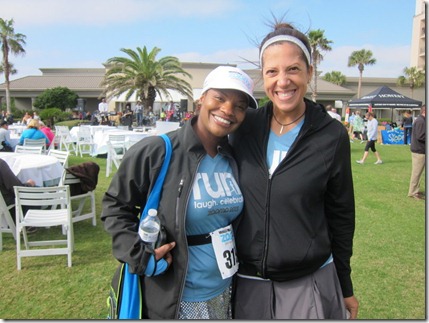 I loved meeting Renée and Lorriane!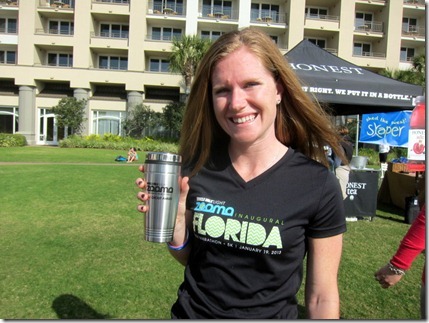 Mary is a speedster and got second place in her age group! That cute tumbler was her award instead of a plaque which I thought was great and way more useful.
The group: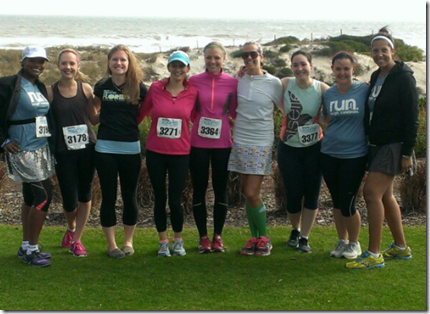 Renée, Presley, Mary, Caitlin, me, Amanda, Jane, Rachel and Lorriane (Unpictured: Michelle and her beautiful baby bump!)
And Tricia and Brooke, two of the wonderful women from ZOOMA: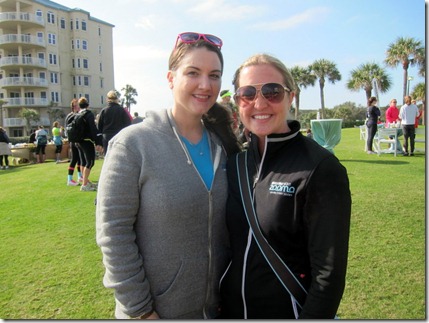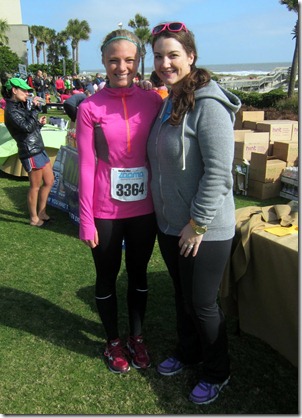 Yesterday was definitely day to remember!
Hooray for a new PR!