Did any of you guys read the book Make Way for Ducklings when you were a kid (or an adult dabbling in picture books)?
If so, then perhaps these little guys look familiar?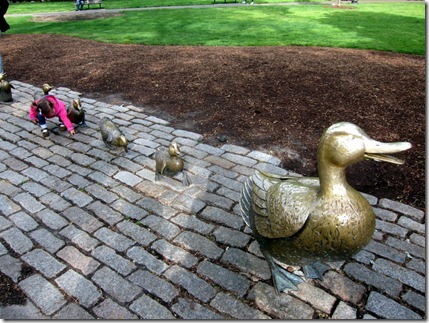 Quack, quack! (In my head I sang my favorite "Ducks Like Rain" song when I saw the ducks. I should also mention that Ryan now sings it too whenever it rains. Someone save our future children.)
The ducks were one of the fun highlights I saw yesterday during a quick afternoon walking tour of Boston thanks to the fabulous Sarah.
Sarah (standing second from the right in the above picture) is a Boston resident and YouTube fitness video guru who was kind enough to take a bunch of bloggers who are in town for a Reebok/FitFluential event around the city.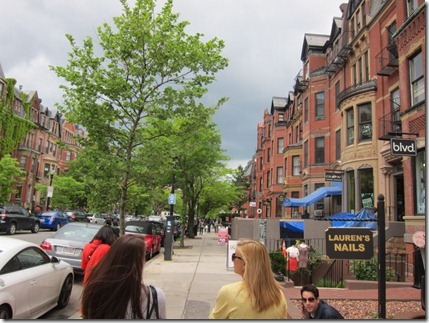 I've been to Boston before but I was way too young to remember it and after walking around all day yesterday, I am already itching to plan a visit back!
I was impressed with just how clean and beautiful the city is and was surprised that it felt almost quaint since it is so large.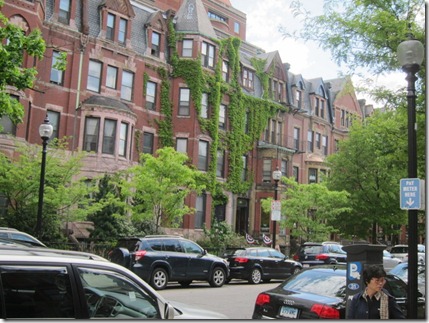 I expected Boston to feel a bit overcrowded and hectic, but people seemed really laid back and the city itself seemed like such a fun place to explore, shop, eat and play!
So we did a little bit of each of those things!

First up upon our arrival to Boston was grabbing some frozen yogurt.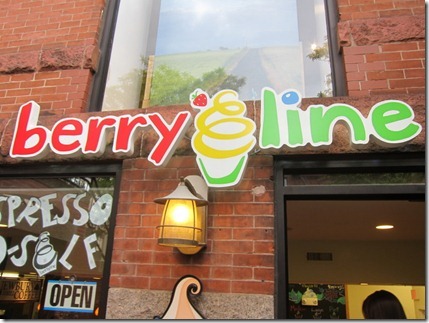 We walked from Sarah's apartment to Berry Line, a cute local frozen yogurt shop.
The place smelled like waffle cones when you opened the door. Heavenly!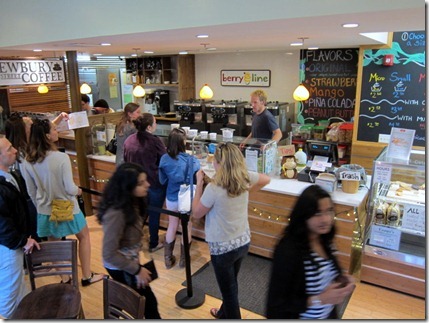 I ordered a combination of piña colada and strawberry frozen yogurt, topped with fresh fruit.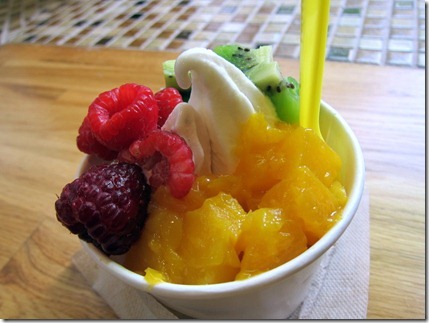 The piña colada frozen yogurt was my favorite since there were little pieces of coconut in the soft serve. I am a coconut love-ah, so the little flecks of coconut were a welcome treat.
We then hit up a bunch of shops on Newbury Street before stopping for a coffee break at Wired Puppy and continuing on our walking tour of Boston.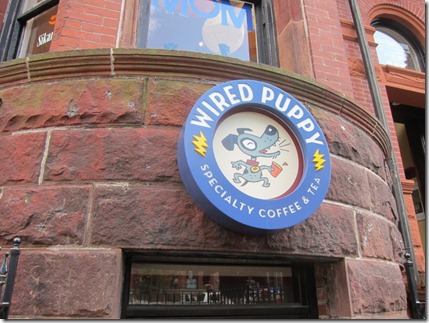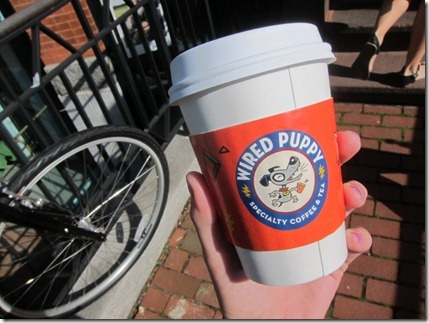 I ordered a small coffee with caramel syrup and almond milk.
At one of the shops on Newbury street, Anne and I noticed some rad clutches that seemed to come equipped with pseudo brass knuckles just in case someone tries to mug you on the streets.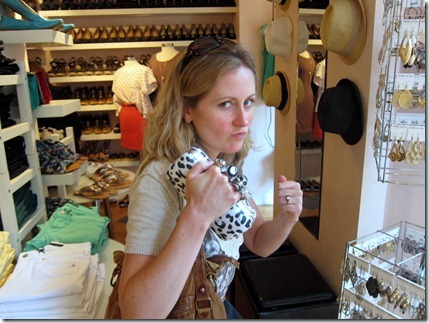 Safety first. Don't mess with us.
Since the weather was absolutely gorgeous yesterday, our little group walked around the city and through some parks before heading back to Sarah's before dinner.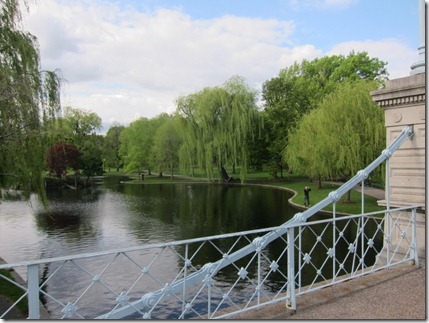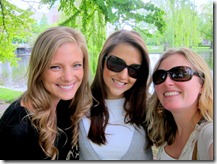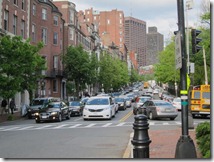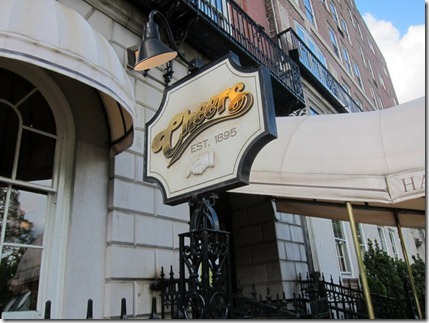 The Cheers Bar!
And check it out…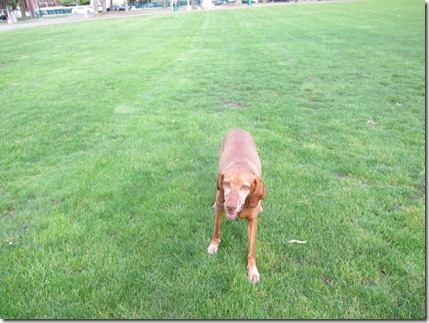 A vizsla!!!
I was so excited to see a guy out playing fetch with his 10-year-old vizsla and just had to say hello in honor of Sadie. The vizsla, Daisy, had a lot more white hairs around her sweet face than Sadie, but her energy level was most definitely still kickin'.
When I was about to throw a stick for Daisy, one of her back legs started shaking, just like Sadie's does when she's amped up and anticipating a great throw. Obviously I let Daisy down when the stick fell 8.5 feet from where I threw it. She was quickly over my sub-par throwing abilities and dropped the stick at her owner's feet when she returned. Point taken. Playtime over.
Dinner
Dinner in Boston took a group of six of us to Red Lantern for some Asian fusion fare.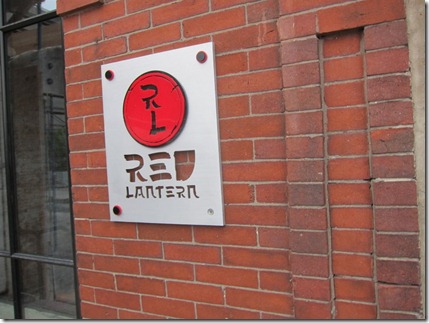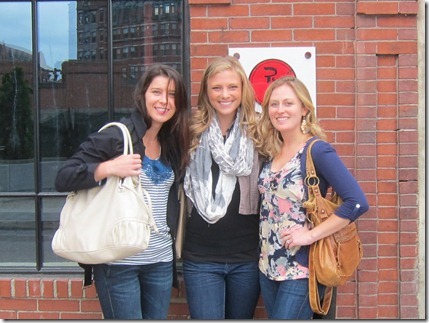 (Tina, her awesome rogue hair, me and Anne)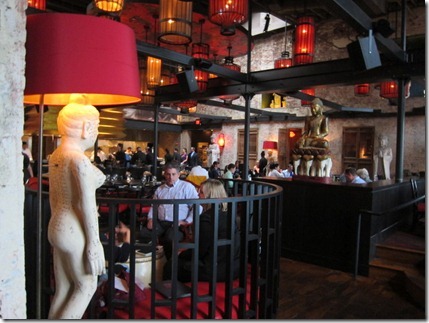 Since our waiter explained that the restaurant served mostly large, family-size portions meant for sharing, we ordered a bunch of dishes for the table and passed them around.
Appetizers: Beef and chicken skewers + Tuna tartar (<—My favorite dish of the night)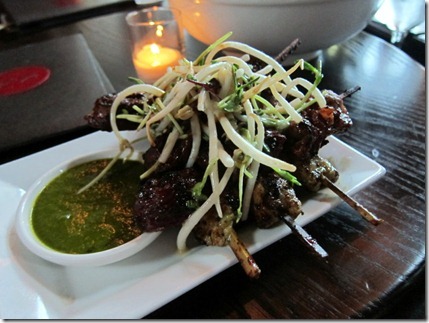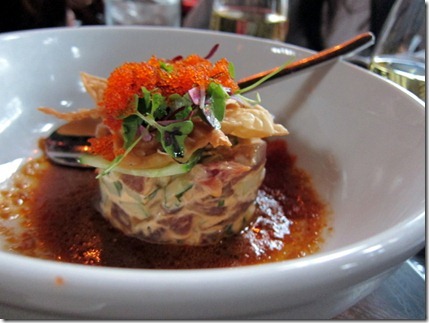 Entrées:  Tik Tok chicken (basically orange chicken) + Sea bass + Noodle bowl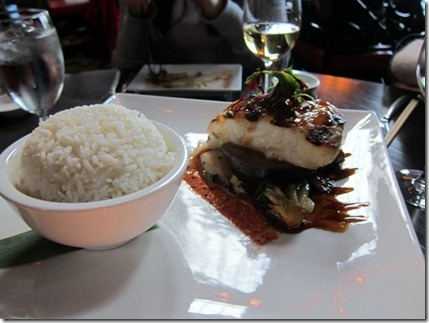 Everything was really good, but if I went again I think I would order the sushi. I was eye-balling the table next to us that ordered a bunch of sushi rolls that were calling my name. "Juuuuuulie."
Our day in Boston really made me want to plan a trip back to the city to explore. It seems like it would be so much fun to come to Boston for a girls' weekend or a fun getaway with Ryan. Either way, I hope I find my way here again soon!
Question of the Morning
What was your favorite book as a child?
I loved Good Night Moon and The Sweet Smell of Christmas.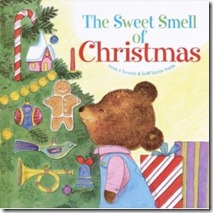 The Sweet Smell of Christmas actually had little scratch 'n' sniff stickers on many of the pages that smelled like Christmas trees, eggnog, pumpkin pie and more. It was an interactive dream! My parents still have the book and some of the stickers still smell when you scratch them!