Friday
Friday took me and the boys to Patterson Farms again for round two at the pumpkin patch.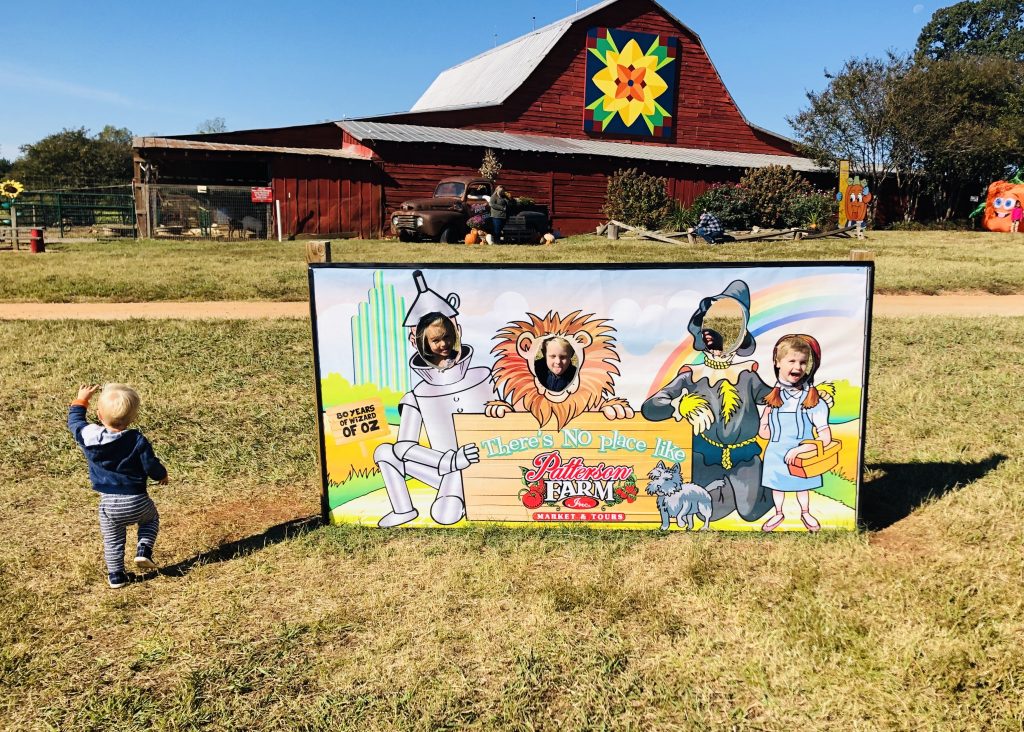 I joined my friends Carrie and Jess and their little ones for a morning of fall playtime and it was great! Since Chase doesn't have school on Fridays, it's really nice to have a wide-open day with both boys to fill with play dates or other random fun activities from time to time. However sometimes, like last week, I end up taking the boys on random errands with me and it can work out just as well. Last Friday's trip to the consignment shop to drop off some of the boys' gently used clothes was a hit because they love playing with the toys and it's located near a pet store where Chase and Ryder pretty much think they're at the zoo. I love the way they get just as excited over a trip to the pet store as they do a pumpkin patch morning and it's such a good reminder that sometimes free and easy is just as wonderful as something more thought-out and planned for little ones.
We rounded out our Friday night with a family trip to the library to pick up a bunch of books I had on hold and called it a day.
Saturday
Saturday morning began with a little trick-or-treat practice!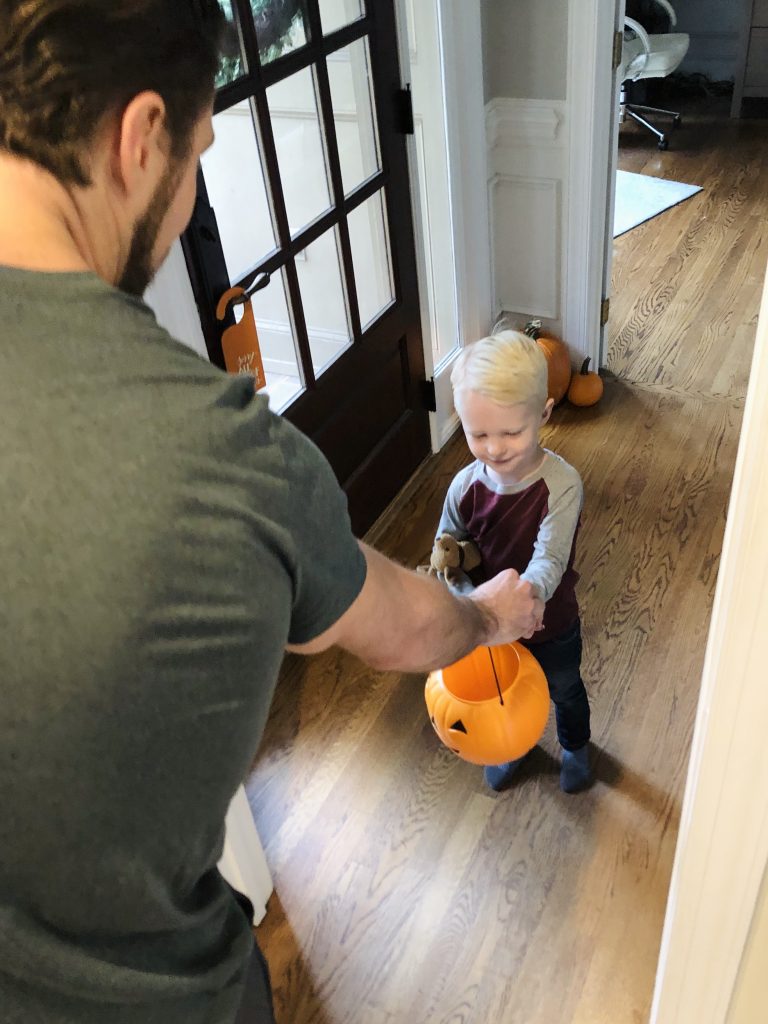 Chase practiced trick-or-treating on repeat in our kitchen and got the biggest kick out of it. We said goodbye to Ryan after breakfast because he had plans to celebrate our friend Nick's birthday with some of the guys and I took the boys to Bailey Road Park in Huntersville for a birthday party!
I spent a lot of the birthday party making sure Ryder didn't put acorns in his mouth and steering him back toward the playground. Do any of you guys have a little one who is often uninterested in toys and playgrounds and just wants to run away in every direction and explore? Ryder is our little adventurer always keeps me on my toes!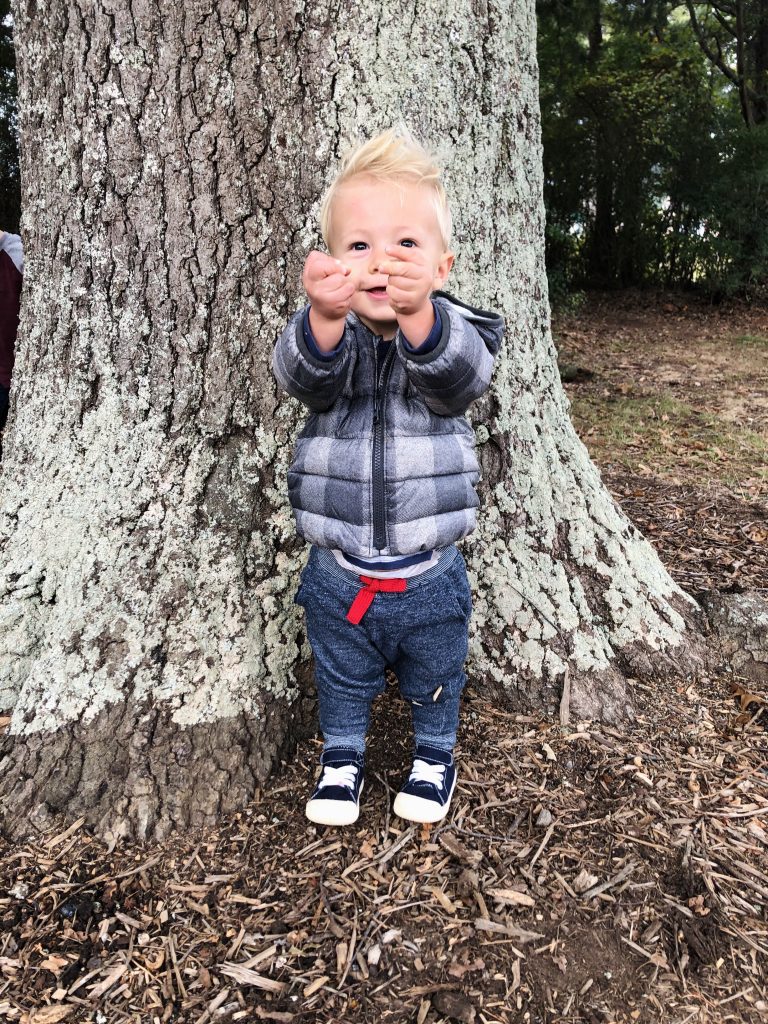 Thankfully the swings, stairs and slides keep him entertained, as does anything remotely dangerous. I swear if there's something he can climb on with no support that looks like a death trap for a 16-month-old, he will find it.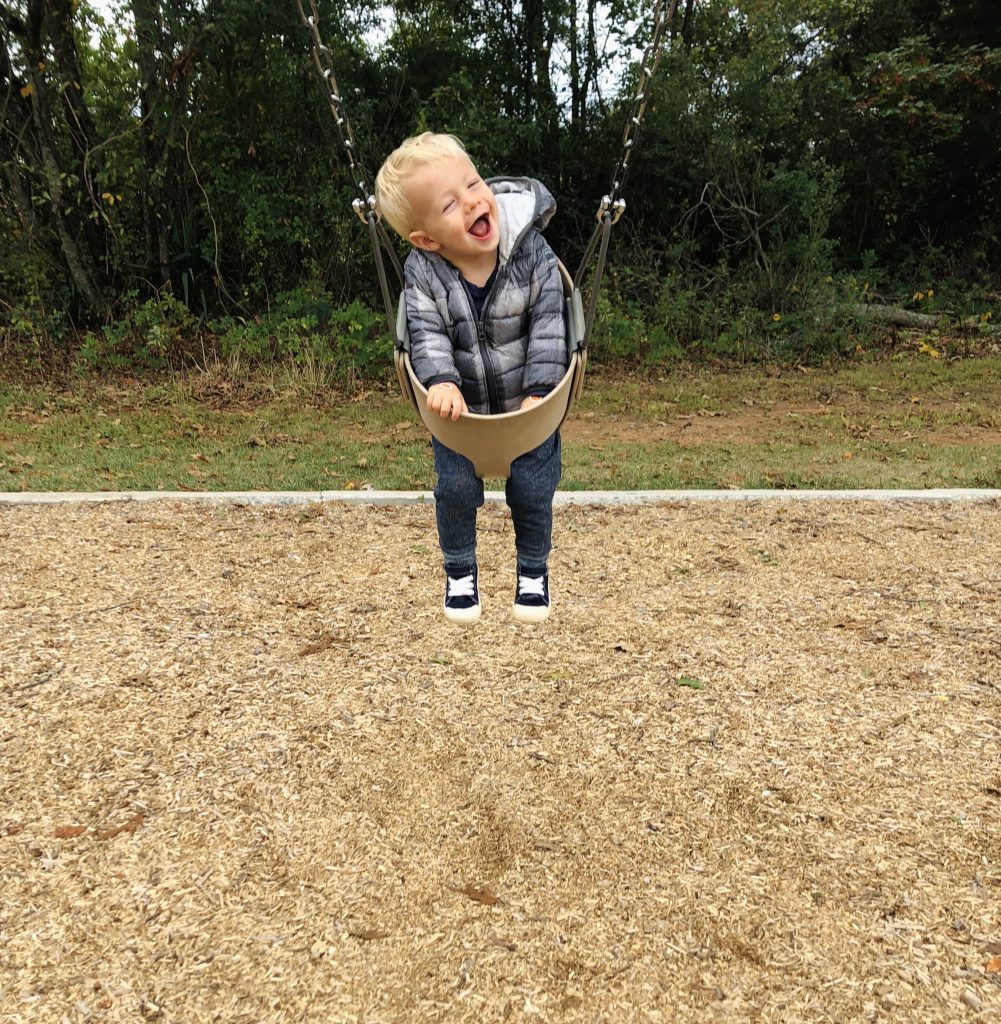 Braydon's birthday party was a blast for both boys despite my Ryder-wrangling and Chase loved running around with his buddies, painting pumpkins, eating pizza and licking the icing off of his cupcake.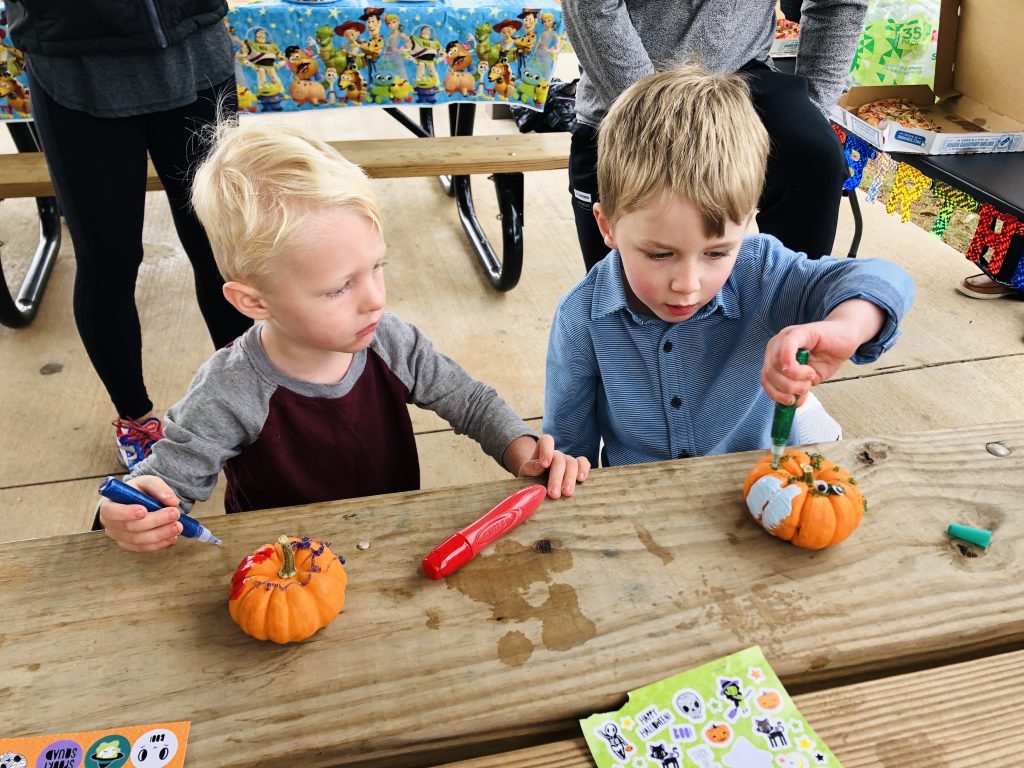 Ryder ended up falling asleep in the car on the drive home from the birthday party and though he tossed and turned in his crib for an hour or so, I'm pretty sure his car nap was his only real nap time for the day. Even though he didn't really sleep, Ryder's rest time gave me and Chase the chance to carve a pumpkin together while we waited for Ryan to arrive home.
Chase chose the "Happy Bat" pattern from the kit we bought which was good news for me since it had an "easy" rating in the booklet. Phew! We were very proud of ourselves when it was done and put a little candle in our jack-o-lantern that we let burn whenever we were home with the pumpkin all weekend.
Ryan made it home from his adventures around 3 p.m. and we all hung out at the house until our evening plans took us to Brewer's at 4001 Yancy in Charlotte to continue Nick's birthday celebrations with some of our friends and their families!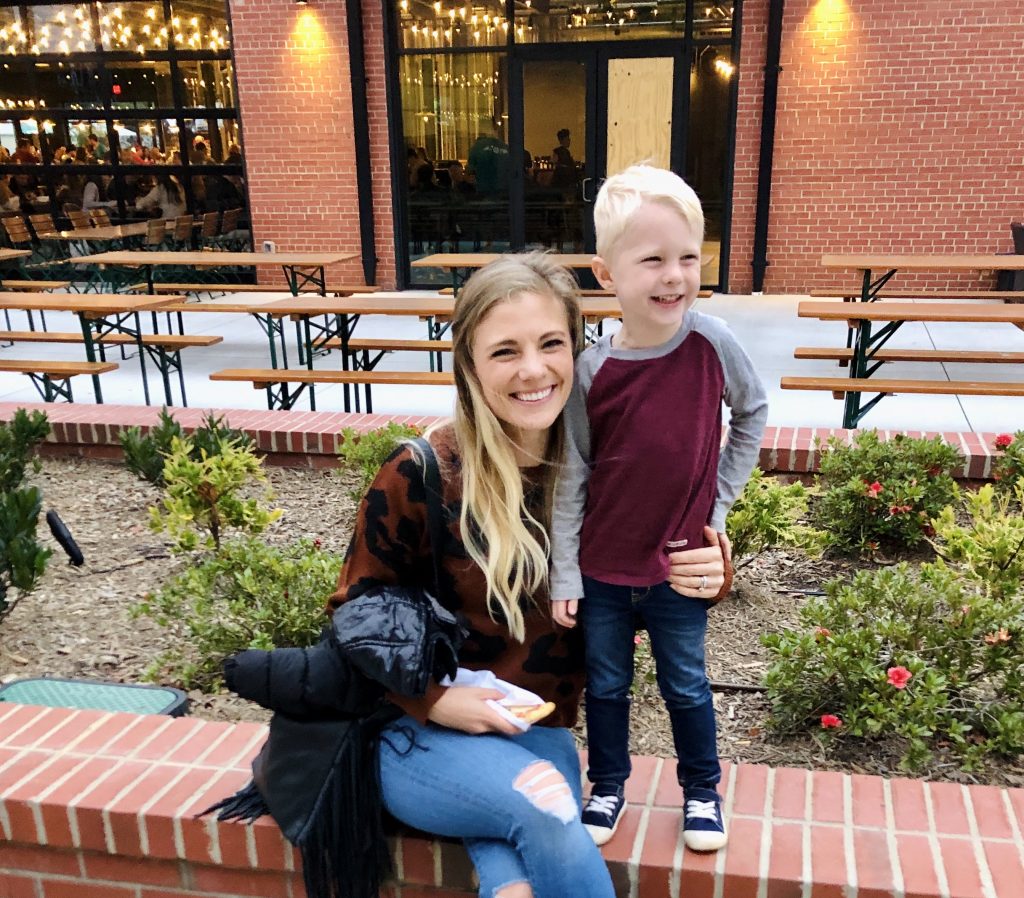 (FYI, I know the above pic isn't the best for seeing my sweater, but it was a recent $23 Amazon find! I love the leopard print trend and this sweater is available in a ton of colors. It's lightweight for fall and the quality is great for such an inexpensive find.)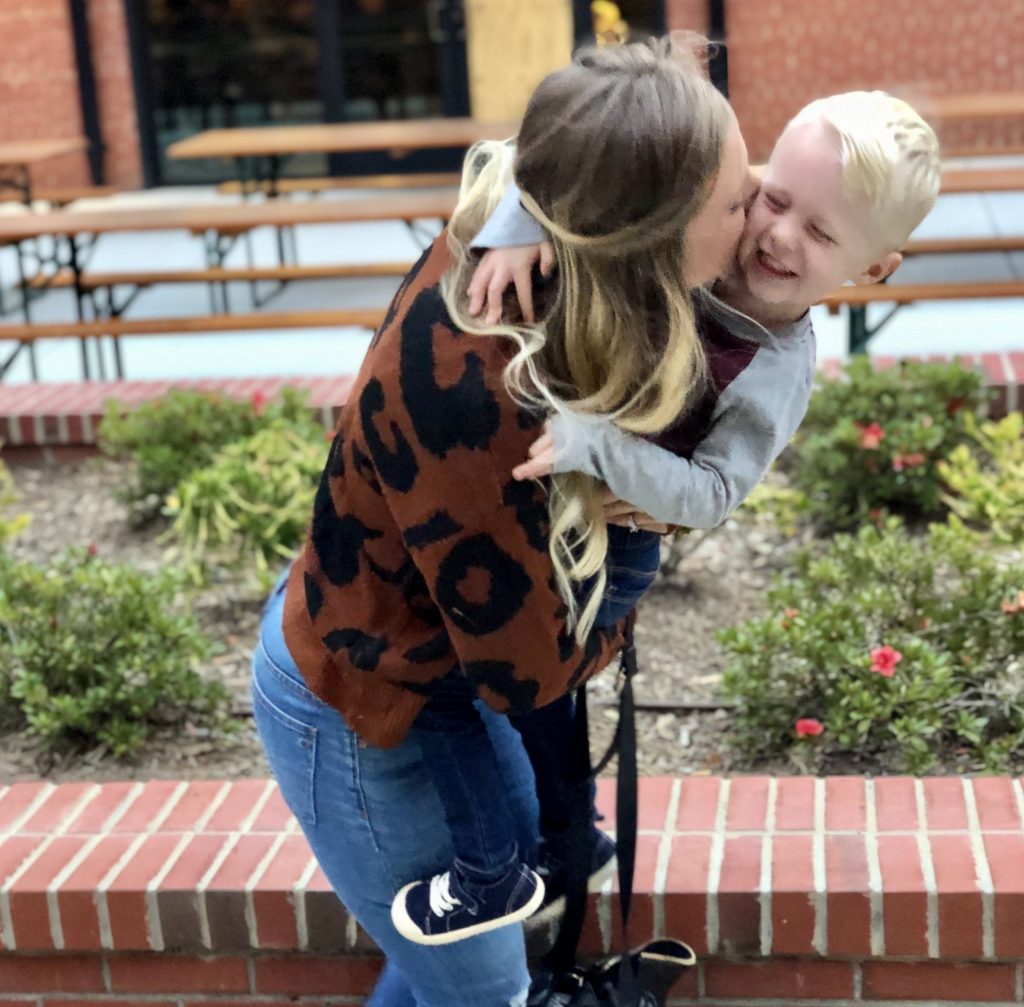 The brewery is a family friendly place with a lot of outdoor space for kids to run around so all of our little ones had fun playing together while we enjoyed some food and drinks.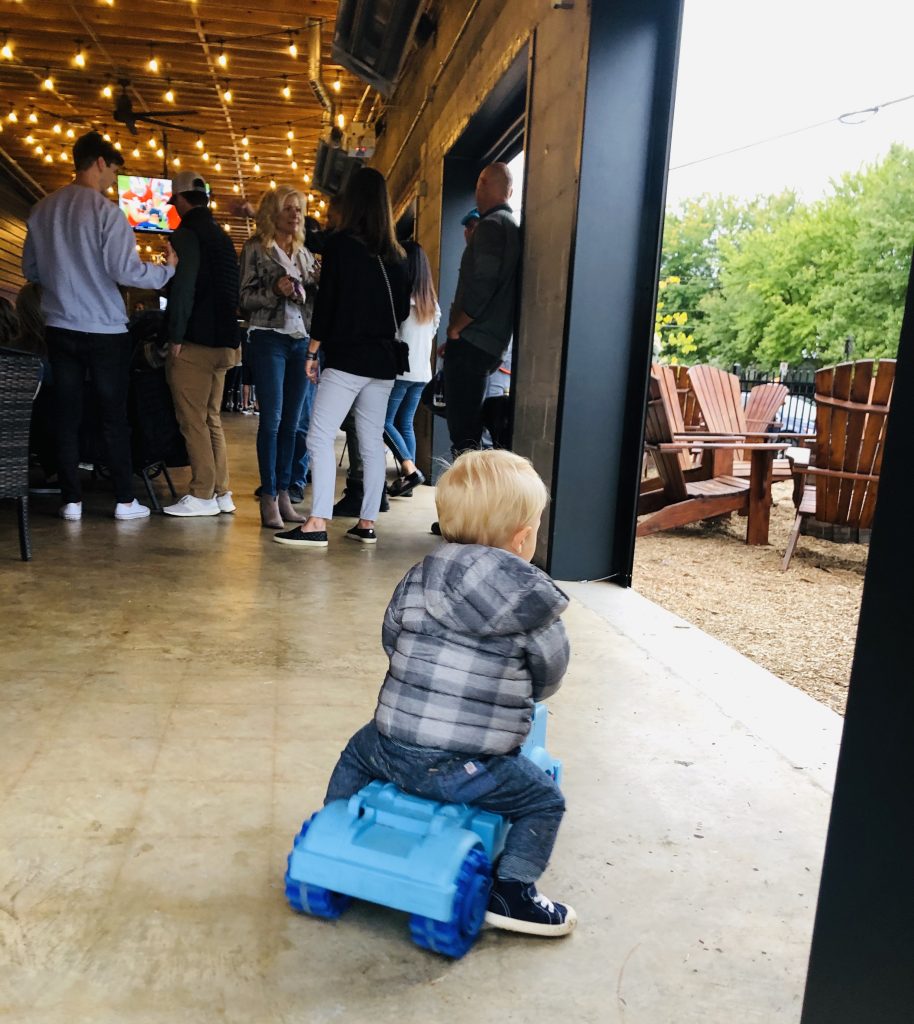 We called it a night when our evening began to encroach on the boys' bedtime and made our way home.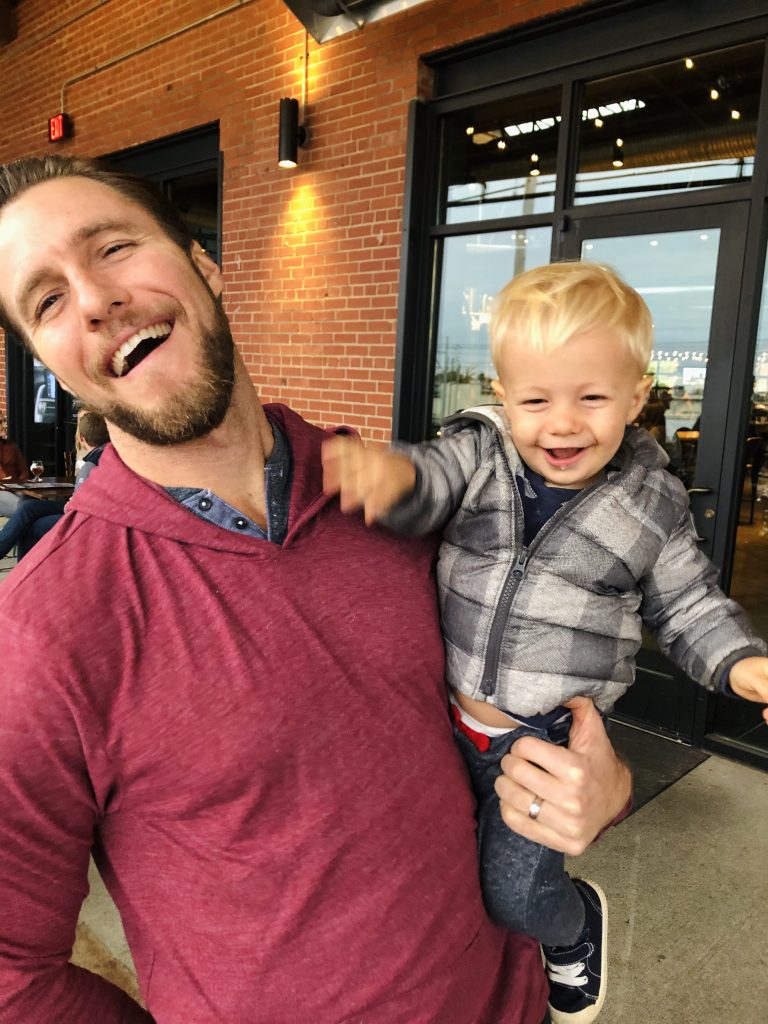 (Can you tell Ryder just whacked Ryan in the face and thought it was funny?)
I fell asleep within 5 minutes of my head hitting the pillow on Saturday night but was up with Ryder a couple of hours later. (I'm pretty sure he's already getting one of his two-year-old molars. He's a little raptor baby.) Ryder is a pretty solid sleeper so when he wakes up in the night crying, I almost always find myself rocking him in his room. He had a hard time settling in his crib but would fall asleep within minutes when I scooped him up and rocked with him. When I made my way into his room for the second time that evening, I ended up grabbing my Kindle and finishing my latest book while he snoozed in my arms before finally successfully transferring him to his crib for the night. I finished reading Maybe in Another Life and it was another Taylor Jenkins Reid winner.
Sunday
Sunday morning began with clouds and drizzle — the perfect weather to throw on some comfy clothes and head off to the siblings class at MyGym! We spent an hour practicing gymnastic skills, singing, running, jumping and playing and headed home ready for a big pancake breakfast. Ryder was ready for his nap on the early side of the day on Sunday so while he slept, I made pancakes and Ryan and Chase did a little pumpkin painting.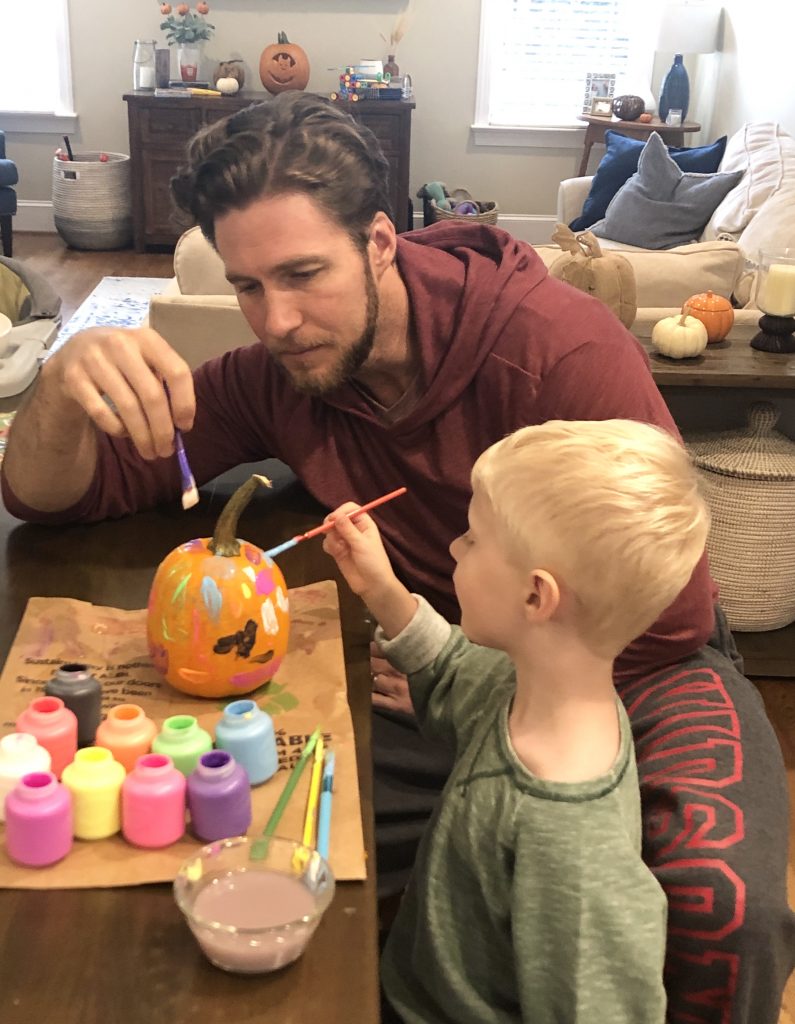 Once we were done eating pancakes, Chase asked to carve a second pumpkin, so we carved the "Scaredy Tomcat" pattern from our pumpkin carving booklet.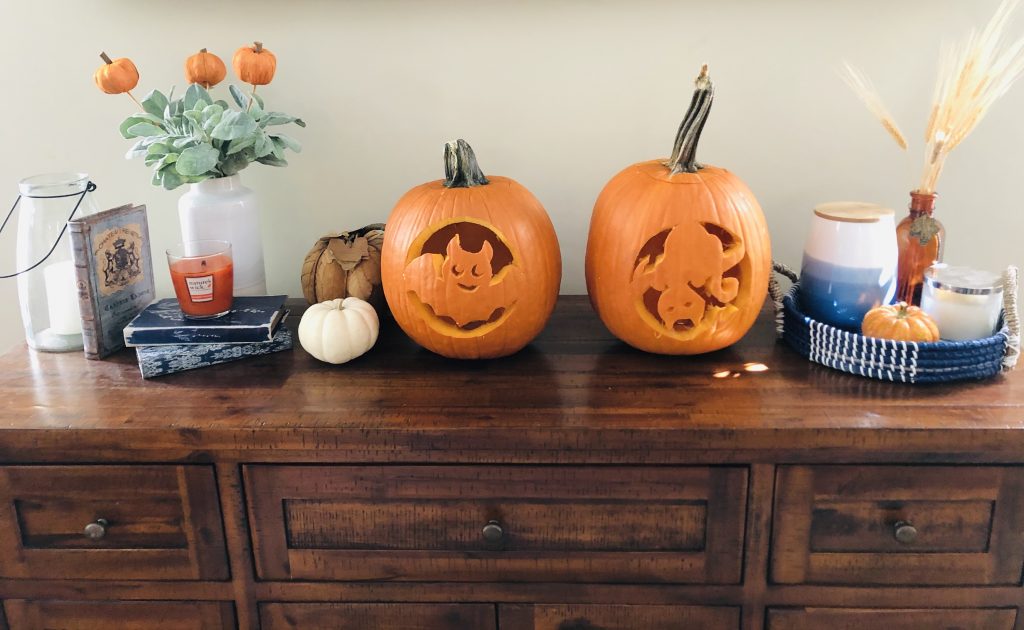 For some reason, I get the feeling we're still not done carving pumpkins this year. Chase is all about it and Ryan , Chase and I are loving the salty roasted pumpkin seeds.
Once Ryder was up, the sun began to peek out for the first time and so we took advantage of the unexpected sunny weather and drove to Birkdale Village for smoothies from Clean Juice and playtime at the park nearby.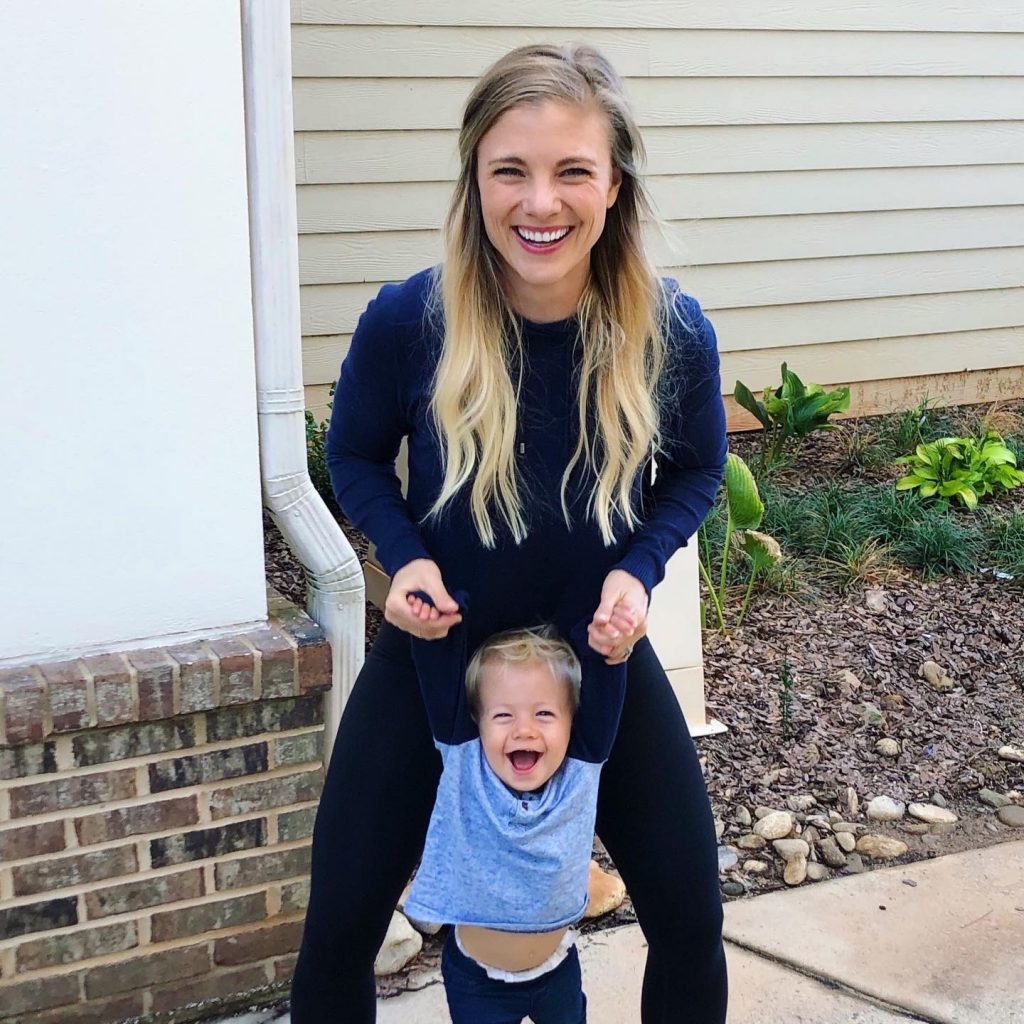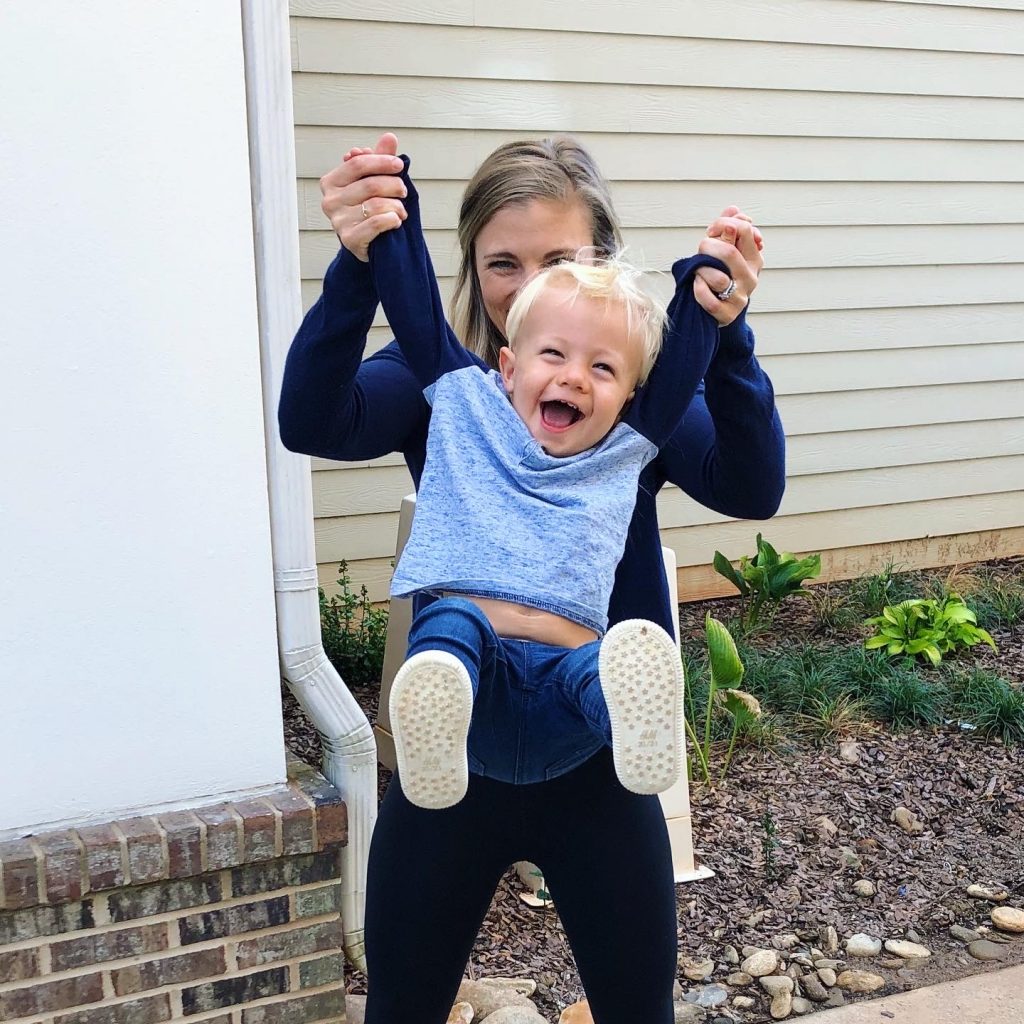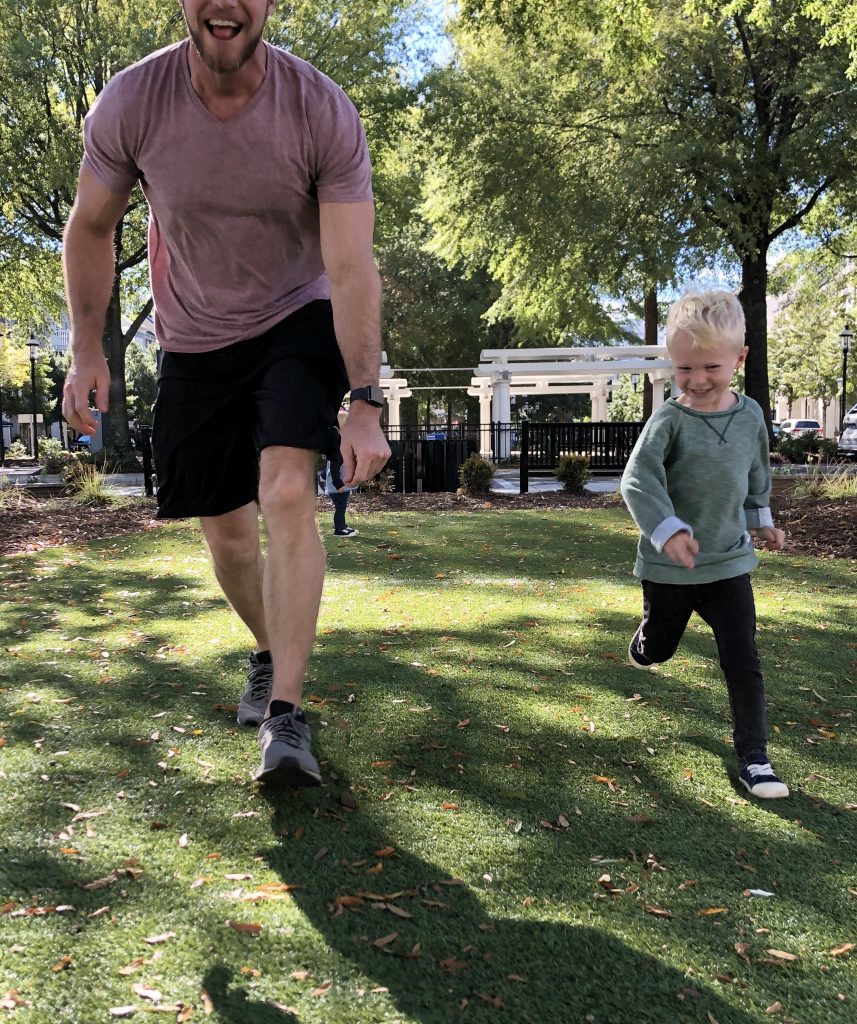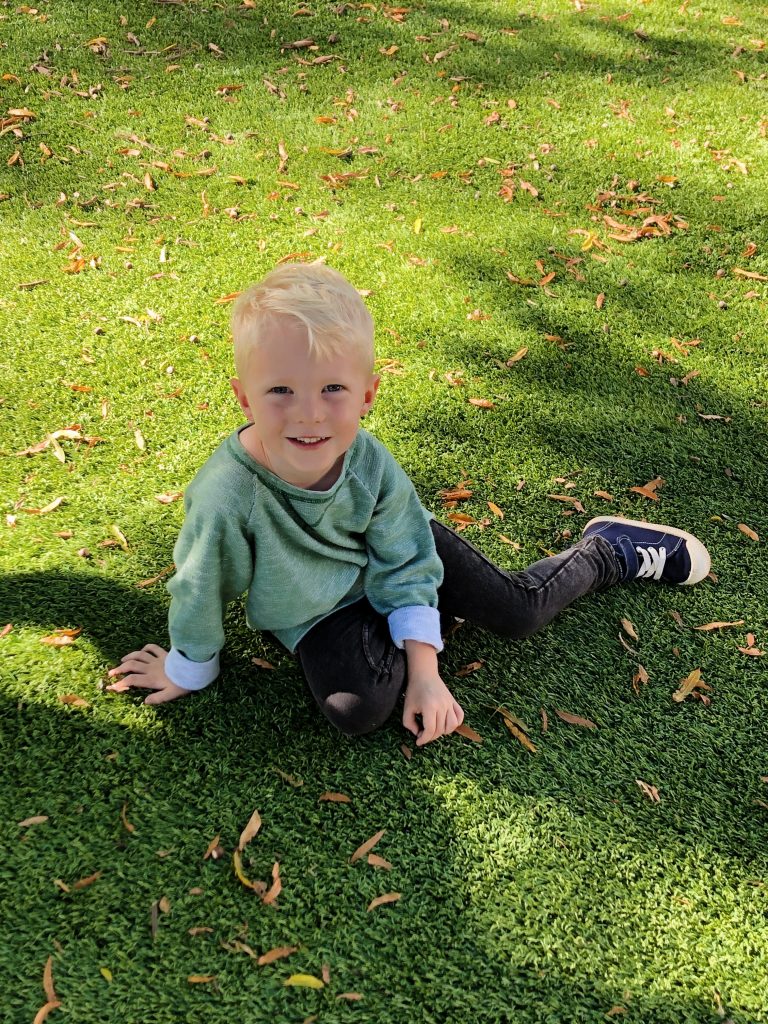 I also wanted to make a quick return to American Eagle and pop into the Halloween store for some face-paint for our Halloween costumes this year. Soon after we made it home, it was time for dinner and the whole bedtime routine. We rounded out the evening with book 13 from the Magic Tree House series with Chase and then I began reading One True Loves, another novel by Taylor Jenkins Reid since I clearly cannot get enough of her work lately.

Plans for this week look pretty typical around here with soccer for Chase tonight, MyGym for Ryder and a playdate on the agenda but the end of the week will be a little more exciting because we're heading to Florida! My Aunt Barbara is flying in town from Washington to stay with my parents for the weekend and we haven't seen her in way too long so we will be heading south for some family fun.

I hope you all have a wonderful week and, as always, thanks so much for making PBF a part of your day!

Hi friends! How are you doing? Another Monday is here and I'm left scratching my head at how the weekend passed by so fast. It was a good one over here and now we're gearing up for Picture Day at Chase's preschool this morning!