Heeere we go!
Morning
Sleep has been a little hit or miss around here lately thanks, in part, to what I can only assume is the beginning of the four-month sleep regression. Thankfully Ryder seems to fall back asleep fairly easily after nursing in the night, but there have been a handful of nights where I feel wide awake after a 2 or 3 a.m. nursing session. It's no where near as bad as the insomnia I had when I was pregnant (that was brutal!) but it's rough enough to cause me to skip my 5 a.m. alarm some mornings. That was the case yesterday and I ended up sleeping in until 6:30 a.m. when I got up and quickly got myself dressed for the gym before the boys were up for the day.
Ryder was up about 15 minutes later, so I nursed him and then brought him downstairs with me where I took a little time to make my coffee a little special.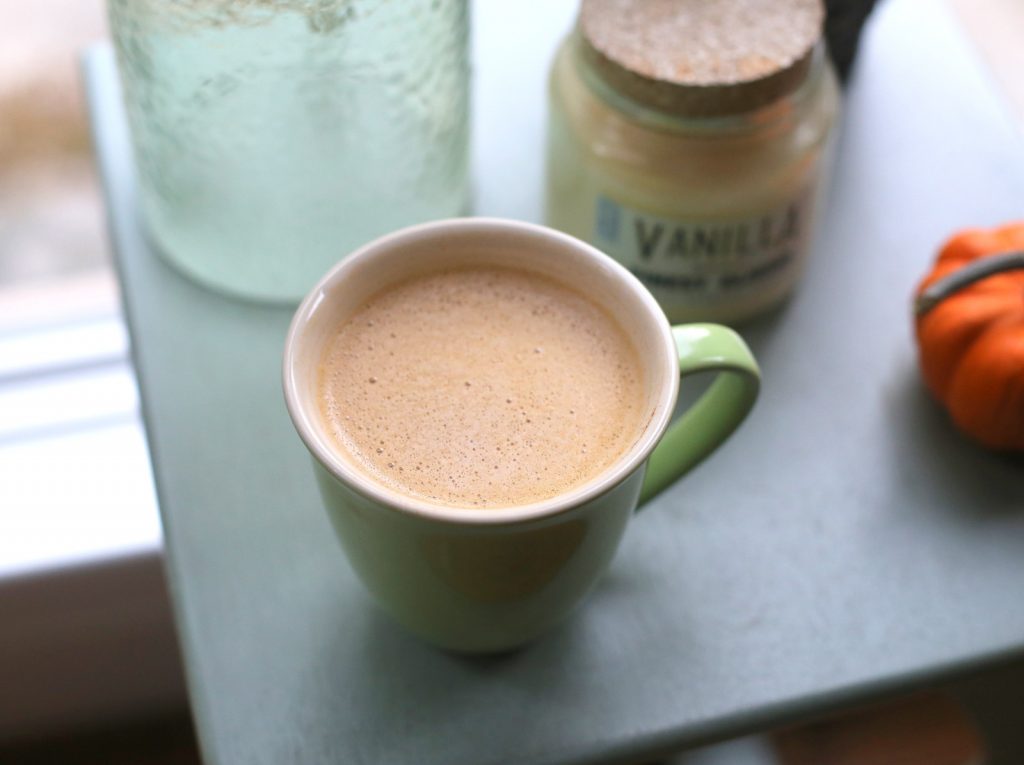 I made myself a pumpkin spice latte and followed Brittany's recipe because it's the best one I've found for a creamy latte made with good-for-you ingredients. (There's a reason her latte made my list of the 10 Best Blogger Recipes I Make Again and Again.)
When I heard Chase start to make noise, I figured I should quickly down my breakfast before getting him up for the day so I threw together a big green smoothie topped with pumpkin seeds, bee pollen and cacao nibs.
It always feels like the moment Chase wakes up our day kicks into high gear and yesterday was no different! We read some library books together while Chase ate a whole wheat pumpkin muffin and some strawberries for breakfast. Ryder seems to be falling into the pattern of needing a quick cat nap in the morning before preschool drop off so I did my best to get Ryder soothed and napping in his Rock 'n' Play and then Chase, Sadie and I spent some time in our backyard, filling the bird feeder and searching for butterflies and bees. (Ryder's Rock 'n' Play was positioned so I could easily see him through the back door window.)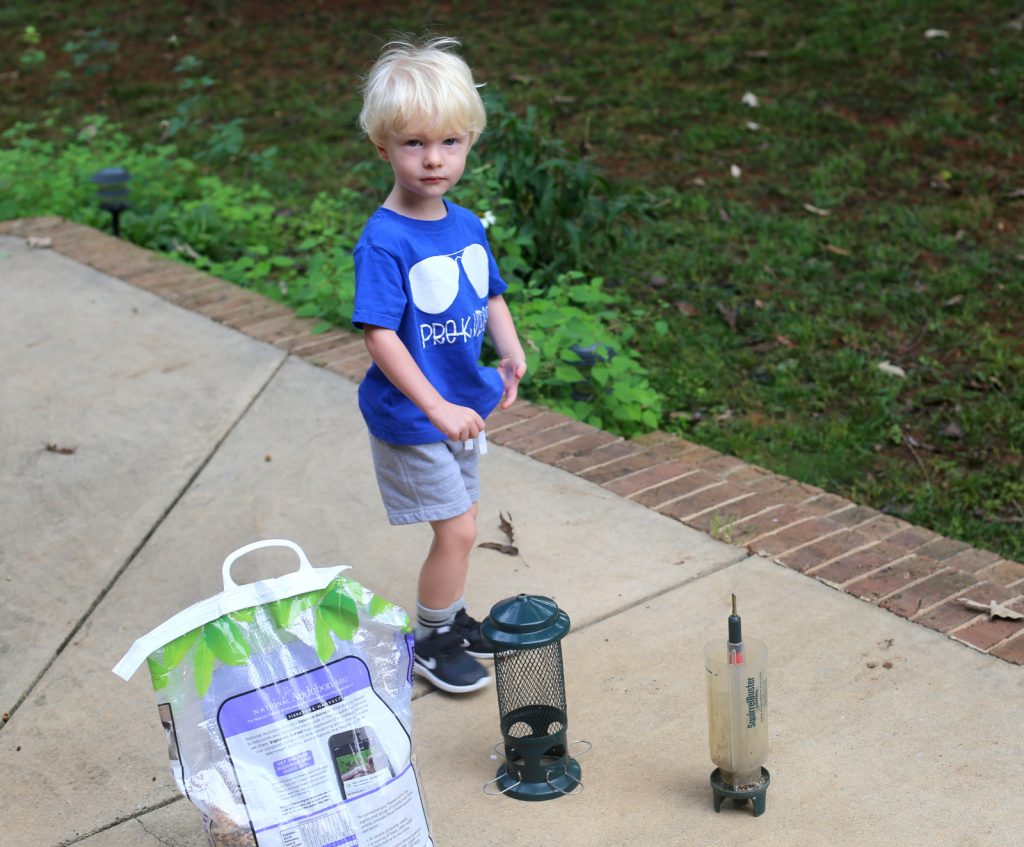 We had 10 minutes to go before it was time to leave for preschool when all of the sudden Ryder woke up and needed to nurse, Chase had to use the potty (a long experience some mornings…) and then Ryder had a massive poop that came out the back of his diaper. I was convinced we were crusin' through the morning seamlessly but we ended up dashing out the door. Yeesh!
Chase was excited for school as usual and ran right up to his teacher to show her his mosquito bite (important stuff, ya know) and barely managed to remember to wave goodbye to me. I truly hope his enthusiasm for school and his intense curiosity lasts forever and ever.
After drop off, Ryder and I made our way to boot camp where he hung out in child care while I completed an athletic conditioning workout.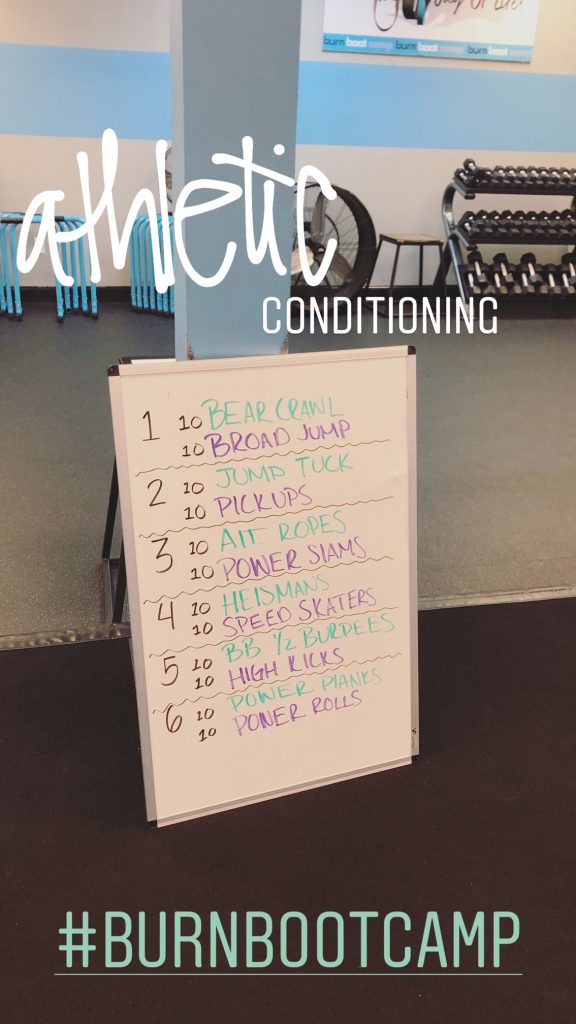 We spent three minutes at each station, switching back and forth between 10 reps of two different exercises. It was a sweaty one!
After my workout, I joined my friends Carrie and Jess and their little ones for a short walk at a local park. I knew Ryder would likely take a pretty solid nap during our walk since he was awake most of the time at boot camp and he snoozed away while I chatted with my friends.
Right after our walk, I quickly ate one of the new maple almond nut butter packets RXBar sent my way before driving home.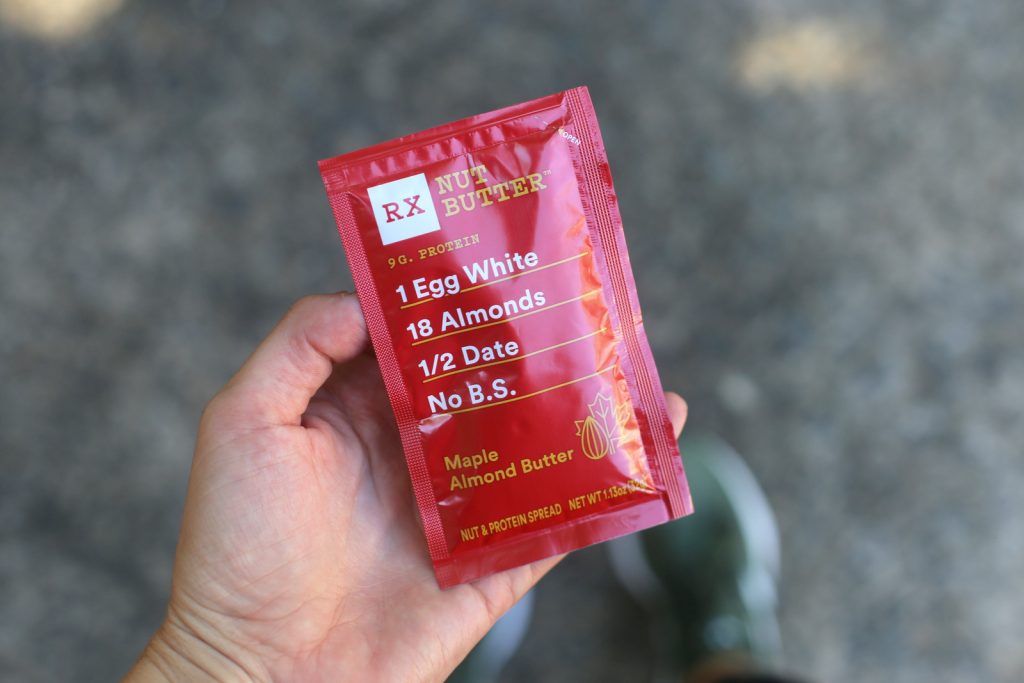 RXBar's nut butters are some of my favorite on-the-go snack options and I love the way they offer a little boost of protein and healthy fats that help take the edge off my hunger. The new maple almond butter flavor was delish!
Back at home, I nursed Ryder again and then let him play and kick on a blanket while we did some tummy time and he chirped and cooed away.
He's become so vocal in the past few weeks and hearing him chatter away and make the loudest high-pitched dinosaur noises makes me smile so much.
Afternoon
Before I knew it, it was once again time to head back out and pick Chase up from school, so I loaded Ryder into his car seat and we were off! Without fail, every time I pick Chase up from school he immediately runs to smother Ryder in kisses and I have to coerce him back to the car with the promise that he can play with his little brother when we get home. I have to give Ryder a ton of credit for being such a laid back baby because he tolerates Chase's rather intense attention with smiles and looks of curiosity and adoration.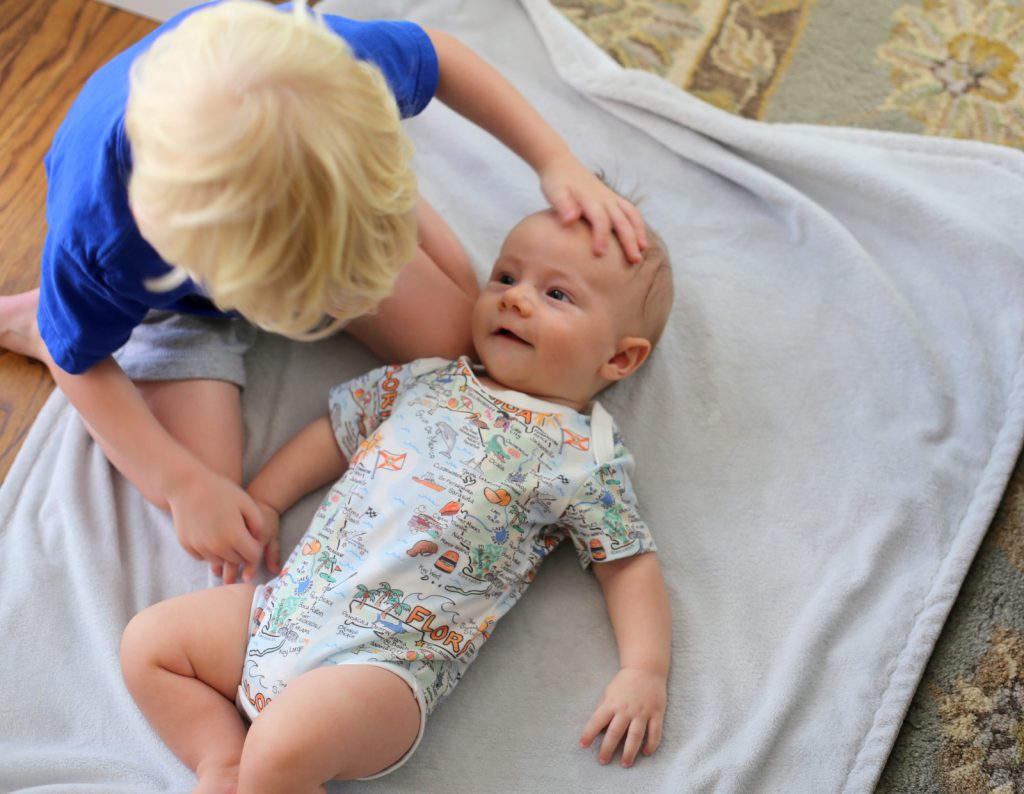 For those with two kids, have you noticed your older child picking up on the nicknames you have for your youngest? It cracks me up when Chase calls Ryder "Sweetie" or "Cutie Boy." I wonder where he got those names from?
Before nap time we did our usual picnic + stories in Chase's room and then I settled Chase in his bed with a few books. Most of the time he'll fall asleep "reading" but I'm totally fine with him reading and playing with his toys in his crib as long as he gets at least an hour or so of quiet time. He truly needs it to decompress and relax after a busy morning!
While Chase slept, I tried to get Ryder down at the same time. It didn't work so well, so my work time at the computer yesterday was rather limited but I did my best to respond to time-sensitive emails with Ryder in my Baby K'Tan.
I also quickly ate a jar of chocolate chia pudding that I made the day before and followed it up with more than a couple spoonfuls of coconut butter. (Coconut butter is my latest addiction.)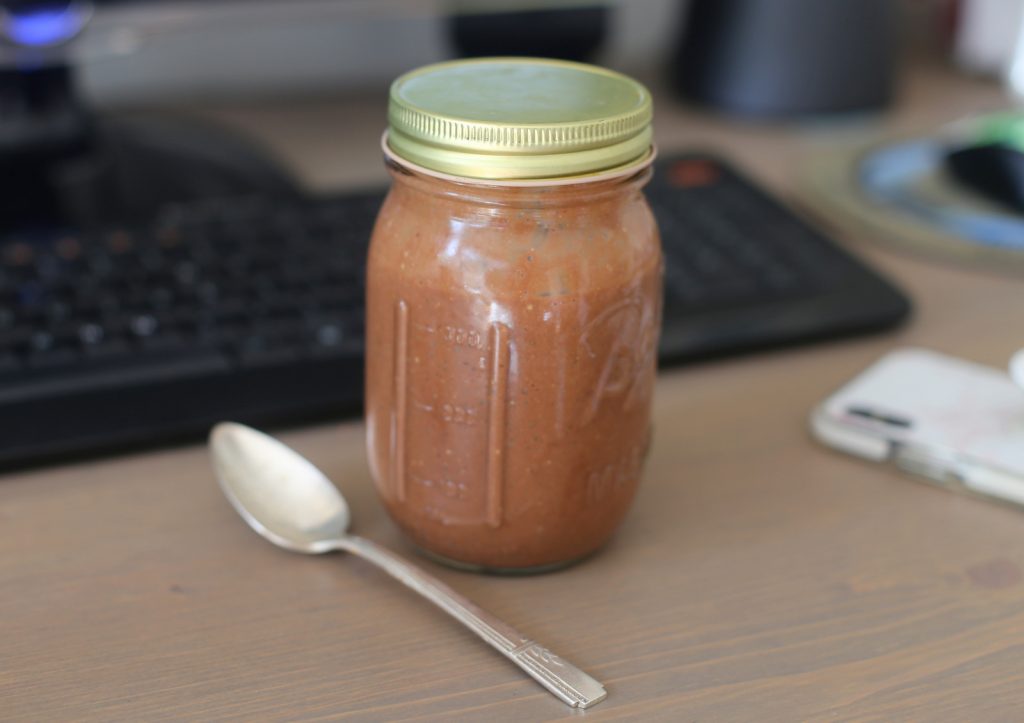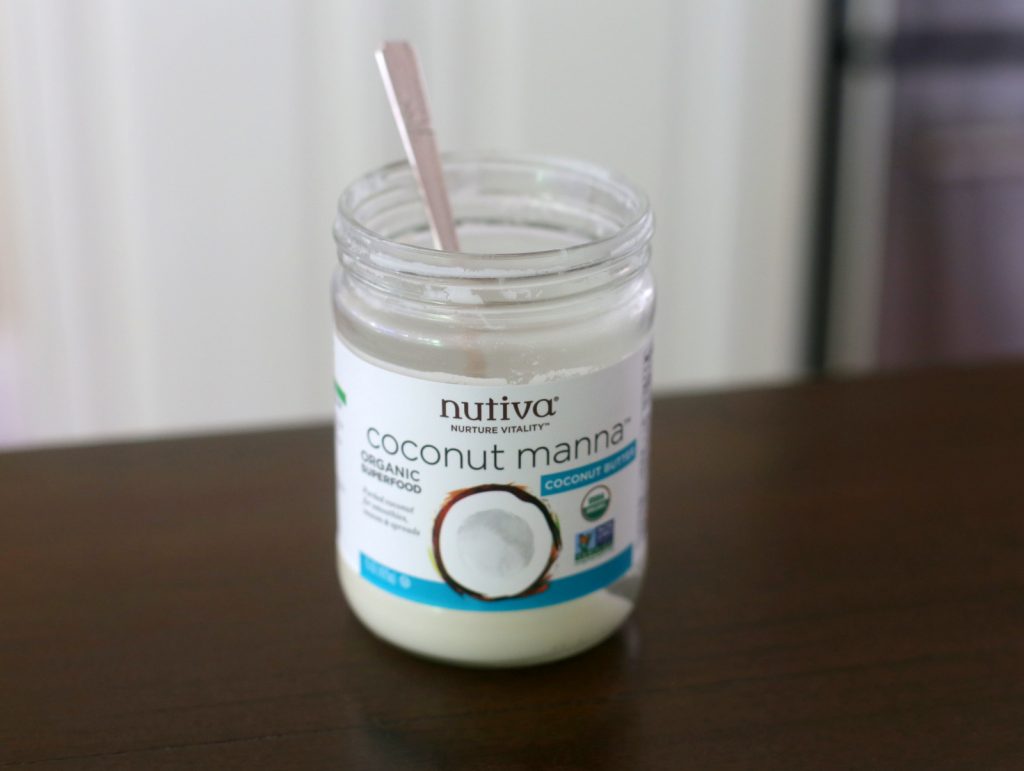 Once Ryder was over the baby carrier but still not ready to nap, we did a little house tour and I placed him in random baby gear holding spots around the house while I attempted to do random things on my household to-do list like laundry, packing prep for our trip to Florida, etc.
Before I had Chase, I still remember one of my friends telling me to register for products/baby gear that would allow me to put my baby down and now, two kids in, I totally see what she meant! I am always looking for "docking stations" for Ryder and since he's currently at the age where he's content in one spot for about 10 minutes before he needs a change of scenery, some days it feels like I'm taking him from the DockATot to the bouncer seat to the Boppy Lounger to the Rock 'n' Play and back again. At least we're putting all of our baby gear to good use, right!? (Side note: For anyone currently creating a baby registry, this flashback post about Our Baby Registry was created with help and advice from a ton of mom friends and blog readers and I can now say with confidence it was a pretty comprehensive list and we used everything on it!)
Evening
By the time Chase was up, Ryder was ready for a good nap (go figure) but Ryder's sleep gave me some quality one-on-one time with Chase in the late afternoon which I loved! Chase also helped me a bit with dinner prep which looked like a cilantro shrimp and avocado salad served with baked sweet potatoes.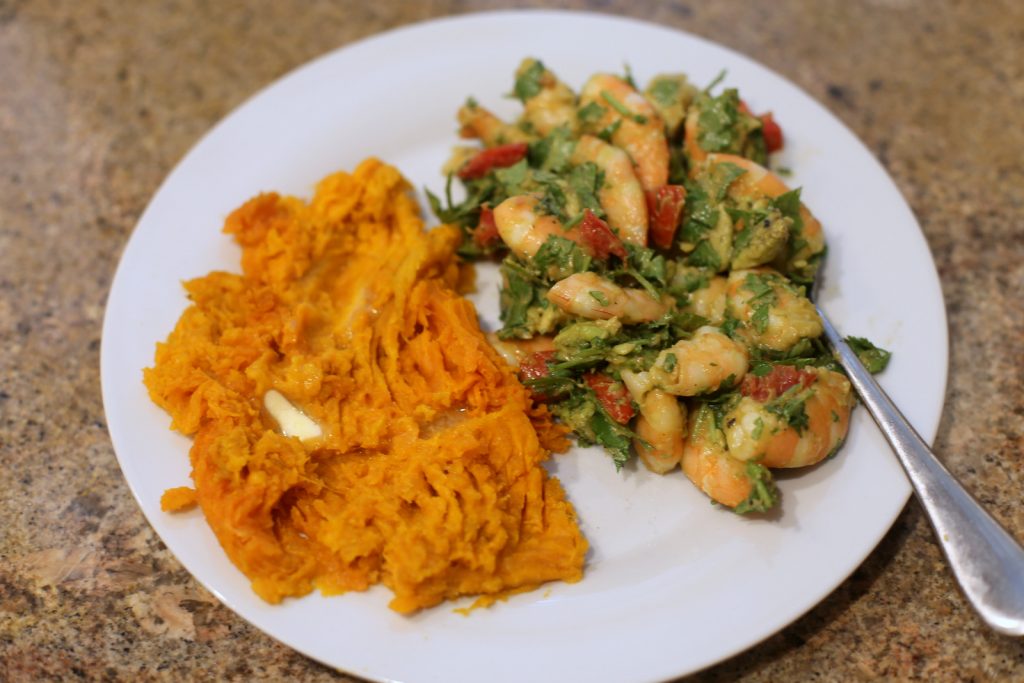 We dug into dinner soon after Ryan arrived home from work and rounded out the night with the whole bath and bed time routine.
Well, I actually rounded out my night with vanilla ice cream and pumpkin seeds.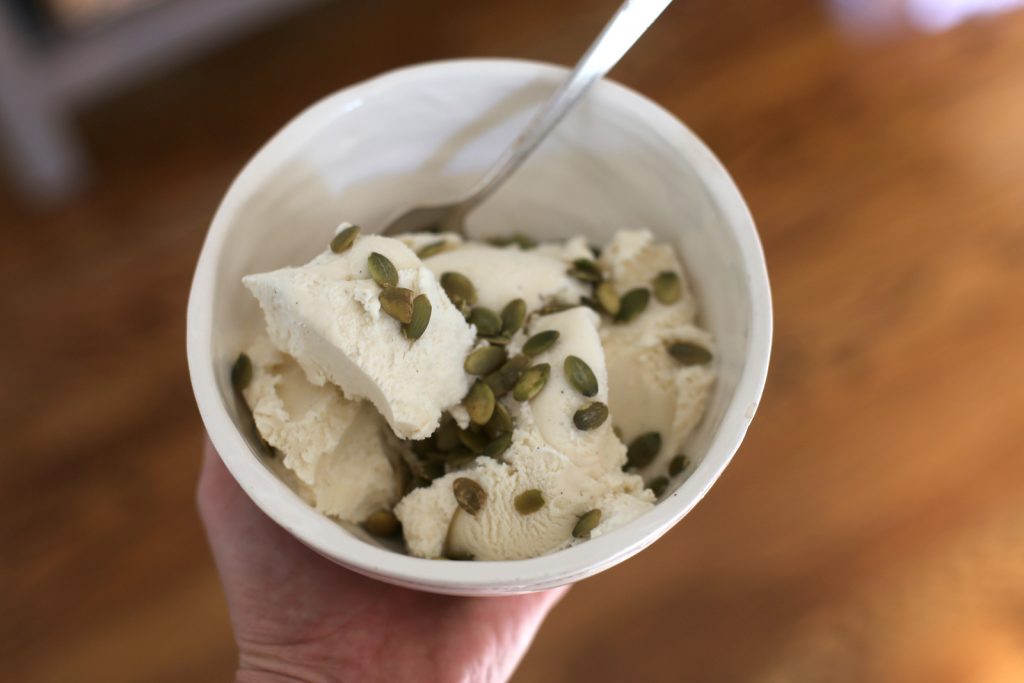 It's a random combination but one of my recent favorites. I love the contrast of the cold, creamy vanilla ice cream with the crunchy pumpkin seeds, especially when the ice cream gets nice and soft. So good!

Thanks for stopping by the blog today, friends! I hope you all have a great Wednesday!

Hello, hello! How are you guys doing today? All is well over here. I wanted to pop in this morning with a little recap of our Tuesday. It wasn't anything crazy or super special but since I managed to actually bust out my camera and snap some pictures yesterday, I figured a good ol' day-in-the-life post would fit the bill for today. They're still my favorite kinds of posts to read on other blogs so hopefully you guys enjoy them, too!