As Ryan and I drove to the gym this morning, I had no idea what I wanted to do once we arrived.
I'm in this weird limbo stage in my workouts right now. I have a lingering desire to sign up for the Women's Half Marathon in St. Pete on November 20, which means I should continue running this week.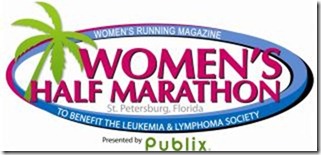 I haven't committed to the race just yet, but it's definitely in the back of my mind. I figured I would give myself this week to do whatever I want workout-wise, and if I decide to run the race, I'll do a longer run on Saturday and run a few times next week.
Should I decide to sign up, I'll definitely be taking a laid-back approach to the race and won't be running with hopes of beating my time at the Savannah Rock 'n' Roll half marathon. I'll be running to simply enjoy the experience and the course. I really had a great time running in Savannah and since my body is already trained for a half marathon, I am really itching to do this race.
Workout
Today's workout included a cardio hodgepodge that looked like this:
20 min. elliptical
10 min. stair master
15 min. elliptical
5 min. running
5 min. incline walking
I was surprised that running actually felt fine! My leg soreness is dissipating a bit and while I didn't want to crank out five miles, five minutes at an easy pace felt a-okay.
I rounded out my workout with some ab work before heading home for breakfast.
Breakfast
Today's breakfast included two fried eggs, mozzarella cheese and Tribe red pepper hummus on a toasted whole wheat English muffin.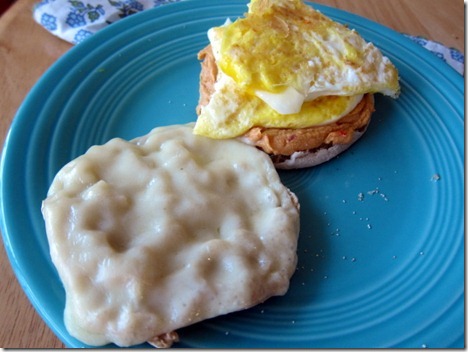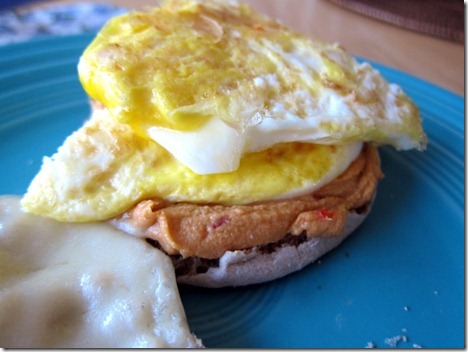 Egg sandwiches are so satisfying on a chilly morning.
The cool weather won't last for long though… highs in the low 80s today.
I'm crossing my fingers that the cold front that's predicted to come through Florida on Friday delivers! I love boot-wearin' weather!