Mini chocolate chips melt together and pair perfectly with nutty almond butter in these Must-Make Chocolate Chip Almond Butter Bars. Made with coconut oil, oats and honey, these bars come together quickly and disappear even faster once you take them out of the oven. Thank you to ALDI for sponsoring this post!
To find an ALDI near you check out their store locator here!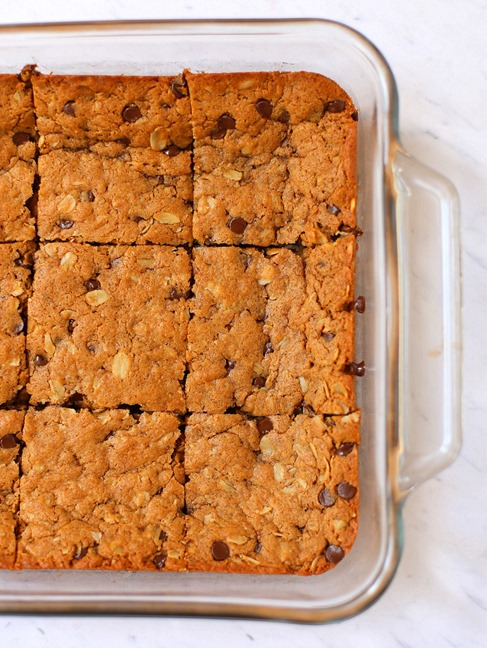 There is something about baking that relaxes me and makes me happy. As I measure the ingredients and mix everything together, I get that familiar feeling of comfort that seems to surface every time I lick beaters full of oatmeal cookie dough or bite into warm brownie fresh out of the oven.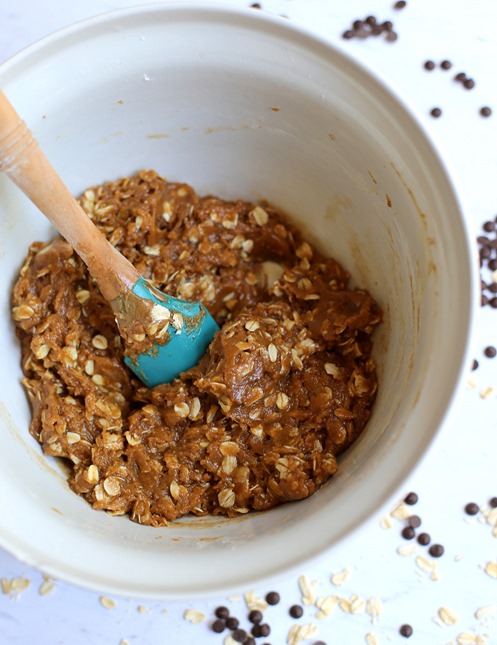 A few weeks ago, when we invited our neighbors over for a casual weeknight cookout, I wanted to whip up a fast dessert that would be easy to grab as we chatted away and figured welcoming guests into our home was the perfect excuse to bake up a sweet treat! I shared a few pictures of the baking process when I first made these bars on my Instagram Stories, and a bunch of you requested the recipe, so I made sure to make the bars again and photograph everything to share on the blog. (And, let's be honest, it was a great excuse to make these bars again for our little family to enjoy!)
I bought everything I needed for these bars and our cookout at ALDI, including all of the ingredients for the Black Bean and Brown Rice Salad we all loved so much! I initially thought I'd make a simple batch of chocolate chip cookies for dessert for the cookout but when I saw the SimplyNature Creamy Almond Butter (part of ALDI's SimplyNature line of product that are free of any artificial preservatives, flavorings and colors) for only $4.99*, I switched my game plan and picked up some oats, SimplyNature Organic Coconut Oil, mini chocolate chips and SimplyNature Organic Wildflower Honey with the hope of making a batch of chocolate chip almond butter bars for everyone to enjoy.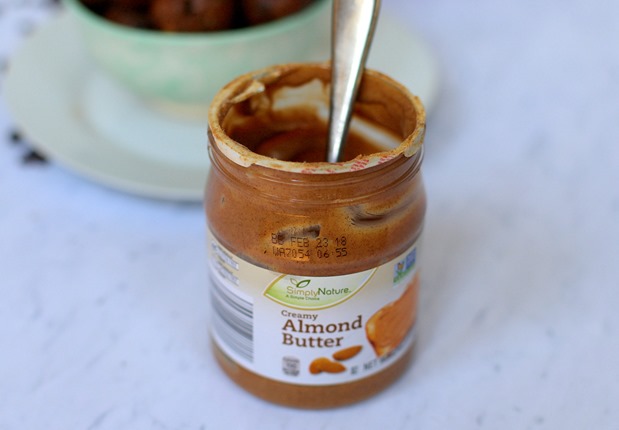 Chase has also been loving homemade energy bites made with dates and an assortment of nuts and nut butters, so I grabbed some dates and walnuts as well, figuring I could make a toddler-friendly energy bite version of the bars for him, too!
The bars were really easy to make – a one bowl recipe – and everyone loved them! As  you'll see below, the recipe calls for mini chocolate chips and while regular chocolate chips may be substituted, I definitely recommend sticking with the mini chips because they melt into the bars and make them extra chocolaty and almost brownie-like. These bars taste like a perfect hybrid between a chocolate chip cookie and an almond butter blondie.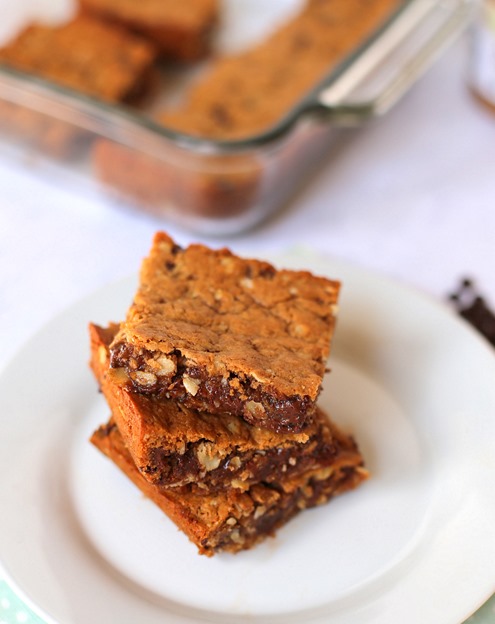 Must-Make Chocolate Chip Almond Butter Bars
Makes 9 Large Bars or 18 Mini Bars
Prep Time: 8 Minutes // Cook Time: 20 Minutes
Ingredients
1/2 cup SimplyNature Creamy Almond Butter
3 tablespoons melted SimplyNature Organic Coconut Oil
3/4 teaspoon Stonemill Vanilla Extract
1/4 cup SimplyNature Organic Brown Sugar
1/4 cup SimplyNature Organic Wildflower Honey
1 SimplyNature Organic Cage Free Brown Egg
3/4 cup Baker's Corner All-Purpose Flour
3/4 cup Millville Old Fashioned Rolled Oats
3/4 teaspoon Baker's Corner Baking Soda
1/4 teaspoon Stonemill Salt
1/2 cup Baker's Corner Mini Chocolate Chips
Directions
Preheat oven to 350 degrees.
Mix almond butter, brown sugar, vanilla, honey, melted coconut oil and egg together in a large bowl until combined. Slowly mix in the flour, oats, baking soda and salt.
Once batter is fully combined, stir in mini chocolate chips and spread batter into an 8×8 baking dish sprayed with cooking spray.
Bake for approximately 20-25 minutes or until top is lightly browned. Allow bars to cool and then transfer to the refrigerator for about 30 minutes or so before serving to allow the bars to set further.
Slice into bars and enjoy!
And now for the kid-friendly energy bites version…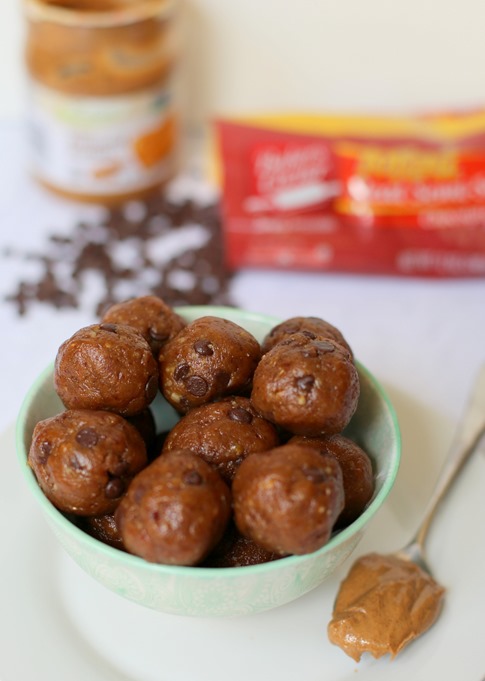 Chocolate Chip Almond Butter Energy Bites
Makes 16 Energy Bites
Prep Time: 5 Minutes // Cook Time: 2 Minutes
Ingredients
1 cup Southern Grove Pitted Dates
1/4 cup Southern Grove Walnuts
1/2 cup SimplyNature Creamy Almond Butter
1/4 cup Baker's Corner Mini Chocolate Chips
Directions:
Combine dates, walnuts and almond butter in a food processor and pulse until a thick dough forms. Remove food processor blades and stir in mini chocolate chips.
Roll batter into round balls and refrigerate for an hour before digging in. Store in an air-tight container.
***
Disclaimer: Price and product availability may vary store-to-store.