If you can't get enough coconut and love quinoa, I think today's breakfast may be right up your alley.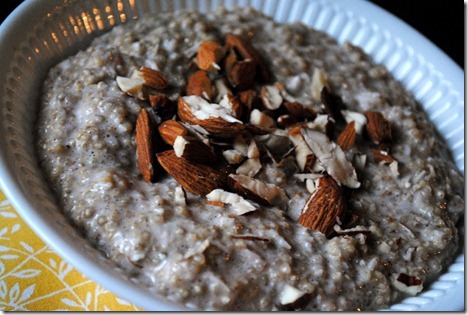 Coconut quinoa!
This hot and creamy dish was a great alternative to basic oatmeal and the punch of coconut flavor was fantastic!
Coconut Breakfast Quinoa
Serves 2
Ingredients:
1 (13.5 ounce) can light coconut milk
3/4 cup quinoa
1 thoroughly mashed banana
1/2 teaspoon cinnamon
1/4 teaspoon nutmeg
1/2 cup unsweetened shredded coconut
A few small drops of coconut extract (optional for more coconut flavor)
Directions:
Combine coconut milk and quinoa in a saucepan and bring to a boil.
Add mashed banana, cinnamon and nutmeg. Cover and reduce heat, allowing the quinoa to simmer for approximately 15 minutes, or until the coconut milk is absorbed by the quinoa.
Stir in shredded coconut and coconut extract. Pour quinoa into bowls, topping it with nuts or fresh berries if desired.
I think that the banana in this dish gives it the perfect amount of natural sweetness, but if you hate bananas (Ryan cannot stand warm bananas), you can leave the quinoa unsweetened or add a sprinkle of brown sugar.
If you choose to make this ahead of time, you may need to add more milk to the quinoa in the morning to fluff it up a bit.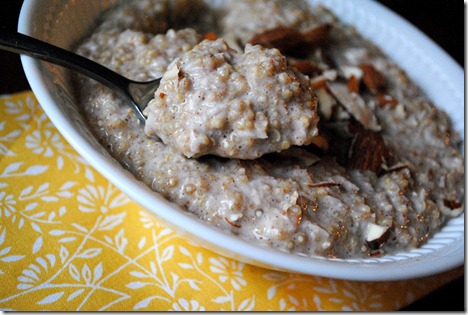 Yum!
P.S. My fellow Bachelor fans: Did you know that Sean's sister Shay has a blog!? I remember stumbling across her food blog last time when Sean was on The Bachelorette, but she has a separate blog where she answers questions from readers about her time on The Bachelor. Since I know a bunch of you are Bachelor fans, I just wanted to share! I got sucked into reading her recaps and Q&A posts last night! Her blog: Mix and Match Family.
P.P.S. Who do you want to end up with Sean this season? I loved Lesley, so I was sad to see her go last week!