Crock Pot Challenge
was a success!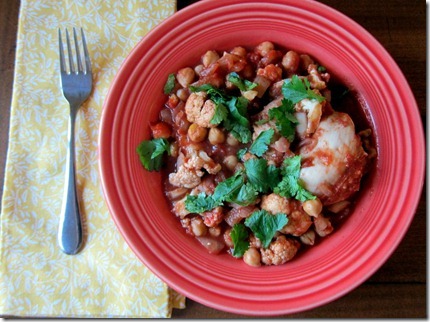 On Thursday morning at the gym, I spent some time flipping through the latest issue of Cooking Light magazine while I warmed up on the elliptical. When a recipe for chickpea curry popped out at me, I dog-eared the page in the magazine because it seemed like a recipe I could adapt and make crock pot-friendly.
I wasn't sure how the chickpeas would hold up all day in the crock pot, but since I've had a positive experience with canned kidney beans and black beans in the crock pot, I figured my chances were pretty darn good!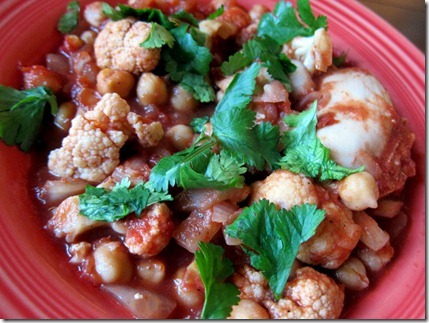 This was also my first time using garam masala, which, according to McCormick, is a sweet and aromatic blend of spices that delivers warm, exotic flavors essential to traditional Indian cooking.
I've seen a bunch of different recipes use the spice many, many times before and figured it was time to experiment with garam masala since so many people seem to love it! I know I'm late to the garam masala party, but after digging into this dish, I'm so glad I finally gave it a shot. The spice added hints of coriander, pepper, cumin and cinnamon to this dish and I absolutely loved the flavor.
Crock Pot Garam Masala Chicken & Chickpeas
Adapted from Cooking Light's Chickpea Curry
Serves 4
Ingredients:
2 (15-ounce) cans chickpeas, rinsed and drained
1 large onion, chopped
2 1/2 teaspoons garam masala
1 (28-ounce) can crushed tomatoes
2 cups cauliflower florets
4 chicken thighs
1/4 cup fresh cilantro, chopped
1/2 cup plain Greek yogurt or sour cream (optional)
Directions:
Combine chickpeas through cauliflower together in crockpot.
Place chicken on top of chickpea mixture and spoon mixture over the chicken to cover it.
Allow everything to cook on low for 6 – 8 hours.
Spoon into four dishes and garnish with cilantro and a dollop of plain Greek yogurt or sour cream.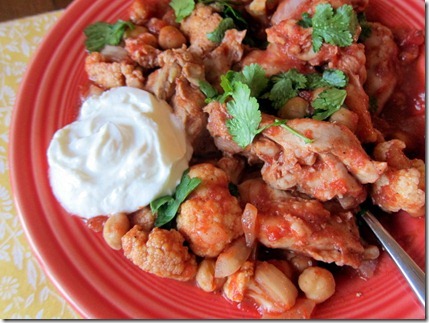 Adding a dollop of plain Greek yogurt at the end gave this dish an extra pop of flavor and creaminess. Ryan and I couldn't get enough!

I hope you enjoy!

Day one of the