Last night I drove out to Bellview to Hands of Mercy Everywhere (HOME), an 11-bedroom home where teen mothers and their babies can live and receive valuable care as the mothers continue their high school education.
A group of my Junior League of Ocala friends and I arrived around 6 p.m. to decorate the Victorian home for the holidays with the young women and children who live there.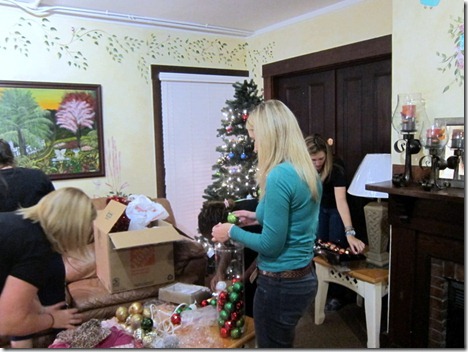 We came with lights, ornaments, decorations and bags full of clothes for the moms and their children.
And snacks!!!
One of the young women I met and I bonded over our love for peppermint bark! That stuff is addicting and so perfectly festive. Someone also brought a chocolate bark made with caramel and pretzels that I am hoping to recreate. It was a hit! 
The time we spent at HOME was incredible and I loved talking with the young moms and meeting their adorable children.
Workout
This morning started out extra early.
Ryan and I usually wake up around 5 a.m. to workout on weekdays, but today we were up at 4:40 a.m. I know that is only 20 minutes earlier than usual, but anything in the 4 a.m. hour is simply not normal for this girl. Brutal!
Ryan had a super-early meeting at work and wanted to get his workout done before 6 a.m. so we pulled into the gym parking lot right when it opened at 5 a.m. I thought about sleeping in and working out at lunchtime, but I was oddly alert when the alarm went off and knew I'd toss and turn if I tried to go back to sleep. I am feeling oddly energetic right now, but that's probably the coffee talking.
Today's workout began with 20 minutes on the elliptical before I headed into the weight room to follow Workout B from Tina's Best Body Boot Camp program. The workout included a strength circuit with bursts of cardio. I left out the cardio portion of the circuit since I wasn't really feeling it and wanted to be sure I had enough time to do all of the strength exercises before we had to leave.
Breakfast
Breakfast this morning was enjoyed in the dark.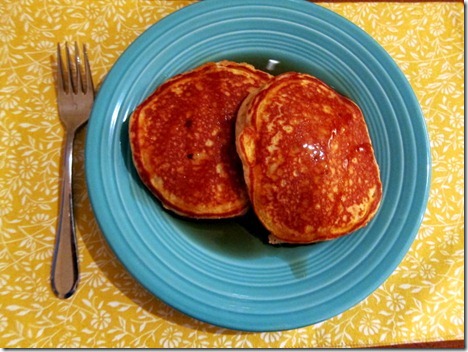 I made a batch of my honey whole wheat pumpkin pancakes but used sweet potato butter in place of the pumpkin and loved the added spice!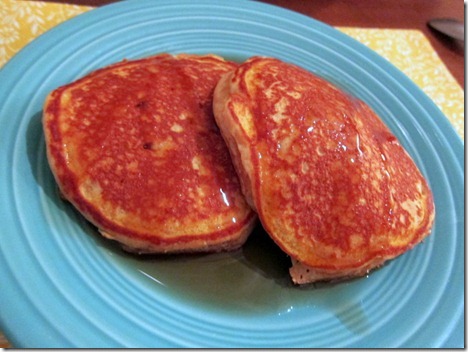 Yum!
Question of the Morning
What is one of the most memorable volunteer experiences you've had in your life?