I am officially on east coast time… I woke up at 4 a.m.!
I made myself go back to sleep and eventually told myself it was okay to get out of bed at 5:45 a.m. I laid in my comfy hotel bed reading my book for an hour or so before changing into my gym clothes to hit the fitness center.
I use the term "fitness center" loosely. 😉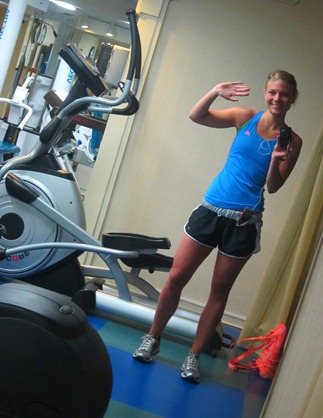 The hotel gym has three ellipticals (circa 1970), one treadmill (circa 1901) and a weight machine that allows you to do leg extensions, chest presses and lat pull-downs.
I initially wanted to get in a total-body weights workout, but since there were no free weights to be found, I opted for cardio instead.
I plugged all of my settings into an elliptical and just as I started to get into my workout, it stopped working! I reset the elliptical and it happened again. I then switched over to another elliptical for 30 minutes of light cardio while reading magazines and catching up on my celebrity gossip.
After  the elliptical, I ran on the treadmill for 10 minutes before completing one round of Jessica's At Home Cardio Blast workout.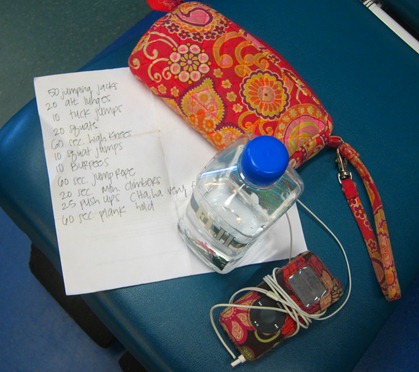 I felt like my time on the ellitpical was more of a warm up and not really a great workout, but my run on the treadmill and one round of a plyometric circuit got me sweatin'!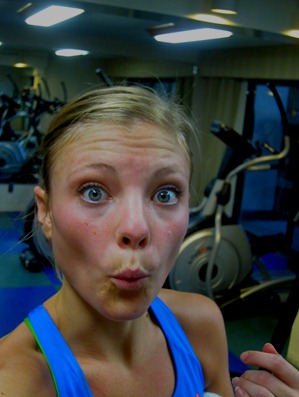 I just took a quick shower, and am headed downstairs to scope out the breakfast buffet and get some grub in mah belly!
See ya after lunch and the POM factory tour!
Of Possible Interest
Send a Free Pomegranate to Someone Wonderful
Maybe it's because I was a marketing minor in college, but I love creative marketing ideas that are innovative and actually offer something tangible to consumers.
In the POM Wonderful swag bag I received yesterday, there was information about sending someone wonderful a free pomegranate POM-a-Gram!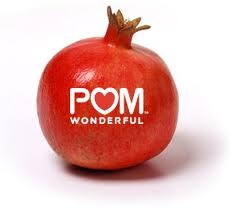 If you would like to send someone fantastic a free pomegranate Pom-a-Gram with a nice little message, click here! There are less than 4,300 free pomegranates available!