Today's blog post features five of my favorite food finds at ALDI, including a mix of organic staples and indulgent treats! Thank you so much to ALDI for sponsoring this post. To find an ALDI near you, check out their store locator here.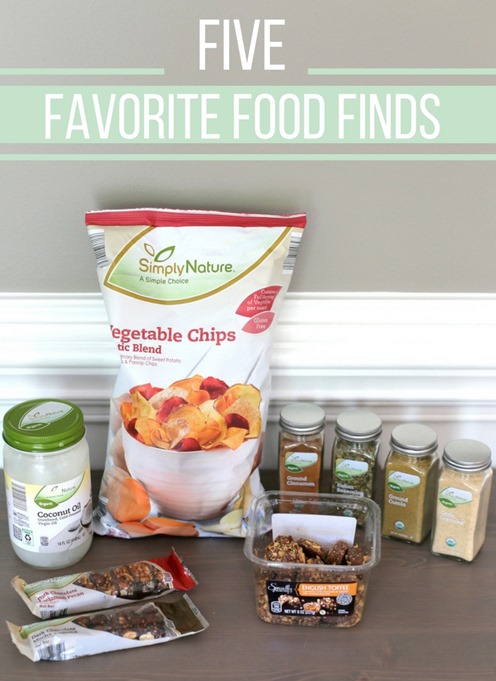 By now you guys know that I fell hard and fast for ALDI. After a conversation about reducing our monthly food expenditures prompted my friend Jess to encourage me and my girlfriends to check out the newly renovated ALDI in our area, I popped into the store after church one Sunday and have found myself returning frequently thanks to the affordable organic produce and quality pantry staples we use consistently in our house.
I know that in the past, at least in our area, ALDI wasn't really known for their healthy and organic options but I am continually impressed with the prices we've found on everything from organic grassfed beef to organic fruits and vegetables, grains, spices, nuts and nut butters.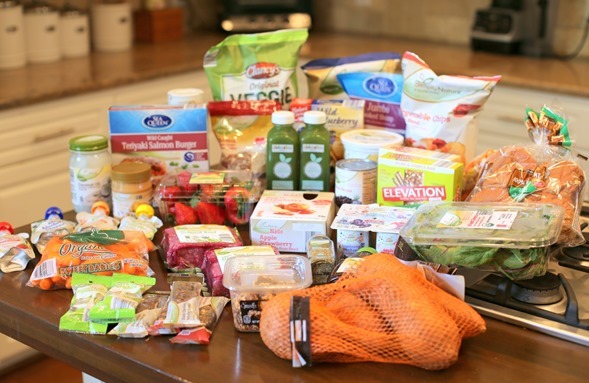 For today's blog post, I wanted to roundup a list of five favorite food finds that you can only get at ALDI! I think you'll notice a trend toward the SimplyNature brand of products ALDI carries. I definitely gravitate toward that brand because they're free of any artificial flavors, colors and preservatives and are pretty darn tasty, too!
Five Favorite Food Finds from ALDI
SimplyNature Organic Coconut Oil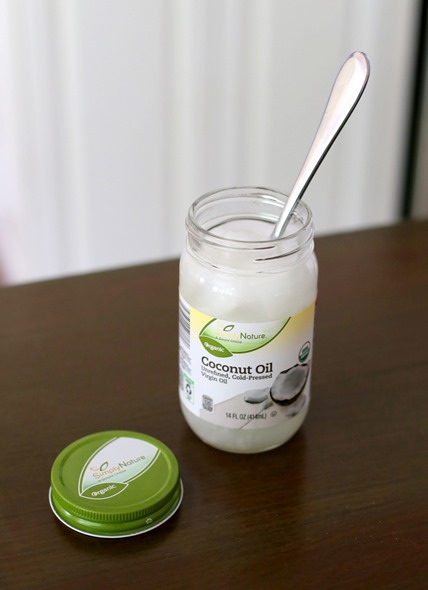 We go through coconut oil at an alarmingly rapid rate in our house so you better believe I cannot get enough of the SimplyNature Organic Coconut Oil at ALDI. I use coconut oil for everything from making my own protein fudge to roasting vegetables and moisturizing my skin (it's great for dry knuckles!) and recently fell in love with using coconut oil in my coffee. If you haven't tried blending coconut oil into your coffee in the morning, you must! It makes the coffee so smooth and creamy and leaves a delicious layer of foam on the top! The flavor of the SimplyNature Organic Coconut Oil is very delicate which makes it ideal for use in so many recipes since the coconut flavor is not overpowering in the least.
SimplyNature Organic Spices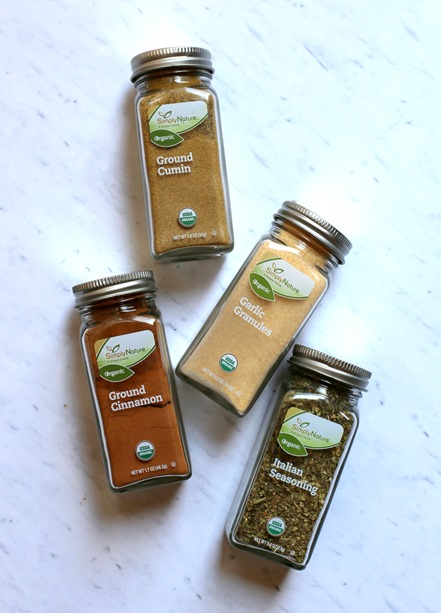 I'm going to go ahead and lump a whole bunch of spices into one bullet point favorite for the sake of brevity because I LOVE the SimplyNature Organic Spices so darn much! I have a bit of a love-hate relationship with cooking and baking complicated meals that call for tons of spices because spices can be so expensive. Thankfully the SimplyNature Organic Spices are affordable and flavorful and don't make my wallet want to cry when I want to try a new one! I go through certain spices like cinnamon and cumin rather quickly, so it's nice not to feel like I have to shell out the big bucks to replace these specific spices when I need them.
SimplyNature Vegetable Chips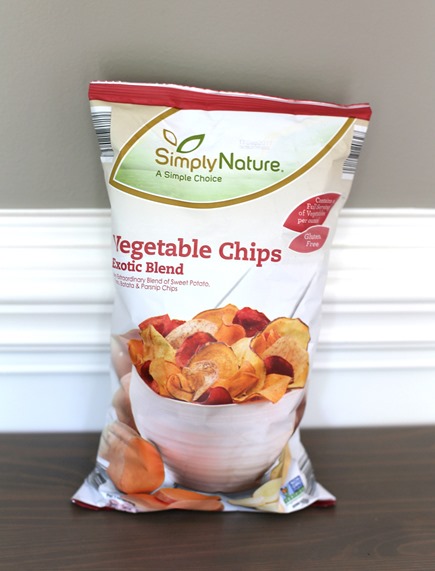 The entire Fagan family flips for these chips! I love the simple ingredient list and the crispy, crunchy blend of sweet potato, parsnip, taro and batata root veggies. They've also been a big hit with friends (I packed two bags to bring to Savannah on my girlfriend getaway last month), and know they'll be a cookout staple for us this summer!
SimplyNature Fruit & Nut Bars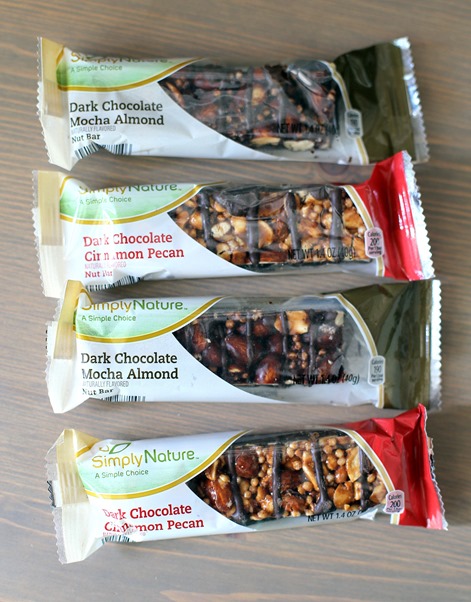 I initially grabbed one of these bars when Ryan, Chase and I were waiting in the checkout line during our first visit to our new local ALDI because I was starving and wanted something to snack on in the car. I think I must've moaned out loud when I took a bite (clearly I was VERY hungry!) because Ryan laughed out loud and said something along the lines of, "So you hate it, huh?" Now whenever we pop into ALDI, I cannot resist grabbing a few of these bars to have on hand when the hunger beast strikes. The Dark Chocolate Mocha Almond is my favorite!
Specially Selected English Toffee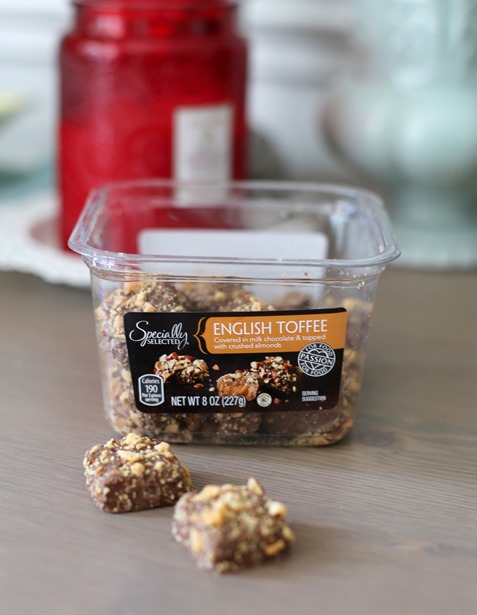 My sweet tooth made me throw this small container of English Toffee into my cart during a trip to ALDI and they are just the perfect little pick-me-up treat! I find myself reaching for them most often after lunch or around 3 p.m. when I find myself looking for a little taste of something sweet. There's something about the buttery toffee and the crunch of the  crushed almonds that makes the sweet creaminess of the chocolate coating taste even better!
ALDI Giveaway
And now after all this ALDI love, it's time for an ALDI giveaway! One PBF reader will win a $250 gift card to ALDI! Woop!
To enter this giveaway, simply use the widget below. A winner will be randomly selected next Friday.
Question of the Day
For my fellow ALDI lovers: What are some of your favorite ALDI finds?
In addition to the products I mentioned above, I also love the Landshut Riesling, SimplyNature Organic Quinoa and Brown Rice, Wild Caught Teriyaki Salmon Burgers and Elevation Bars from ALDI. So good!