While I was away on vacation last week, I turned 28! My birthday was on Saturday, but since we were traveling, Ryan saved my gifts for me to open at home when we returned from our trip.
Last night was birthday celebration night in our house!
Check out one of my snazzy gifts: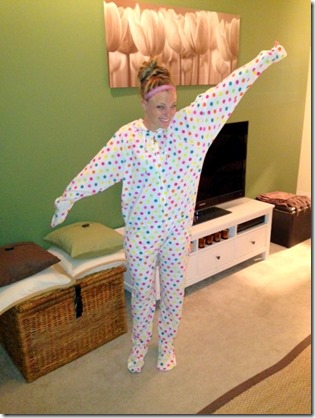 Pretty sweet, huh!?
Though this may seem like a rather random gift, there's actually a story behind the pajamas.
When we were in Ireland last March, it was freezing and one night when we were outside walking around, I said, "All I want to do is cuddle up in a pair of ridiculously warm pajamas."
"The kind with the feet?" Ryan asked.
"YES!" I said. We then went on a mission to find footie pajamas and searched in a handful of department stores with no luck.
Obviously I was pretty darn excited to get a pair of footie pajamas for my birthday… Just in time for summer in Florida. Ha!
Workout
Today's workout began on the elliptical before I headed into the weight room to complete Workout B from Tina's Best Body Boot Camp. It felt good to make my muscles burn a bit!
Breakfast
After my time at the gym, I headed home and made myself a breakfast sandwich with eggs, cheese, strawberry jelly and Ezekiel toast.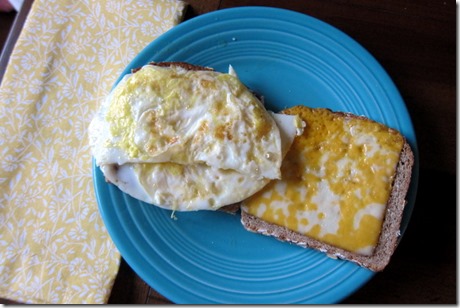 Sweet and savory! I love it!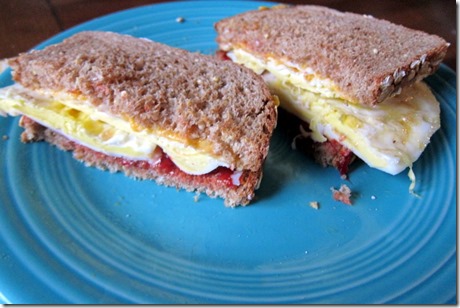 Now I'm off to work. I am working late today, so I don't think I'll have a chance to blog after (or during) lunch, but I'm not sure how lunch breaks work just yet, so we shall see!
Question of the Afternoon
What is the strangest gift you've ever received?