My red face and sweaty hair clearly gave me away.
Today's workout included a 45-minute treadmill workout that left me huffin' and puffin'.
I completed the workout while listening to my Savannah half marathon playlist which totally pumped me up. "Still Not a Player" by Big Pun appealed to the '90s-music lover in me. Woop!
It's been a while since I've felt as sweaty as I did this morning after a workout. There's something about running that apparently engages the sweat glands on my face. Go, go Gadget Face Sweat!
I ended up rounding out my workout with another 10 minutes on the elliptical and some abdominal work on the Bosu ball while I waited for Ryan to finish his leg workout.
After our workouts and a quick one-mile walk with Sadie, it was breakfast time!
Breakfast
Even though the weather appears to be warming up lately, I wanted a hot breakfast and decided to make myself steel cut oats on the stove top.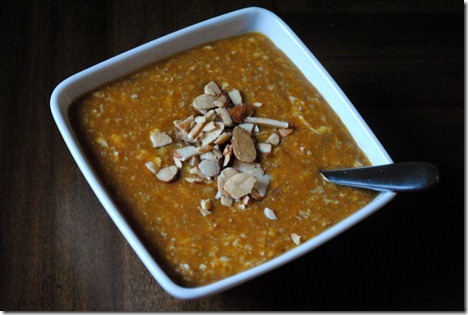 I added a few egg whites, pumpkin, honey roasted almond slices and pumpkin pie spice to the oats before they were completely done and topped them with more almond slices before digging in.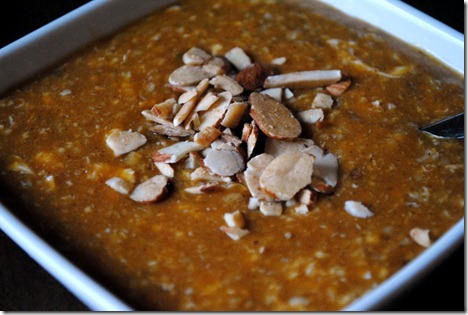 It kind of looks like butternut squash soup, huh?

Now I'm off to get ready because I am meeting up with my mom in about an hour and we're driving about two hours to take care of some personal business for her. I'm looking forward to some quality time with my mama!

Of Possible Interest

You know you look like a hot mess when the person at the front desk at the gym says, "You must've had a good workout today!"