Hello from the Jacksonville airport!
Ryan and I arrived at the airport a little after 9 a.m. and are waiting for my family to join us at the gate before we head to Miami for a layover on our way to Lima.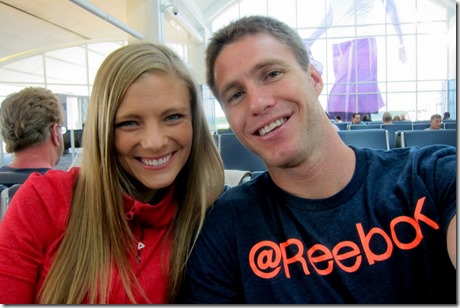 I'm ready to get this vacation started!
Dinner
Last night, my father-in-law arrived in town around dinnertime and when Ryan and I suggested heading out for a bite to eat, he was more than game.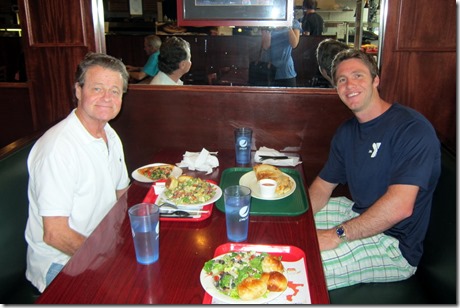 We drove to Pronto's pizza and I ordered the Greek salad since I loved it so much the last time we visited the restaurant. It's big and packed with veggies.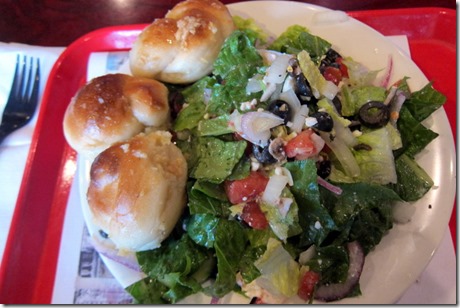 Plus you get three of their fantastic, doughy garlic knots on the side.
We spent the rest of the night hanging out with my father-in-law and packing. It was good to catch up!
Workout
This morning we were up a little before 5 a.m. to be sure to make it to the gym right when the doors opened. Ryan and I wanted to sneak in a quick workout since we knew we'd be spending most of the day today sitting in airplanes and airports. It felt good to get moving!
Ryan's dad is really into Muay Thai and is very active, so he was excited to join us and completed a strength workout with Ryan. It looked like they had a lot of fun together!
I did my own thing and went through a total-body strength circuit that resembled my 10 to 6 workout.
When we arrived home from the gym, the Fagan household went into go-mode. After a quick shower, it was time to hit the road. We said goodbye to my father-in-law and Sadie and I didn't even realize I forgot to eat breakfast until we were about an hour into our drive to the Jacksonville airport and my stomach started grumbling.
By the time we parked our car (love the $5 a day on site economy parking!) and made it through security, I needed breakfast and immediately ordered a sandwich from Starbucks.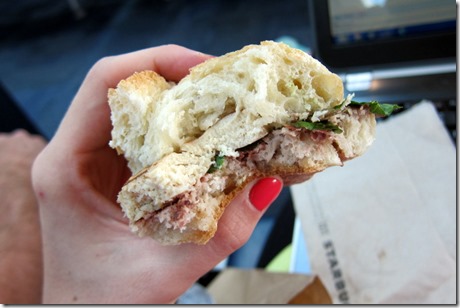 All of the usual breakfast options didn't appeal to me and I wanted something with more staying power than a pastry, so a chicken sandwich with kalamata olive spread sounded perfect. Kind of weird, but I'll take it!
I also ordered a cappuccino which left me feeling wired.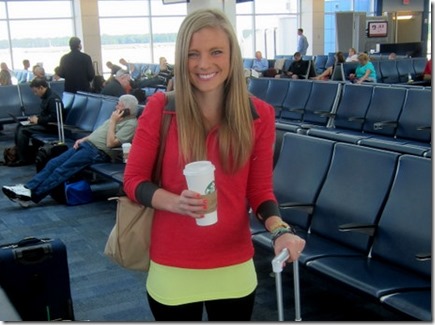 I hope you guys are having a great Friday! I'm hoping to check in again from the Miami airport because we have a billion hour layover there, so I'll catch ya later!
Question of the Morning
Do you usually eat traditional breakfast foods for breakfast? Do you ever find yourself craving something unusual in the morning?
Though it may seem a little strange, I almost always feel like I could eat spaghetti first thing in the morning.