Apparently dumplings grow when you place them in a bubbling bowl of chicken soup!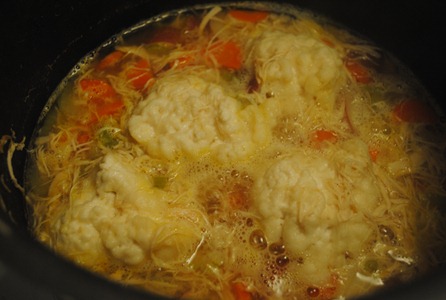 After preparing a pot of chicken soup, I plopped several tablespoon-sized dumplings into the pot to simmer and cook.
Within minutes the dumplings nearly tripled in size.
More doughy goodness is fine by me!
To make the soup, I combined the following:
Four cans reduced sodium chicken broth
Two pulled, cooked chicken breasts
Three carrots, chopped
Two celery stalks, chopped
Approximately 2 c. chopped red potatoes
Salt and pepper, to taste
After letting the soup bubble and the flavors distribute for about 20 minutes, I prepared the dumplings, using directions I found on the side of a box of  Bisquick Heart Smart baking mix.
Though quite large, the dumplings were perfectly doughy and delicious. 
Wedding Box
While the soup was simmering on the stove top, I spent some time sorting through the numerous boxes of crafts, supplies and notes we have leftover from our wedding.
My goal is to get everything to fit into this box:
Think I can do it?
I have faith!
I want to keep copies of special items like our save the dates, programs, menus, and the like, but will be tossing magazine clippings, invitation ribbons, etc.  
Better get to it!