I like my coffee HOT.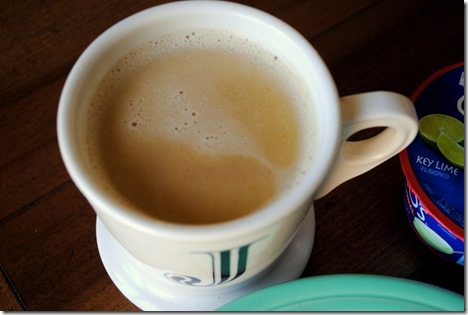 I like it so hot that right after I brew a hot cup, I typically stick my mug of coffee in the microwave for 40 seconds to make it extra hot.
As it turns out, I think this little habit of mine helps me savor my morning cup of coffee because I totally forgot to microwave it this morning and I practically gulped it down like water.
I'm feelin' wired!
This is one of the reasons I have a hard time hopping on the iced coffee train. How do you not gulp it down like Gatorade!? When something tastes like Christmas in a cup I have a hard time pacing myself.
After a sweaty morning workout, I enjoyed my not-so-hot cup of coffee with a simple breakfast.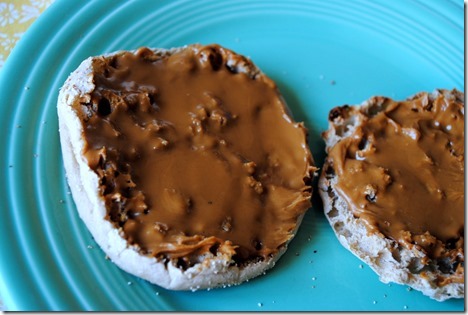 I topped a toasted whole wheat English muffin with peanut butter that melted into the nooks and crannies like a champ. Yum!
I also had a cup of key lime Oikos Greek yogurt on the side.
When it comes to flavored sweet foods, if there's not a chocolate option available, I am almost always on Team Strawberry and rarely choose lemon or lime-flavored treats. However, I must tip my hat to the key lime Oikos Greek yogurt. It tastes like key lime pie mousse in a cup (and I love it in my key lime pie protein smoothie)! Our local grocery store seems to have trouble keeping it in stock, so I was excited to see it on sale again.
Now it's time to get this day rollin'. I hope you have a great Saturday!
Oh! And before signing off, here's a video for my fellow dog lovers: Dog teaches puppy to walk down the stairs. <—My heart almost exploded when I watched it this morning.
See ya!
Question of the Morning
Iced coffee/ Iced tea: Yay or nay?
I like them both, but I inhale them, so I typically opt for hot coffee or hot tea so I can enjoy them for a longer amount of time. Savor it, baby!