Happy Halloween!
Do you like one of my cotton-themed anniversary gifts from Ryan?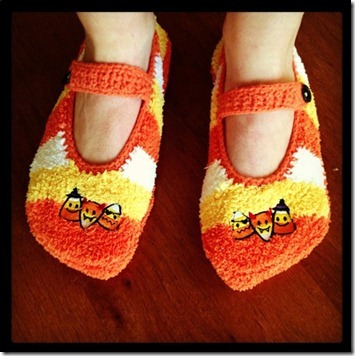 He knows I am a sucker for adorable socks and slippers, so these Halloween socks were right up my alley.
After I opened the socks, Ryan said he never actually checked to see if the socks were really cotton and we had to laugh when we saw that they are, in fact, 100 percent polyester. I'm gonna go ahead and say that our version of the usual cotton theme that is associated with a couples' second wedding anniversary morphed into "anything remotely cotton-like." I'm not sure if my gift to Ryan contains real cotton either, but it's cottonish. Whatever works!
We are officially celebrating our anniversary on an upcoming weekend, so we're saving our main anniversary gifts for our hot date night, but I'll be sure to fill you guys in when I finally give him his cotton(ish)-themed gift since I really appreciated all of your help with brainstorming!
Workout + Breakfast
My workout this morning began with last week's 25 minute elliptical interval workout followed by "Workout B" from Tina's Best Body Boot Camp. It was a good one!
When Ryan and I arrived home from the gym, it was breakfast time and I made a batch of banana vanilla protein pancakes.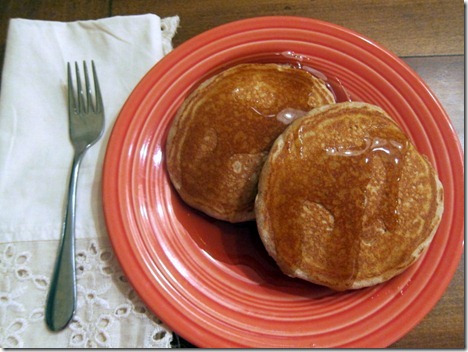 Topped with a bit of syrup!
I also had a cup of Godiva peppermint mocha coffee on the side.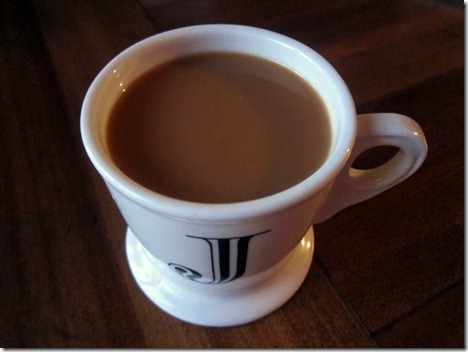 Loving this flavor!
Question of the Morning
Did you dress up for Halloween this year?
What is the best Halloween costume you've seen recently?  
I think the Pac Man family featured in this blog post is awesome!