Remember how I said that if my workout doesn't happen before noon, it just isn't happening? Today, at 11:59 a.m., I leashed up my favorite running buddy for a run around our neighborhood. We just made my self-imposed cutoff time!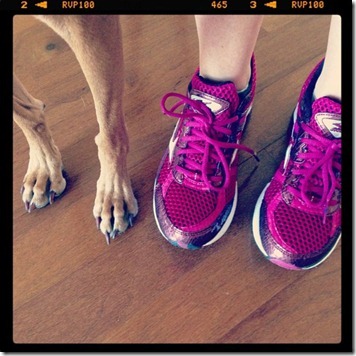 We covered five miles and, for the first time this fall, I wore long sleeves!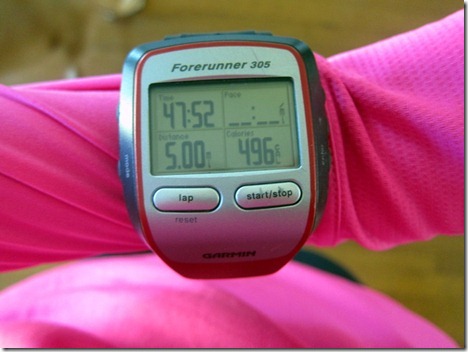 It's so nice to run outside when you don't feel like the sun is going to burn your face off.
Lunch
Right when we arrived home, I made myself a piece of buttered cinnamon raisin toast to eat before I showered and prepared my lunch for the day.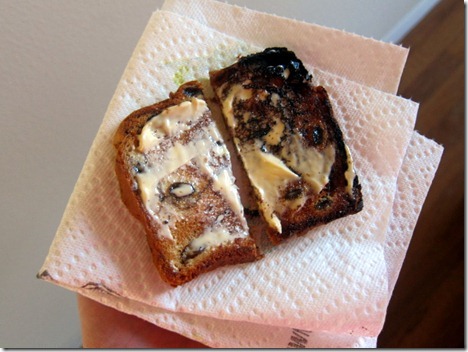 Lunch today included a salad that I ate right out of the mixed greens tub to save on dirty dishes. Efficiency!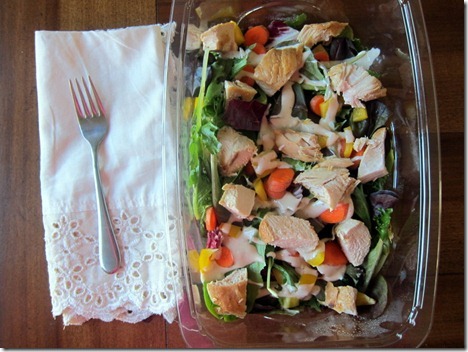 My salad included mixed greens, leftover chicken, yellow pepper, carrots and yogurt Caesar dressing.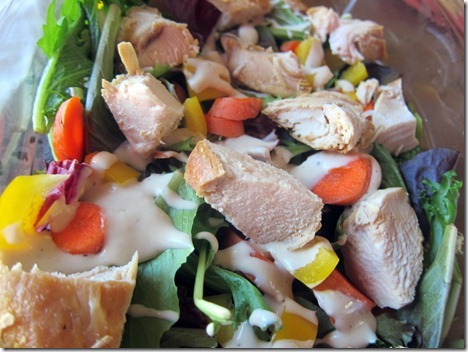 Delicious!
And now, since it's our two-year wedding anniversary, I have a wedding story to share with you… but not the super-sappy, mushy gushy kind. It's the kind of story that happens in between all that mushy gushy love stuff on a wedding day. It's the the fun, awkward story that makes you laugh years later.
Our Wedding Kiss
Writing our wedding recap posts a month or so after Ryan and I exchanged vows allowed me to relive one of the best days of my life. I broke down the recaps to cover what I felt were the most memorable and special moments of the day, but naturally a lot of memories went undocumented.
Like the memory of our wedding kiss.
You would think looking back on our wedding kiss would evoke feelings of romance and love, but when Ryan and I think back on our wedding kiss, we laugh. And we laugh hard.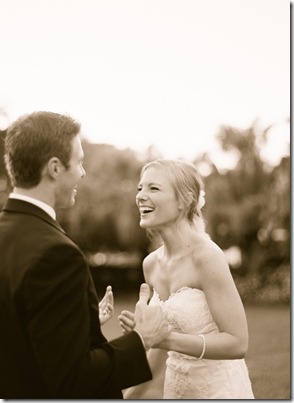 A couple of weeks after our wedding, Ryan and I were sitting on the couch talking about random memories from that special day.
Then, out of nowhere, Ryan said, "So, about our wedding kiss…"
I looked at him with hesitation and then started cracking up.
"YOUR HANDS!!" I laughed. "What were you doing with your hands!? How have we not talked about this yet!?!?"
Ryan then started talking a mile a minute, explaining that during our ceremony he was excited and his head was spinning, so when our pastor said, "You may now kiss the bride," his mind was all over the place and he thought he should touch my face or something.
"But you never touch my face! I usually have my hands around your neck and your hands are almost always around my waist!" I said.
Why not use a wedding ceremony as a place to change it up, ya know?

You can almost see his indecision in the pictures…
Ahhh!
Ryan and I look at all of our other wedding pictures and smile, but we laugh when we look at our wedding kiss pictures.
When we shared this story with our families, they assured us that no one had any idea our kiss was anything out of the ordinary for us, but it has turned into one of my favorite wedding memories because of the fact that both Ryan and I were likely thinking, "What the heck is going on!?!?" during one of the most romantic moments of our wedding ceremony.
Now, whenever a couple asks us for wedding day advice, we tell them to practice their wedding day kiss!
Question of the Afternoon
What is the most awkward thing you've witnessed at a wedding?
If you're married, did your wedding day include any awkward moments?