Good afternoon! I hope your Friday is going well and that your weekend is full of fun plans or absolutely no plans and tons of relaxation. Either one works!
My Friday began with a 5 a.m. workout at the gym as usual.
I spent 25 minutes on the treadmill completing an incline walking workout before changing things up and heading into the weight room for Workout C of Tina's Best Body Boot Camp.
The workout incorporated ladders (you can read more about ladders on Tina's blog) and I think I need to increase my weight when I complete this same workout next week. My muscles didn't feel the burn like I think they should have after all those sets and reps. Heavier weights next time, baby!
Breakfast
Breakfast this morning was waiting for me in the fridge when I arrived home from the gym.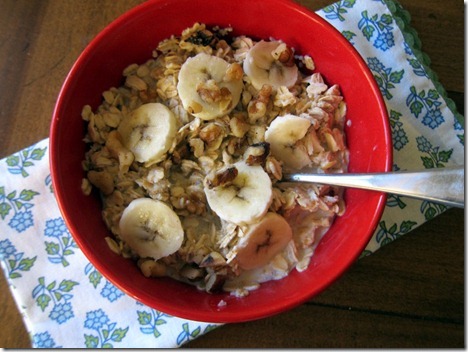 This morning I added a little extra almond milk to the oats and topped them with walnuts and banana slices.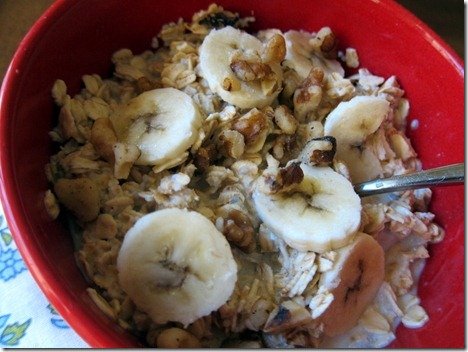 It was quite a filling breakfast.
I dedicated my morning to studying for my NASM exam, so my afternoon will be consumed with freelance work before it's off to happy hour!
Happy Friday!
Sweets for Sandy
If you have a moment, please pop over to my friend Gina's blog and check out her Sweets for Sandy fundraiser.
A bunch of bloggers donated sweet treats to Gina's auction to help raise money for the Red Cross for Hurricane Sandy relief efforts. (I promise to make my almond butter granola extra tasty for the winner of my donation!) Bidding will end at midnight (EST) tonight!