Ryan and I didn't set the alarm this morning and trusted our bodies to wake us up with enough time to cram in a quick workout before we had to hit the road for Gainesville.
Fortunately we naturally awoke around 7:15 a.m. and did a quick-change into workout gear before hittin' up the gym.
While there, we completed 20 minutes of cardio on the treadmill (10 minutes of incline walking + 10 minutes running) before splitting up to conquer our respective weights workouts.
My total-body weights routine took me just over 30 minutes and included three sets of 15 repetitions of the following exercises:
Step ups
Shoulder raises
Tricep dips
Bicep curls
Leg extensions
Deadlifts
Crunches
And just like that, I was done!

Breakfast
When we arrived home, Ryan took Sadie on a walk while I showered and curled my hair.
I then threw together a quick breakfast we could take on the go.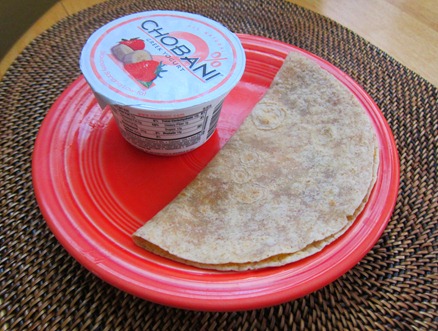 Whole wheat tortillas with melted cheese and raspberry jelly and a cup of strawberry banana Greek yogurt on the side did the trick!
Road Trip + Lunch
We ate our breakfasts as we embarked on our 2-hour drive. Within 30 minutes, my typical highway hypnosis took over and I passed out. What is it with me and car rides that makes me so sleepy? I wasn't even tired when we got in the car and I still conked out right away.
I awoke when we were about 10 minutes outside of Gainesville. As Ryan and I were discussing lunch options, we passed a Starbucks that was right next to a Moe's and our minds were made up!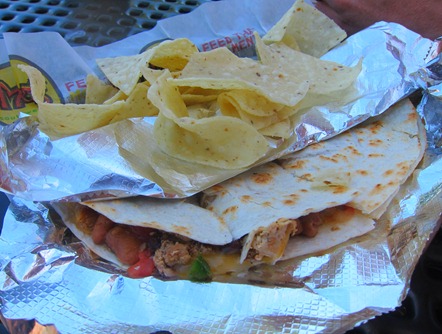 We shared a chicken and bean quesadilla with chips and salsa from Moe's before getting his and hers Frappuccinos to sip on in the car.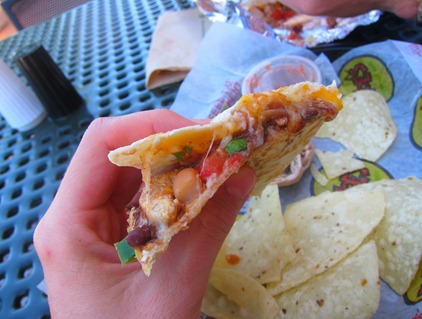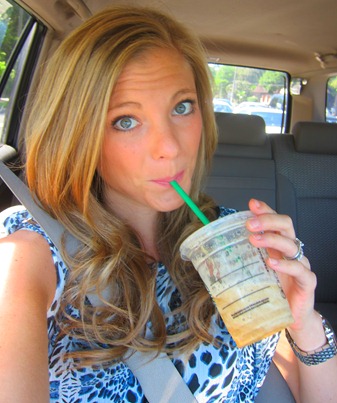 And now we're all caught up! Time to rush to my sister's graduation. Congrats to all you other grads out there this weekend and in the coming weeks! You have a lot to be proud of and I wish you the very best!