Saturday
Everyone was up nice and early on Saturday morning and after breakfast, Ryan asked if I had any ideas for the day in my mind. When I mentioned taking the boys and Sadie to Latta Plantation for a hike, Chase immediately latched onto the idea and Ryan was all about it so we headed out!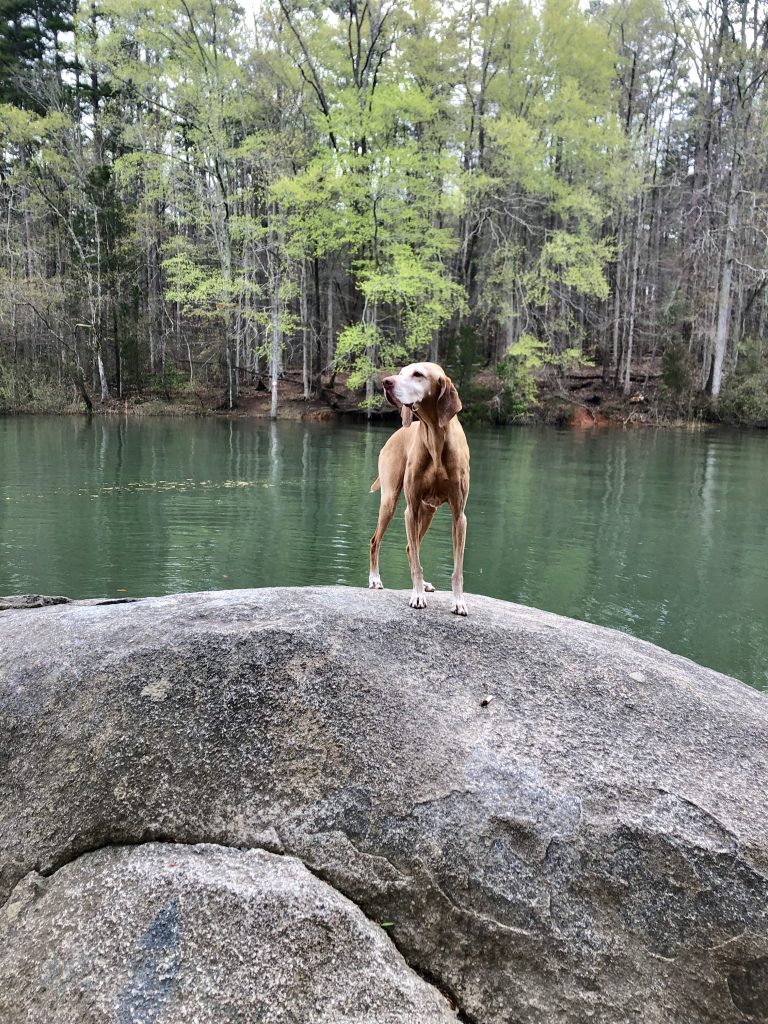 Saturday morning was very gray – no rain but no sunshine either – and somehow that translated into our family having the trails all to ourselves! I wore Ryder in my ErgoBaby carrier and Chase made sure to bring his "jet pack" along with him to help him achieve "super speed" on our hike.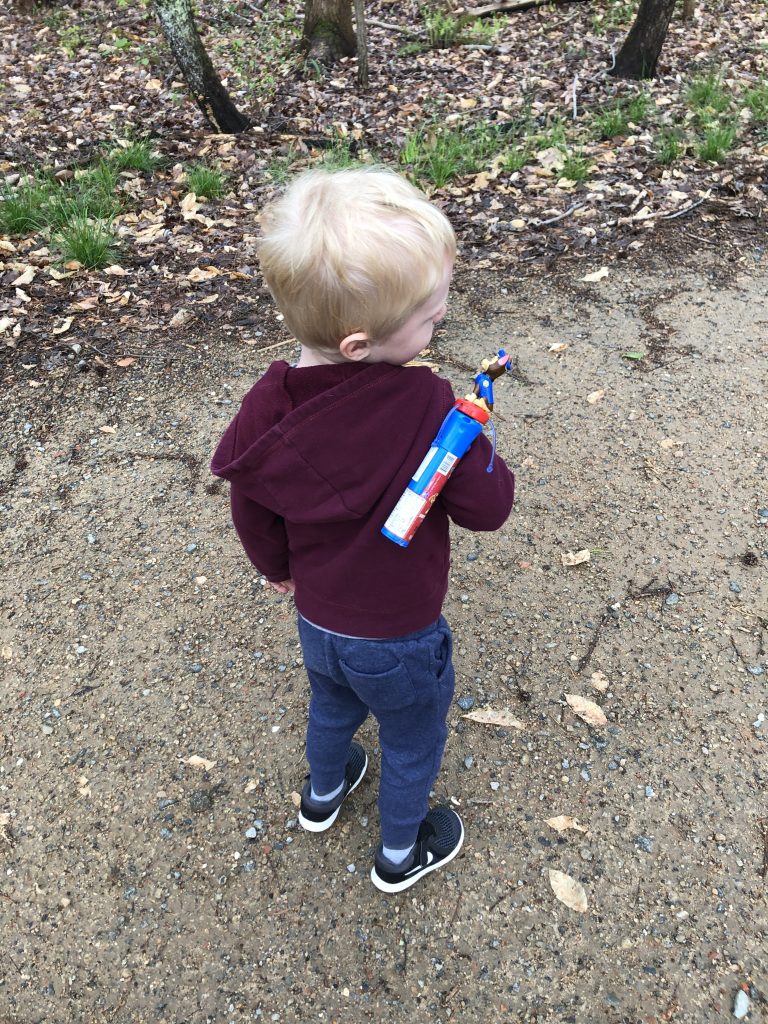 Chase's pretend jetpack is a spinning Paw Patrol Valentine's Day candy toy that he somehow never realized was filled with candy. We figured we'd let that be a happy discovery some day since I'm pretty sure Valentine's Day candy is made with the same ingredients as Halloween candy and never expires.
Our hike wasn't a long one and we covered about 1.5 miles in just under an hour. We stopped a few times to soak up some beautiful lake views and let Sadie sniff around and explore.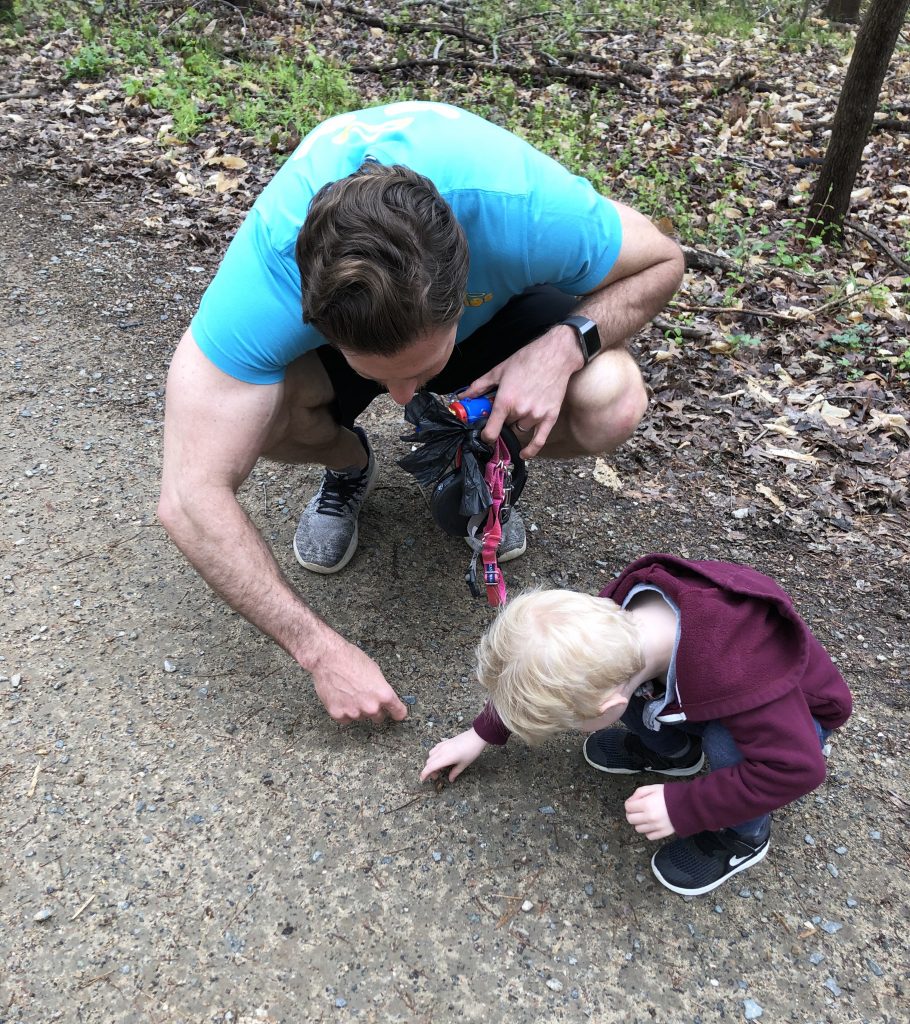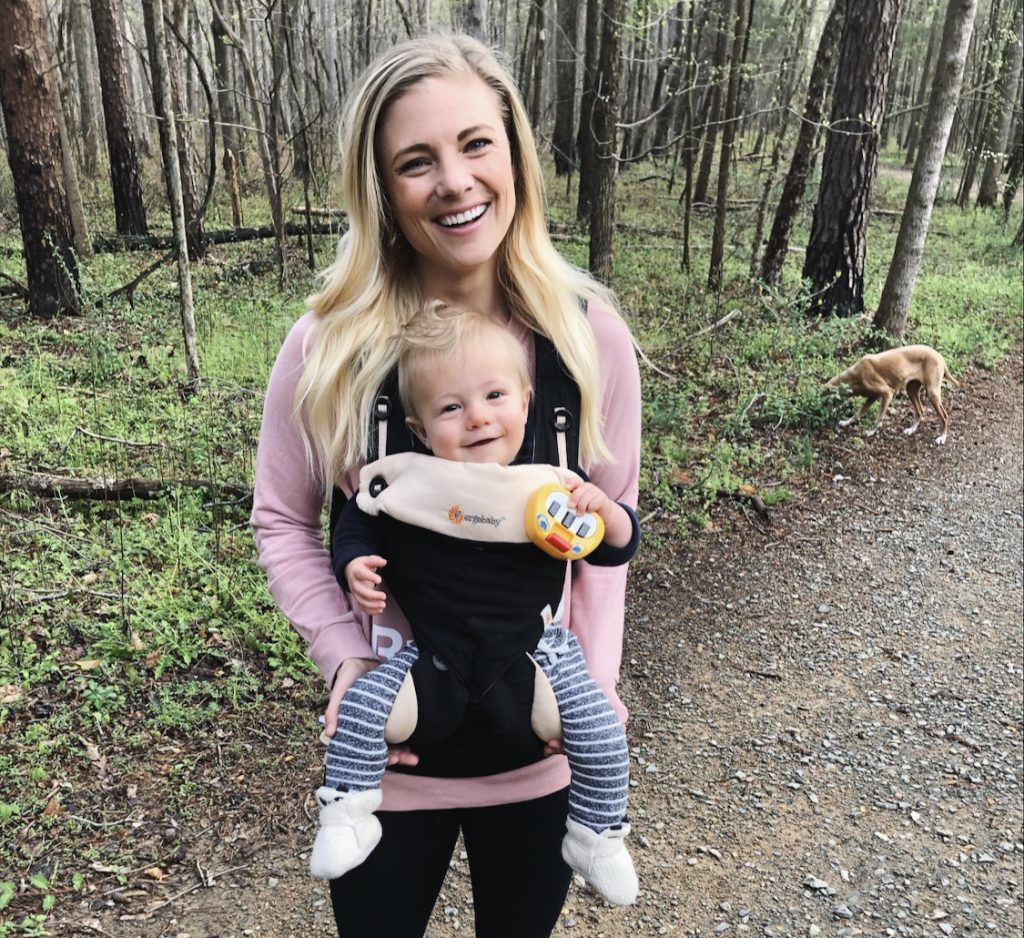 The tail end of our hike took us to the same spot where Ryan dove into the lake when we first moved to North Carolina and lost his wedding ring. Oh memoriesss. Fortunately we left Latta Plantation with everything we came with this time around and made our way home in time for Ryder's morning nap.
While Ryder snoozed away, Ryan and Chase headed into the yard to do some yard work and search for worms and snails while I worked on some upcoming blog posts on the computer.
Once Ryder was up from his morning nap, it was clear it was going to be a no-nap day for Chase, so we made our way to Gastonia to check out the brand new Gastonia Altitude Trampoline Park.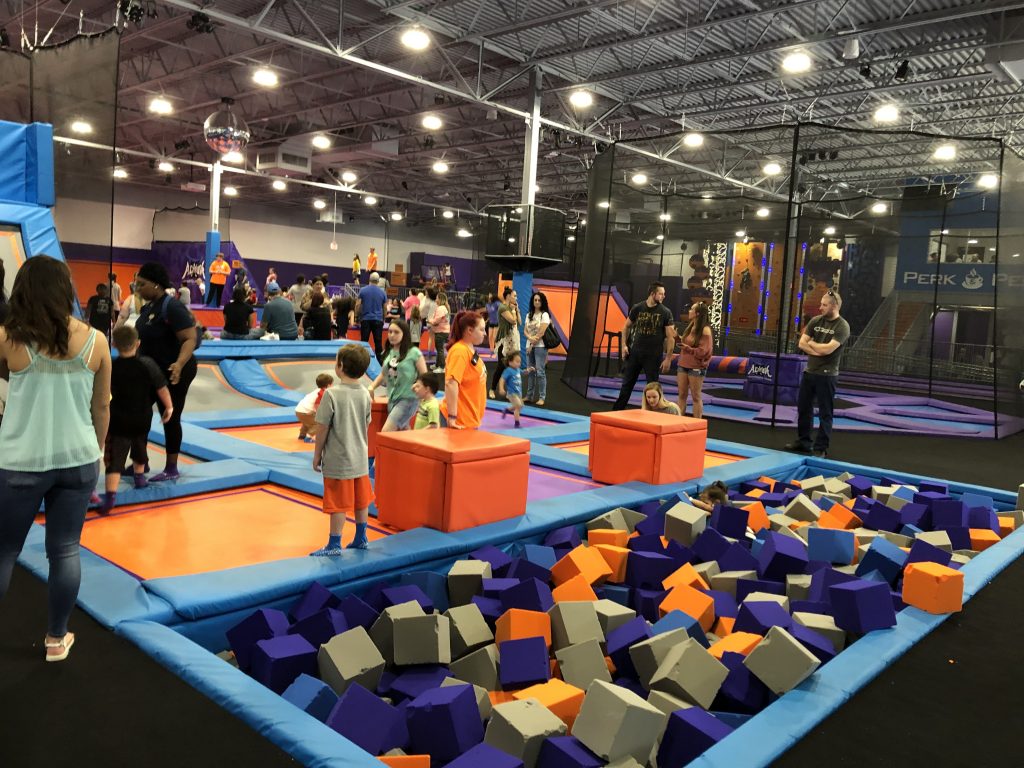 A while back, we were invited to attend their media preview/grand opening but it didn't work with our schedule, so we were excited to take a raincheck and check it out on a weekend that worked for our family. The trampoline park is like nothing I've ever seen before! In addition to having plenty of areas for kids (and adults!) to jump, the trampoline park also has a ninja course, rock climbing, trampoline basketball and dodgeball, an indoor ropes course complete with ziplining and more. We also saw a handful of birthday parties during our visit and I feel like this trampoline park would be a fantastic location for a kid to celebrate with friends.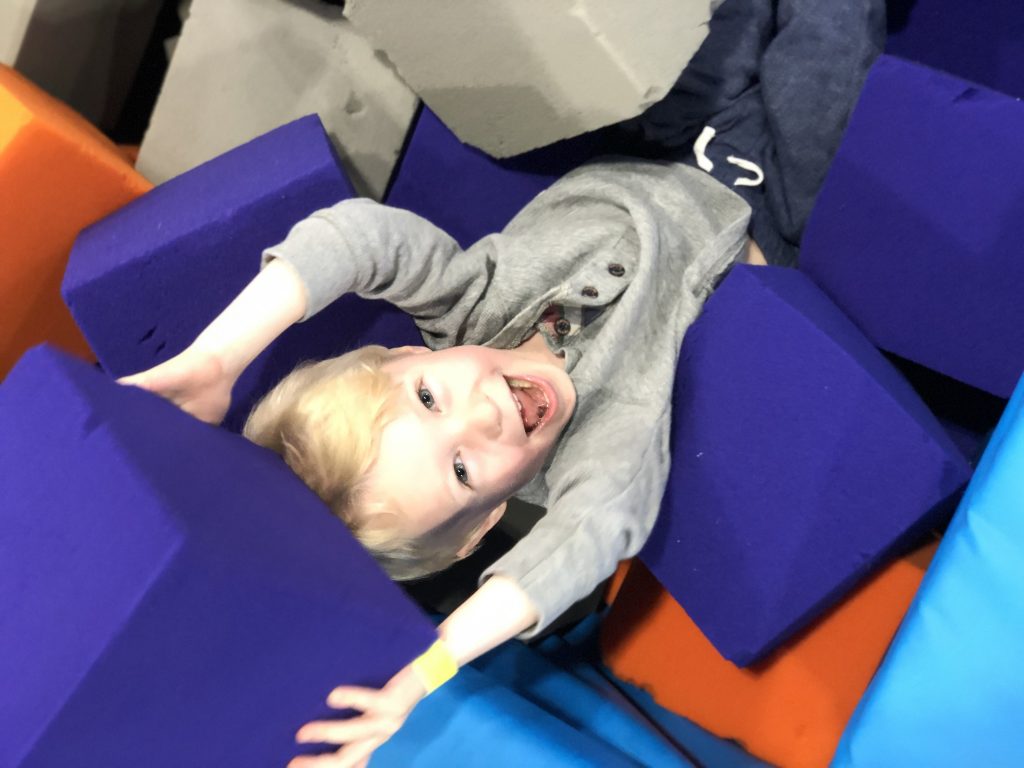 Since our crew was on the younger side compared to many of the kids, we mostly stuck to the KidZone for little ones and Chase had a ball! He was all about jumping into the foam pits, running up the mini warped wall and "practicing his flips like the big kids" which basically looked like him rolling forward and backward on the trampoline.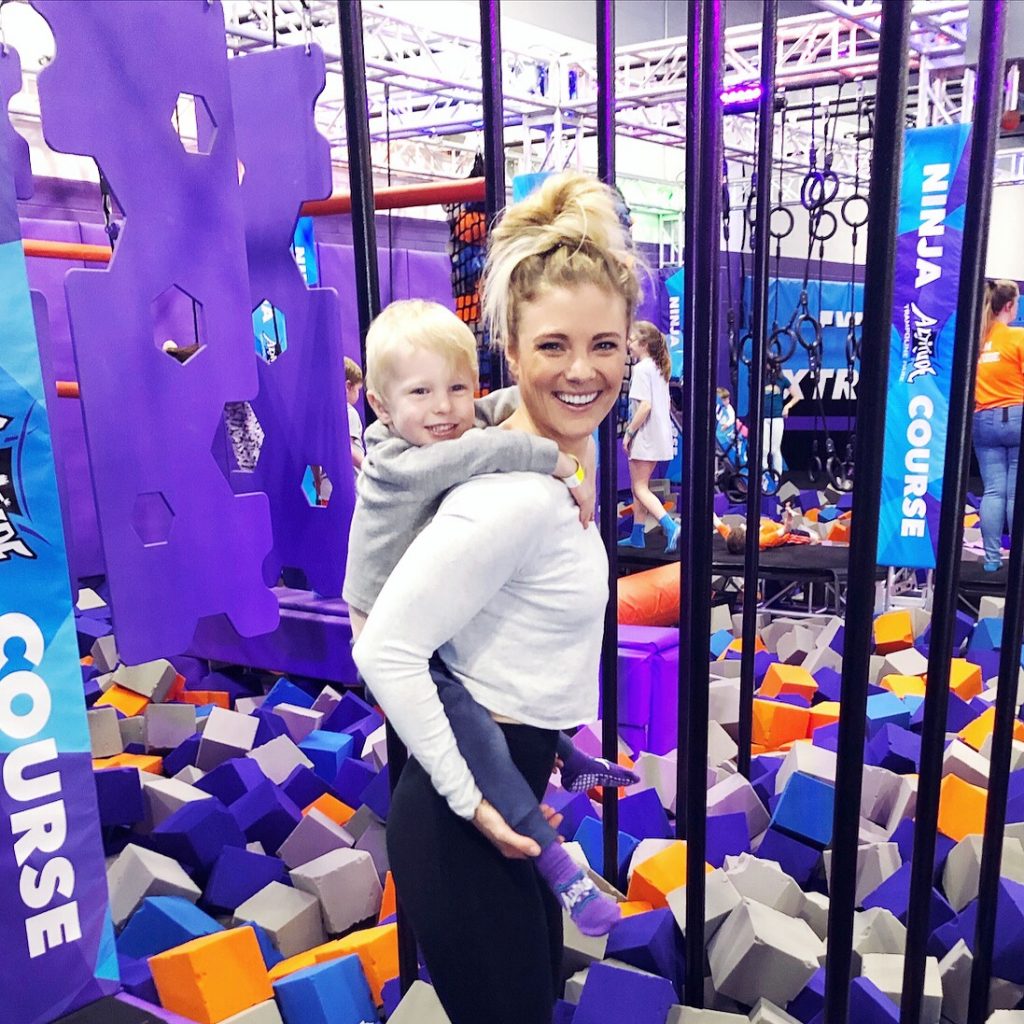 Even Ryder got into the action and had fun crawling around. I could just see the wheels in his little brain turning and swear he was saying, "Put me in, Coach!" He lit up when Ryan would hold him and bounce him which was adorable.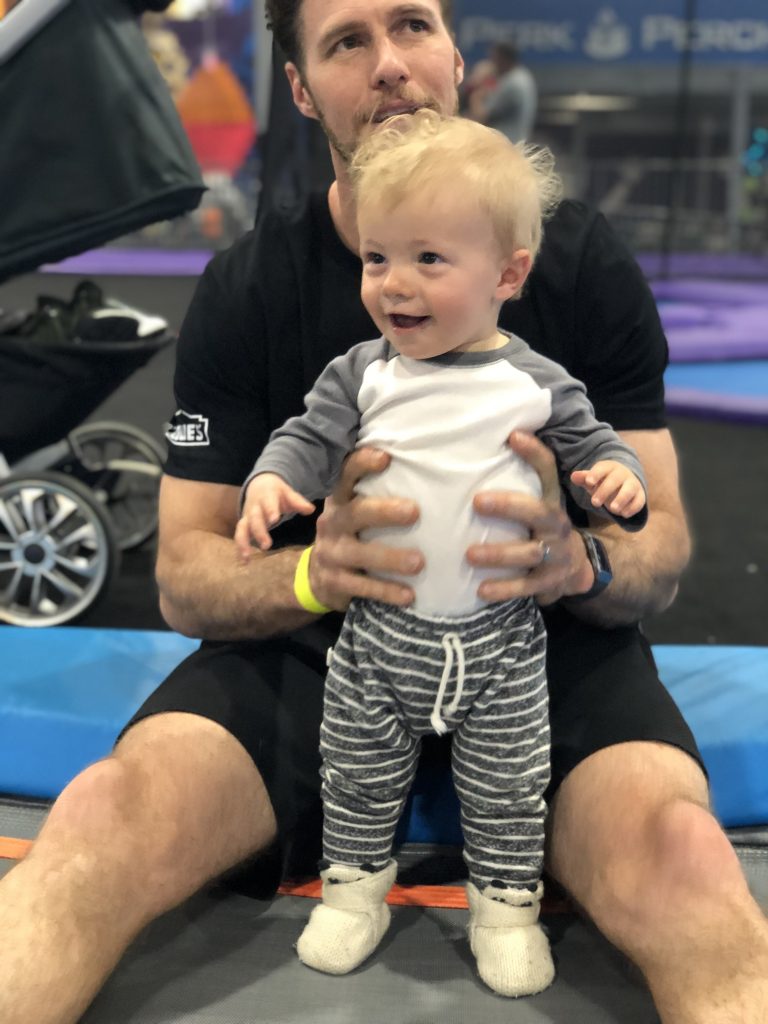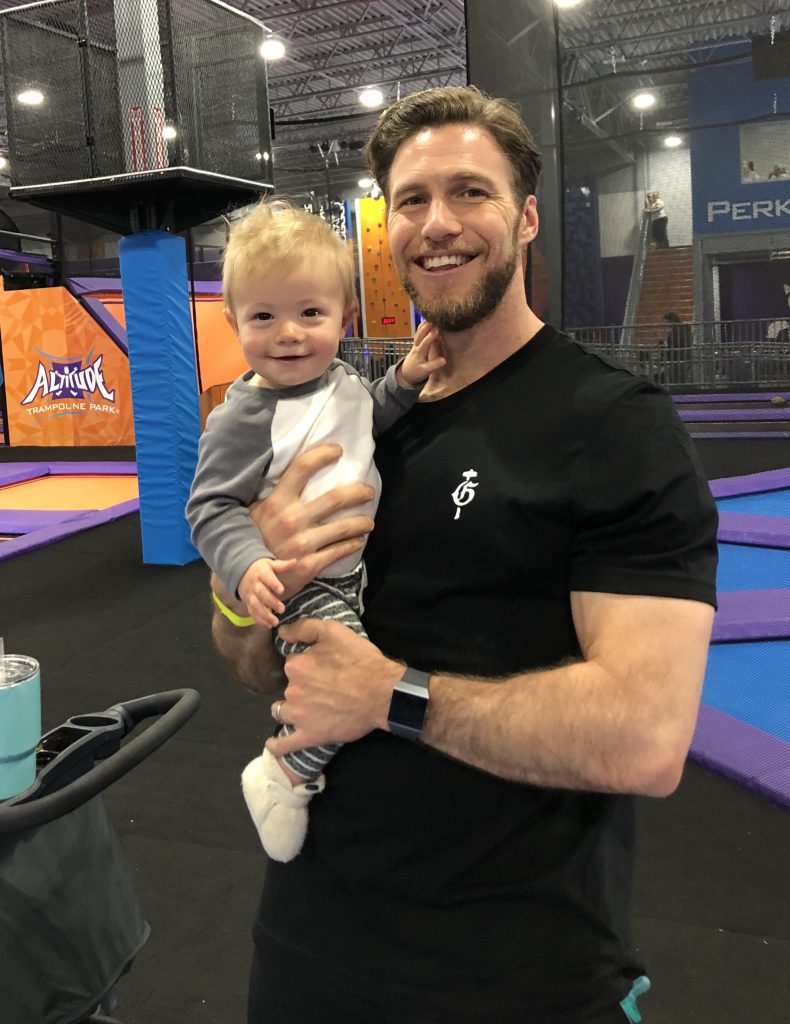 We stayed for just over an hour before we figured we should head out to avoid meltdown territory. As we left, I began to feel a little under the weather and achy. At first I felt like maybe my legs were sore from Friday's boot camp workout but then achiness started to spread up to my shoulders. I was also unusually tired after our short morning hike, so I began to wonder if something might be up.
By the time we made it home, I just wanted to lie down and nursed Ryder and put him down for a nap before finding my way to the couch. Ryan hung with Chase while I proceeded to feel worse and worse and eventually threw in the towel and went to bed after I put Ryder down at 7 p.m.
Sunday
I woke up on Sunday with a high fever and was down for the count for most of the day. I don't have much of a Sunday recap for you guys today (I typed up this post in small increments during random bouts of energy after I took medicine) and I'm really hoping for a healthy week ahead – for me and our whole family.

Being sick is no fun but being sick as a mom is next-level awful. Fingers crossed whatever bug I'm fighting is a short one and lots of hand-washing pays off and keeps our family from getting sick as well. I woke up this morning absolutely drenched in sweat — like completely soaked through my t-shirt sweat — and am going from freezing to sweating like mad. Bless Tylenol because it's helping me function right now.

I hope you guys all have a good week and thanks so much for stopping by PBF today. I hope you all stay healthy, too!

Aaand just like that, another weekend has come and gone. We filled the past few days with some family fun and took full advantage of a weekend with absolutely nothing on our agenda. It was a good one… until I got sick. Womp, womp.