What a day!
After my doctor's appointment, my sister and I headed to the gym to take a strength class.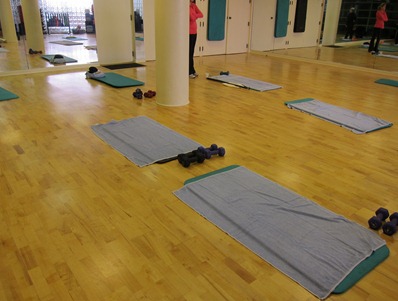 Let's just say the class left a lot to be desired. The instructor's voice was veeeery laid back. I actually turned to my sister halfway through the class and asked her if she thought he was drunk!
Neither of us were even sweaty once the class was over, but we had a good laugh about it!
We headed home and were greeted by this: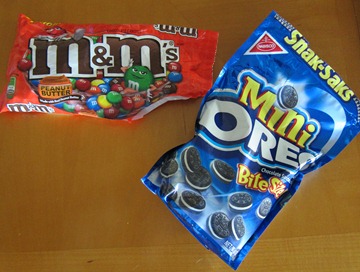 My mom surprised me and my sister with some of our favorite treats (peanut butter M&Ms for me and Oreos for Leslie).
As you can see, they've already been opened… I actually ruined my appetite for lunch by consuming so many M&Ms, but still ate a large piece of leftover lasagna because I knew we'd be out and about for a few hours and wanted to have something more substantial than sugar powering me through the day.
Exploring
Around 1:30 p.m., my mom, sister, Sadie and I drove out to Largo, Florida to walk around some trails and explore Pinewood Cultural Park.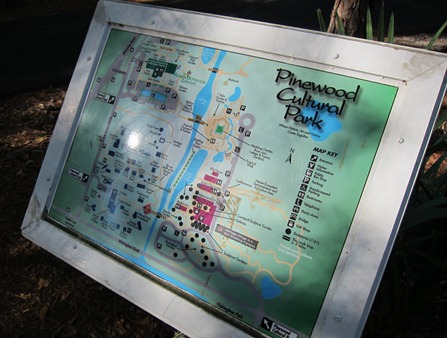 We had a fun time looking at the plants and wildlife and got a pretty big kick out of this sign…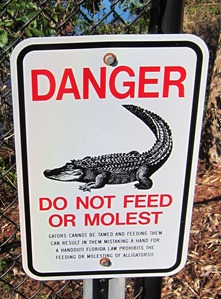 Don't go touching the alligators' goodies, okay guys?
Sadie was lovin' sniffing and exploring.
We laughed when we stumbled upon mini wooden chairs and tried to get Sadie to sit in one.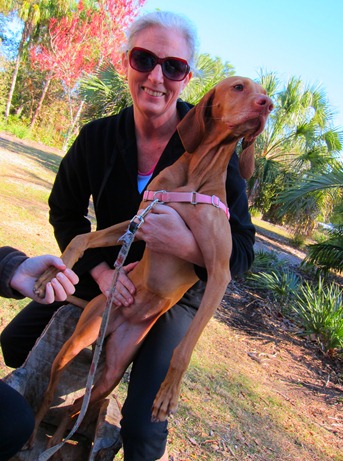 It wasn't too successful.
Unfortunately since we're in the middle of winter, a lot of the plants and crops were dormant or dead. We did see a plethora of unripe bananas.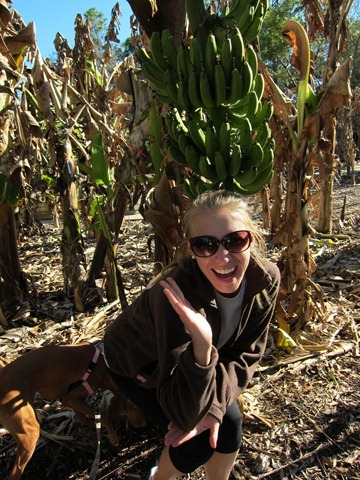 My sister quickly transformed herself into the Chiquita banana lady, using the bananas as her fruity headdress.

Wee!
Sadie got a little silly with a monkey…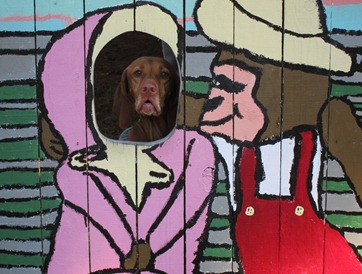 …and then became the first doggie astronaut while I transformed into a mermaid.
We ended up spending more time inside the park than we anticipated and actually got locked inside. We scaled the fence (Sadie too!) and made it safely home close to 5 p.m.
Homemade Munchkins
We arrived home ready for a snack to tide us over until my dad arrived home from work for a family dinner.
My mom had the brilliant idea to make homemade munchkins!
I know I can't be the only person out there in love with Dunkin' Donuts munchkins. You know, those little doughnut holes?

I can eat ten million of them which is 100 percent okay because they're clearly calorie-free since they're so tiny.

(The same logic works for M&Ms, in case you were wondering.)
When I was growing up, my mom would make homemade doughnut holes for me and my girlfriends whenever they would sleepover. We loved dipping the munchkins in chocolate, powdered sugar, cinnamon and sugar and sprinkles.
When my mom suggested we make homemade  munchkins, my sister and I were more than game.
First, my mom heated some canola oil on the stovetop over medium heat until it began to bubble.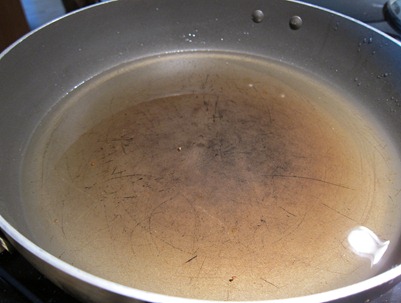 While the oil was heating up, my mom unrolled tube of buttermilk biscuits and cut each biscuit into four pieces using kitchen shears.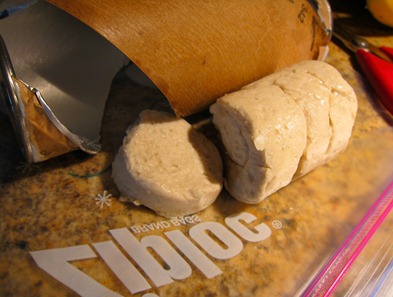 Once the oil was bubbling, my mom dropped the biscuit bites into the oil and let them fry for approximately 90 seconds until they were light brown. Flip them, and then let them cook for a minute or so on the other side. Take it from my mama, "Do not walk away from the stove!" This whole process goes very fast!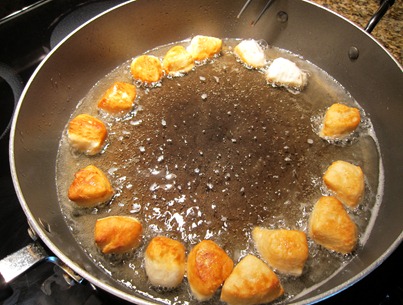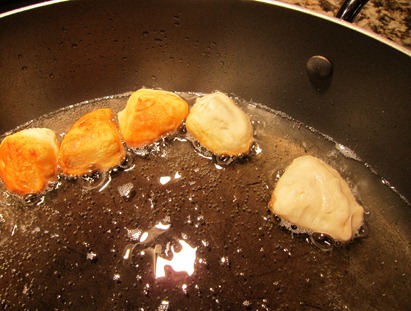 Once the doughnuts are cooked, remove them from the oil and let them cool for a minute or two on some paper towels.
You can then dip them in a myriad of toppings, or do my favorite thing and toss them into a bag of powdered sugar.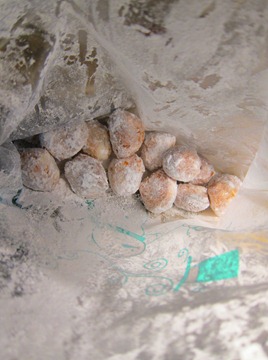 Then it's time to dig in!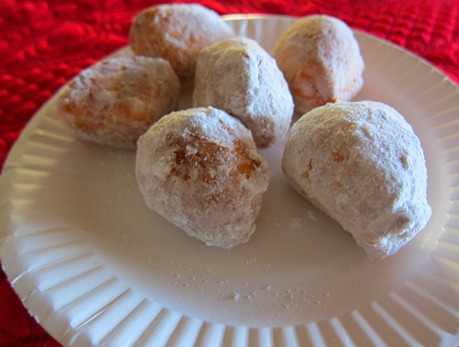 Eat them right away because they're the best when they're warm!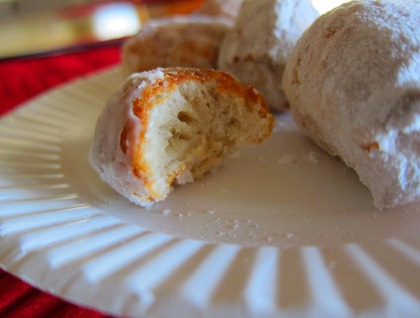 These little babies are fantastic. If you're looking for a fun addition to a lazy Sunday morning breakfast, these may be just the thing you're looking for.
I'm off to chill with the fam before dinner. Hope you're having a great Friday night!