Hi guys! Since I knew I'd be running around a lot this week since I'm out of town, I asked one of my friends to stop by with a guest post!
I met Lisa when we both worked together in Orlando and loved talking with her about books since she's a reading machine and the author of a great book blog. She recommended that I read The Hunger Games and Divergent well before they both blew up into super-popular books and seems to have a knack for identifying fantastic novels.
I always trust Lisa's recommendations and asked her to put together a post all about dystopian novels since I know many of you share my love for these books.
I hope some of the books mentioned below pop out at you! I know I am anxious to dig into Insurgent!
Guest Post: Read.Breathe.Relax.
Hello Peanut Butter Fingers Fans!
You may remember me from a guest post I wrote for Julie last year during her whirlwind vacation in Europe. If not, then hello! 🙂 I'm honored that Julie asked me to write for her awesome blog again!
She told me that many of you are fans of The Hunger Games and other dystopia-type books. I am in LOVE with this increasingly popular genre, and often review them on my young adult/fantasy book blog, Read.Breathe.Relax. So, if you're pining away for something to sate your post-Hunger Games fix, I'm here to nudge you in the right direction.
There are some amazing young adult dystopias coming out this year and I'm going to share with you a few of my favorites that I've read and loved and my top picks that are coming out later this year.
Young Adult Dystopias Already Published in 2012
Under the Never Sky by Veronica Rossi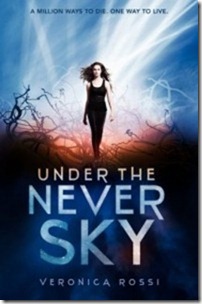 Publication date: January 3, 2012
Under the Never Sky is one of my favorite books of 2012 so far! It has everything I love in novels: action, romance and mystery. The story takes place in a futuristic setting – where a girl from the closed compound of Reverie faces the barren wasteland outside and meets a gruff "Savage" who helps her stay alive.
Although I definitely love a good story, if the romance in the book is absent or secondary, I quickly lose interest. I'm not proud of it – it's just a fact. Fortunately, I absolutely didn't have that problem in Under the Never Sky. The romance was slow but steady and totally swoon-worthy.
Besides that – there is a ton of meat to this book that will keep the pages turning.
The Selection by Kiera Cass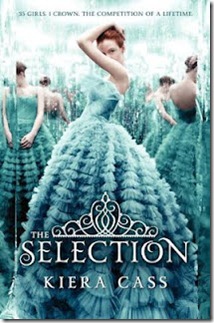 Publication date: April 24, 2012
If you like The Bachelor at all (and I'm thinking you do if you read Julie's blog

), this book will definitely appeal to you.
In The Selection, the U.S. has reverted to a monarchy and caste system in order to hold itself together after so many wars (in this setting, a 4th World War took place). When the up-and-coming king, Prince Maxon, must select a wife, girls are picked from across the country to vie for his affections.
America Singer never thought she would be chosen, but she does and becomes one of 35 girls who will compete to become the new queen.
I honestly didn't think I was going to like this book at all. I'd read some negative reviews and wasn't really sure what to expect. Instead what I got was a book that I literally could not put down. A-flippin-mazing.
Insurgent by Veronica Roth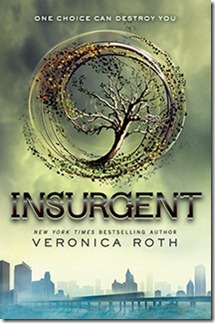 Publication date: May 1, 2012
Hopefully, you've taken Julie's suggestion and read Divergent! I absolutely adored this book, and almost liked it better than The Hunger Games…almost!
Insurgent picks up where Divergent left off and really digs into the different factions, hidden secrets and unanswered questions of the previous book. I don't want to reveal any spoilers, so I'll just leave it at this: this series is one of the most well-written and fully developed I've read in a long time and I highly, highly recommend it.
Young Adult Dystopias Coming Out Later This Year
Masque of Red Death by Bethany Griffin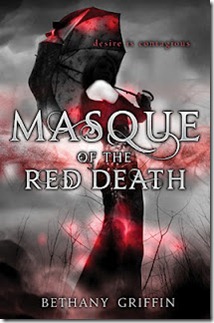 Publication date: April 24, 2012
The only thing Araby wants to live for are ways to forget. Her nightly adventures into the Debauchery Club help her forget the plague that wiped out the population and her fear of what the future may hold. But meeting Will, the owner of the club, and Elliot, a dashing aristocrat, just might change all of that and give her something to fight to remember.
The Hunt by Andrew Fukuda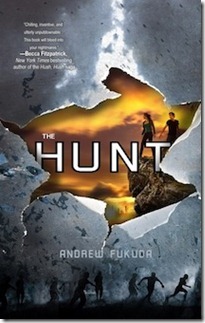 Publication date: May 8, 2012
Gene is human and that's a huge problem. As the beings around him have lightning-fast reflexes and a thirst for human blood, Gene knows he must keep his true identity a secret. When Gene is chosen to hunt the remaining humans, he must fight harder than ever to keep his humanity hidden… and avoid falling in love with a human girl that crosses his path.
For Darkness Shows the Stars by Diana Peterfreund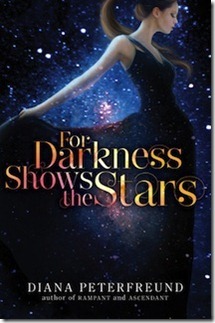 Publication date: June 12, 2012
After failed genetic testing, an anti-technology caste system has taken root and created the Luddite nobility. Elliot is part of the elite, but she sees her world changing as a group of rebels forms and challenges the old class system. As she struggles to keep up her family estate, she must face her childhood sweetheart, Kai, who she once rejected and has now became a renowned explorer. (The book is based off Jane Austen's Persuasion.)
Glitch by Heather Anastasiu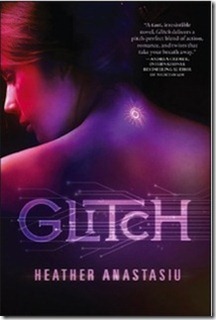 Publication date: August 7, 2012
Zoe, along with the rest of humanity, has been implanted with a computer chip by The Community and has been wiped clean of emotion. When she starts to malfunction, or "glitch," she begins to have feelings and develops an identity. After she meets fellow "glitchers," Zoe and her new friends plan to free themselves from the The Community who fights to control them.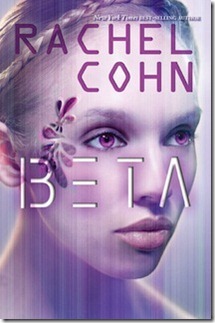 Publication date: October 16, 2012
The wealthiest people in the world live on the island paradise of Demesne. Everything is bio-engineered there — including servants like Elysia. She's a 16-year-old clone who is an empty shell of a teenager with no experiences, feelings or personality. Despite the perfection of Demesne, Elysia and the servants seem discontent… a problem that only increases as Elysia begins to feel more and more emotions. Elysia must hide her emerging self and especially her increasing humanity in a world that doesn't tolerate imperfection.
Agh! There are so many amazing books coming out this year! I hope you find some great reads.
If you ever want to chat about anything book-related, hit me up over at Read.Breathe.Relax.!