Check out this workout:
At first glance the speeds don't look too outlandish, but the incline… oooh the incline.
I based this workout off of one I tore out of Fitness Magazine months ago, but changed the speeds and incline to make it more challenging in the beginning. Boy was it a killer!
Haulin' booty at a 4.5 speed when the treadmill is cranked up to a level 15 incline had me absolutely dripping sweat. I was watching the timer on the treadmill praying that the minute I spent at that speed and incline would pass quickly so I could breathe again. I was a hot mess!
It has been a while since I took myself through a hard treadmill workout and it felt good to get out of my cardio comfort zone and push myself a bit.
After my time on the treadmill, I headed into a 30-minute TRX class that incorporated a lot of push ups and upright rows in addition to some plyometric and cardio moves. I left the gym feeling like I got one heck of a good workout… the best workout I've had in weeks, that's for sure!
Breakfast
Breakfast was another bowl of scrambled eggs!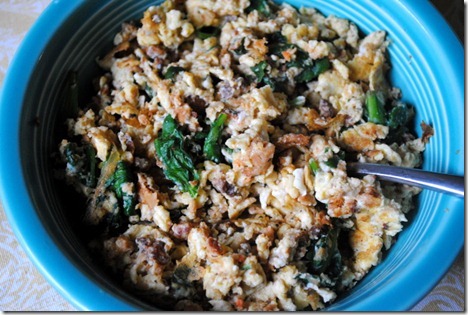 I stirred a few crumbled Wildwood veggie meatballs, chopped spinach and shredded mozzarella cheese into the eggs as they were cooking and the result was a rather delicious breakfast bowl.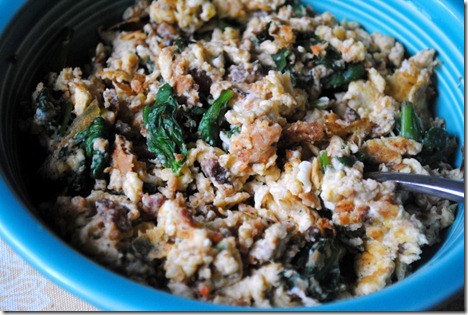 After breakfast, I leashed Sadie up for a walk around the neighborhood. When we were just about done with our walk and within a minute of our house, a neighbor pulled his car over and rolled down his window to tell us that he just saw a black bear five houses down the street.

Thank goodness we were so close to home! Freaky stuff.

Time to cram in a few hours of work before heading off to a CPR class after lunch.

See ya then!

I absolutely kicked my butt on the treadmill today.