You'd think setting an alarm for 5 a.m. would mean I would definitely sleep right up until the beep goes off, but that isn't the case most of the time.
I have an internal alarm clock that is apparently a little too accurate. It gets a kick out of waking me up 45 minutes before my alarm goes off which is a little annoying. It's enough time for me to remain in bed, awake, for 30 minutes and then drift back into a blissful slumber right before the alarm actually goes off. It's pleasant.
After a mostly restful night (except for the last hour or so), I woke up to the alarm with Ryan and headed off to the gym to check our respective workouts off the list!
Workout
My workout for today began with a 20 minute elliptical workout and concluded with an upper body workout. 
While I spent some time on the elliptical, I flipped through the IDEA World Fitness Convention's schedule which got me way too excited for the conference in August.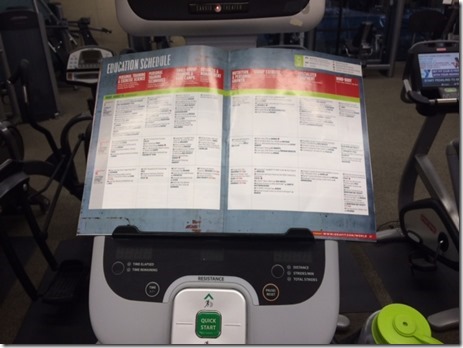 It was, hands down, the best conference I've ever attended and I can't wait to go back again this year. (You may see my recap from last year's conference here: IDEA World Fitness Convention 2013)
If you're a fitness professional, I cannot recommend this conference enough. It's incredibly energizing and I left feeling super motivated to kick butt as a trainer and group exercise instructor.
Breakfast
Breakfast this morning came in a glass.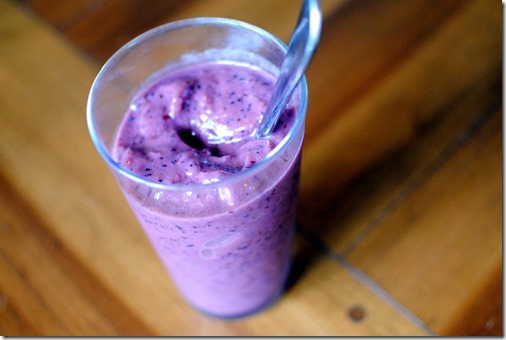 A berry yummy smoothie!
In the mix:
Coconut milk
Vanilla Greek yogurt
Frozen banana
Frozen blueberries
Frozen strawberries
Frozen cherries
Spoonful of almond butter
It was almost too thick to drink (just how I like it), so a spoon came in handy.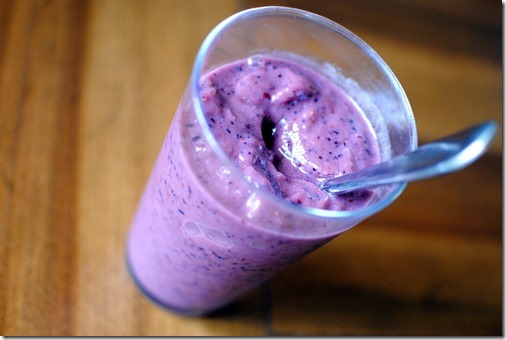 Off to work!
Question of the Morning
Do you feel like you have an internal alarm clock, or do you always seem to sleep right up until your alarm goes off in the morning?