My mom was here… and then, just like that, she's gone again!
(That picture makes me want to go back to London!)
My mom arrived in Ocala around 11 a.m. and we spent the next few hours together working on some personal business.
We made sure to take time to meet up with Ryan for lunch at Crisper's where we all ordered salads.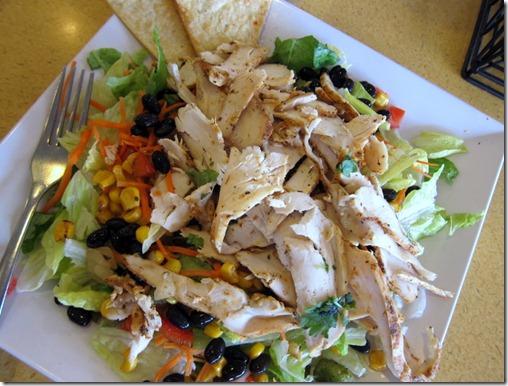 I ordered the southwest salad with blackened chicken, corn, black beans, tomatoes, carrots and green peppers.
After lunch, my mom and I got back to business and ran some errands before she had to get back on the road with Sadie.
Sadie will be spending the weekend with my parents since Ryan and I will be running our little hearts out in Savannah.
Speaking of Savannah, I checked the weather forecast for the morning of our race this afternoon…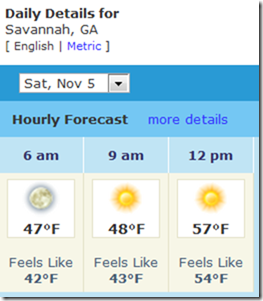 For us Florida folks, temperatures in the 40s are cold, but I like running in chilly weather about 10,000 times more than weather that makes me feel like my skin is going to melt off my bones.
I'm thinking I'll wear running capris, a dri-fit tank and a long-sleeved lightweight hoodie on race day. I'll probably bring a fleece with me to the race site, but leave it at the bag check before we run.
I'm not very experienced in chilly-weather running, but I'm pretty sure temperatures close to 50 degrees are ideal for distance races.
I know this may sound crazy, but I feel like I'm almost as excited about the race expo as I am about the race itself.
Check out the description:
For two days, over 60 exhibitors will offer free samples, showcase the latest in running gear, sports apparel, health & nutritional information and much more.
I didn't even know what a race expo was until last year when I attended one before the Chicago Rock 'n' Roll half marathon. Now I know that they're jam packed with free samples and booths filled with awesome workout gear. So much fun!
I think I'm ready to be in Savannah now.