Today is a day off from the gym! Ryan and I are taking it easy on the workout front this week in preparation for Saturday's half marathon. We're leaving tomorrow morning for Savannah and I am already getting jittery… in a good way!
I started to make a packing list as I prepared breakfast this morning which really got me pumped up.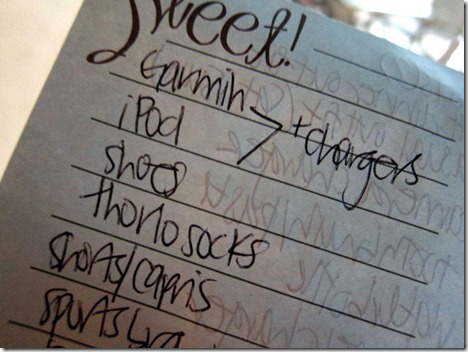 I started with the most important running items in my book: My Garmin and iPod! When I really think about it, my number one slot might actually go to my favorite running socks, though my electronics do keep me motivated in a way a pair of socks never could.
Breakfast
Breakfast was good this morning, but not great.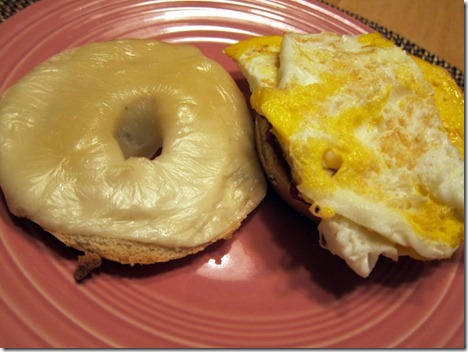 (Why does cheese always look so leathery once it starts to cool?)
I made myself a cheese, jelly and egg bagelwich on an onion bagel and think I finally discovered a kind of cheese that doesn't work on this sandwich. Provolone. Bleh.
It could be that the provolone that I used had a "smoke" flavor that I didn't realize it had until I bit into the bagelwich. I still ate the whole thing, but it wasn't nearly as delicious as prior jelly and cheese bagelwiches.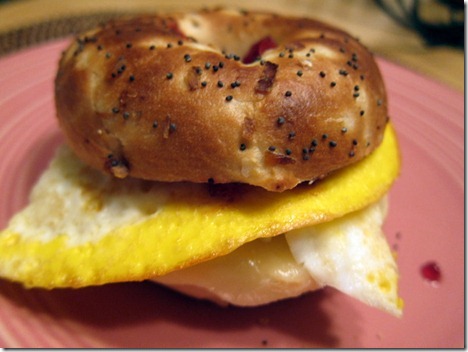 Today
My mom left from St. Pete this morning to come pick up Sadie for the weekend and help me with some personal things here in Ocala. I'm really looking forward to spending the day with her but need to buckle down and wrap up a project that's been quite a time suck for the past two days. I want that baby done and sent and out of my mind!
See ya for lunch!
Question of the Morning
What is your most important piece of exercise gear (clothing, electronic, etc.)?