We all took our time easing into the day since we didn't have any concrete plans on our relaxing weekend agenda, with the exception of a nail appointment in the afternoon. Since my stomach starts grumbling the second I wake up, I ended up snacking on Cheez-Its and an orange before we got our act together enough to head out for a legit breakfast.
Our plan for the day was to begin with brunch at 3 Arts Club Café located in the ridiculously gorgeous atrium of Restoration Hardware.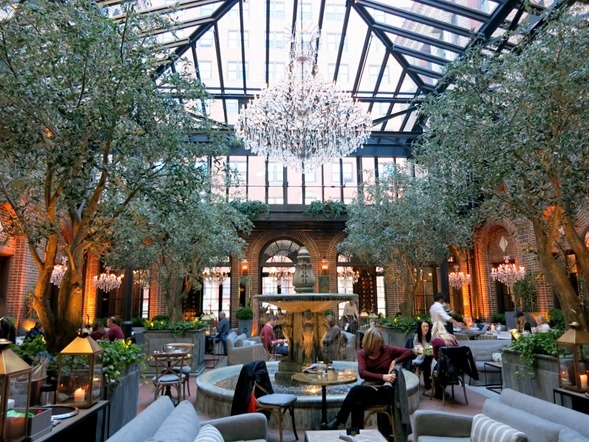 We left the Sheraton Grand and within minutes found ourselves walking along the Magnificent Mile. I must quickly give our hotel a shout out for its awesome location. I love the ability to walk from a hotel to a bunch of different hot spots and there was plenty to do within walking distance of the Sheraton. I guess that's a benefit of staying in the heart of the city!
We picked up pumpkin spice lattes for our walk ('tis the season!) and meandered our way through the city, stopping into places that caught our interest. Since Michaela, Leah, Carrie and I have all been friends since elementary school, it only made sense that we would stop into The American Girl store for nostalgia's sake!
The dolls were incredibly popular when we were young girls and it was fun to see some of my old favorites on display, as well as the "Julie" doll that wasn't available when I was a little girl. (I'm pretty sure I would've loved her!)
Once we arrived at the 3 Arts Club Café, I was seriously blown away by the beautiful space. Unfortunately we were all quite bummed to learn that there was a two-hour wait for a table. We decided to come back later in the day for a sweet treat and drinks at the bar and made our way back into the city to grab a low-key diner breakfast at Hashbrowns.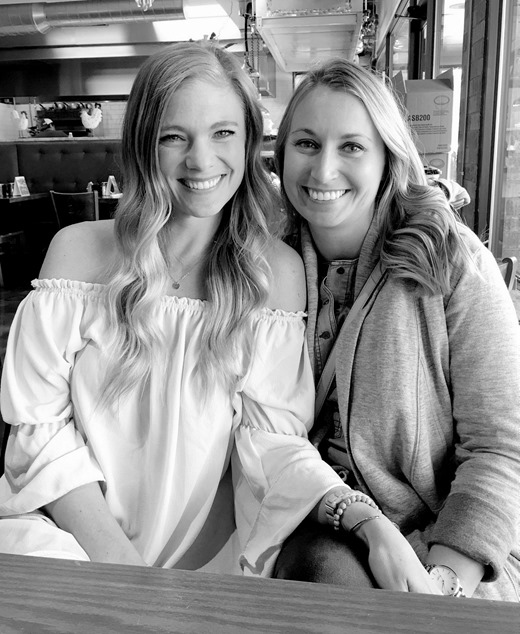 Once we were done with our eggs, sweet potato hash browns and coffee, we walked a block or two to Polish & Pour for manicures and Prosecco!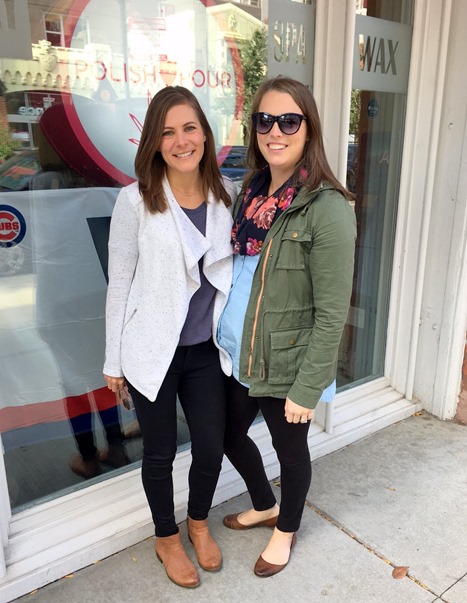 I cannot remember the last time I had a manicure (it's easily been since before Chase was born), so I decided to splurge on a gel manicure for longevity's sake.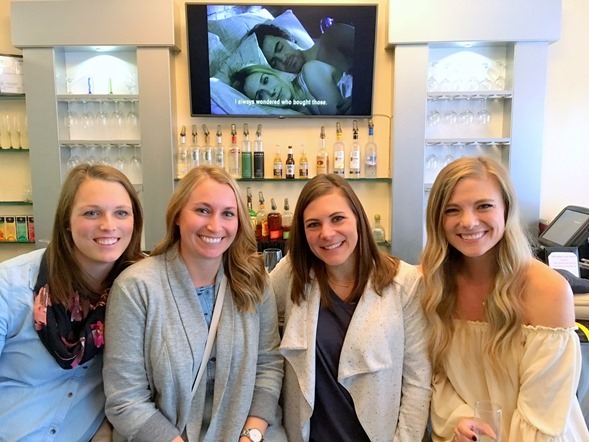 I selected Honk If You Love OPI which perfectly fit the deep-purple-almost-black color I was looking for now that fall is in full swing. Oh! And I always get a kick out of asking the people at the salon what the "it" color of the season is and I was told it's all about gray this year. Now ya know!
With our nails done and our drinks finished, we walked back to the Restoration Hardware café to grab an afternoon pick-me-up and hang out on the comfy couches to chat for a bit before walking around the store.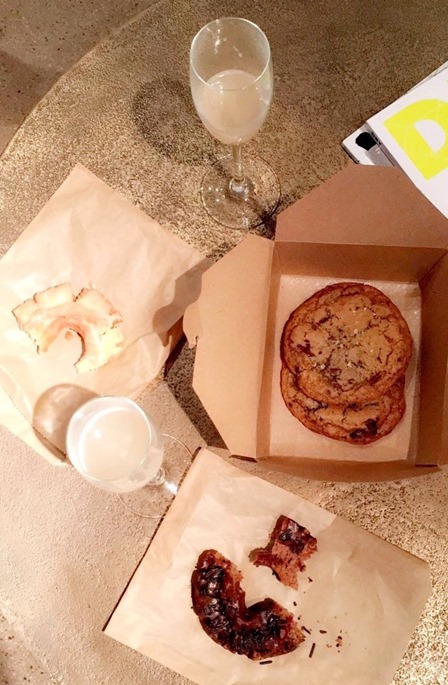 The salted chocolate chip cookies and chocolate doughnut were amazing!
(FYI the above pic is of a staged "teen's room." Isn't that exactly what your room looked like as a teenager!? Ha!)
Once we were done at RH, we headed back out into the city for more exploring. We decided to play tourists and walked around Millennium Park, stopping to snap pictures at The Bean and other hot spots.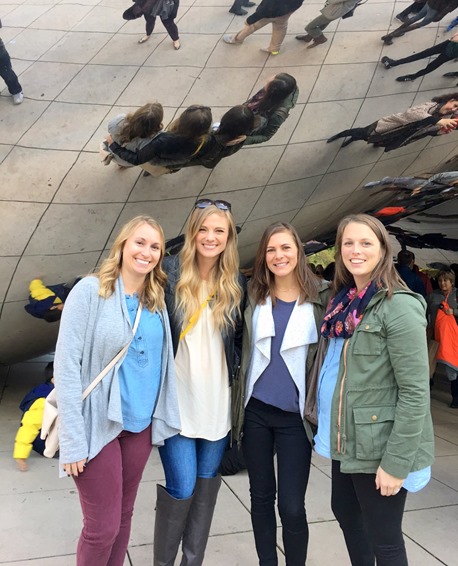 We swung by Walgreens to pick up drinks for happy hour in our room before we made it back to our hotel. On our way up to our room, we grabbed some appetizers from the Sheraton Grand Club Level to enjoy while we got ready for dinner, including cheese, fried zucchini sticks, crackers and more. I wasn't sure what we'd find at the club level when the woman at the front desk of the hotel told us to check it out during our stay, but I wish we would've paid a visit to the club level sooner during our trip because it offered expansive views of Chicago and complimentary snacks and drinks. (We made sure to stop by the following morning for breakfast and coffee and it made grabbing a quick bite to eat before an early flight a breeze!)
We took our time getting ready (truthfully I just brushed my hair and relaxed for an hour!) and then we caught a cab to Cantina Laredo for dinner. Our group was craving Mexican food, so Cantina Laredo hit the spot and we chatted over chips, margaritas and tacos!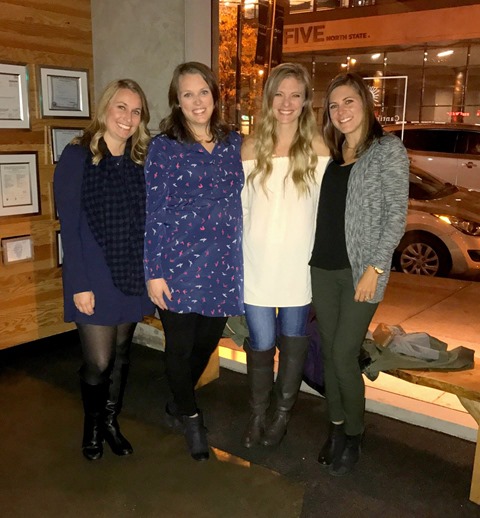 The food was great and our table had a wonderful view of a big-screen TV where the Cubs' game was playing. Despite growing up just outside of Chicago, I'm not exactly a die-hard Cubs fan but it was impossible not to get wrapped up in the energy of the game and root for them to make it to the World Series during my stay!

We spent the rest of the evening back at our hotel room in our pajamas (heaven!) and chatted away until we could no longer keep our eyes open. Sunday passed by in a flash since Michaela and I had early flights out of O'Hare and as I was sitting on the plane headed back to Charlotte, I left feeling grateful for quality time with three of my very best friends but also a little sad that we don't get to see each other nearly as often as we'd like… And next time I see Leah she'll be the mom of two little ones! Congratulations again, Leah!!!

And thanks so much to my friends for taking time out of their busy lives to make this much-needed trip happen. I had a wonderful time and can't wait for the next one!

The second day of our whirlwind girls' weekend in Chicago began a little before 8 a.m. When I looked at the clock and saw I slept in until 7:40 a.m. (that's 8:40 a.m. Charlotte time!), I was so psyched! Ohhh the joy I get from a good night's sleep. No shame in my game!