Pumpkin Spice Bark combines coconut oil, pumpkin puree, Justin's vanilla almond butter and festive fall flavors for a sweet treat that only tastes indulgent! Customize this bark by adding your favorite fall sprinkles, candy corn, chopped nuts and more. Thank you to Justin's for teaming up with me for this post!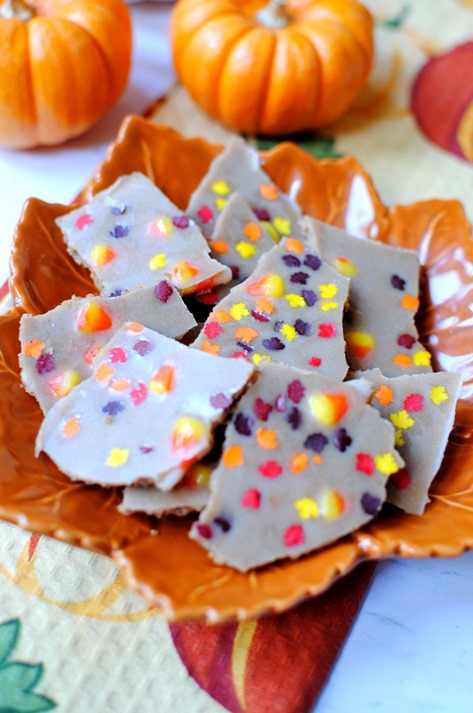 When it comes to junk food, it seems like people can be divided into two groups: Team Sweet and Team Salty. As the team names imply, Team Sweet gravitates toward sugary treats such as cookies, ice cream, brownies and candy while Team Salty flips for chips, fries, cheesy indulgences and more. I am 100 percent Team Sweet – always have been, always will be! (Well, I suppose a small exception was made when I was pregnant and truly appreciated the glory that is queso.)
My sweet tooth is strong and while Ryan and I generally try to keep most sweets out of our house because both of us will go to town on a pint of ice cream, I always have ingredients on hand to make a sweet snack if a craving strikes.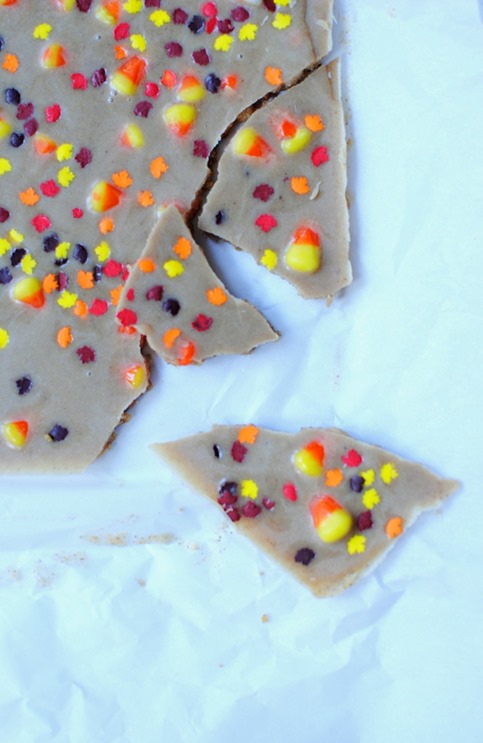 I briefly mentioned my love for coconut oil chocolate on the blog before (simply combine melted coconut oil, cocoa powder and maple syrup and refrigerate or freeze for an easy homemade chocolate treat) and over the holiday season last year, I shared a (dairy-free) recipe for coconut oil peppermint bark that was unreal and a must-make for those who love chocolate and peppermint.
Well I'm at it again this year with another delicious holiday bark to share with you guys and this one is all about pumpkin spice and vanilla almond butter. It's the kind of sweet treat that tastes indulgent but when you break it down and look at the ingredients you cannot help but smile. Coconut oil, Justin's vanilla almond butter, pumpkin puree, maple syrup and fragrant pumpkin pie spices come together to create a festive fall bark you can whip up in no time at all!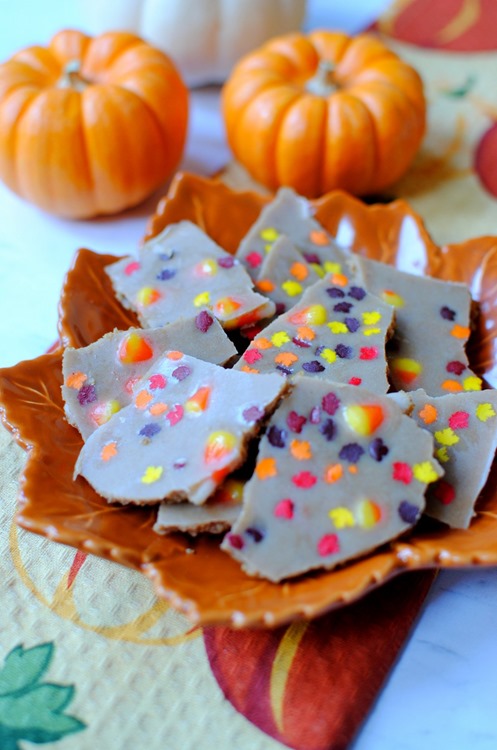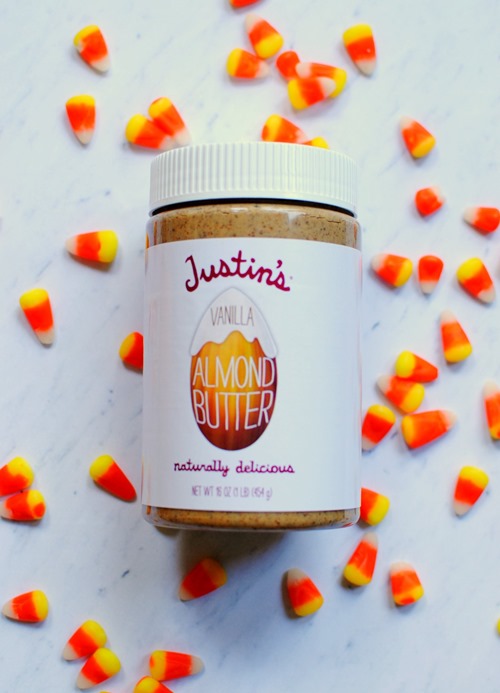 The addition of maple syrup gives the bark the perfect punch of subtle sweetness while Justin's vanilla almond butter gives it a rich, nutty flavor that will have you coming back for more!
You will only need to dirty one bowl when you make this bark (hooray for minimal dirty dishes) and within 10 minutes, you'll have a sweet, creamy pumpkin spice bark on your hands to share (or keep for yourself…  no judgment). Before freezing the bark to allow it to harden, you may also customize it a bit and sprinkle the bark with your favorite chopped nuts, fall sprinkles, chopped mini peanut butter cups or candy corn.  I've also added cocoa powder to the mix for a chocolaty treat and it was delicious. Play around with this one and enjoy!!!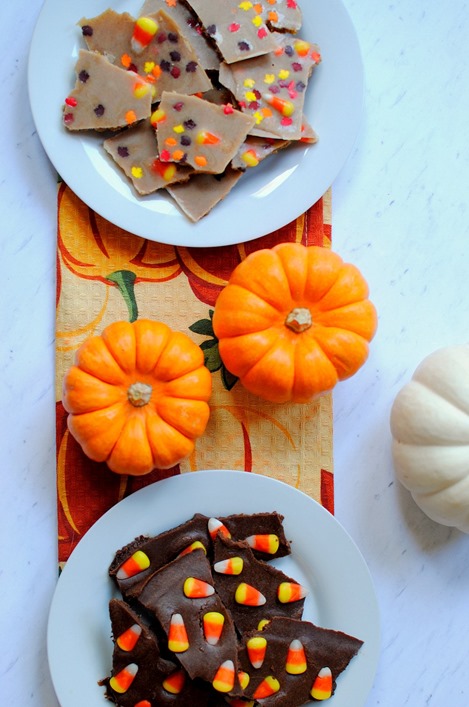 Pumpkin Spice Bark
Makes one 9×11 sheet of bark
Ingredients
3/4 cup coconut oil (not melted)
1/3 cup Justin's vanilla almond butter
2 tablespoons pumpkin puree
2 teaspoons pumpkin pie spice
1/4 cup maple syrup
Optional: A sprinkle of candy corn, spiced almonds, fall sprinkles, etc.
Directions
Line a 9×11-inch pan with parchment paper.
Combine coconut oil and almond butter in a large, microwave safe bowl. Microwave until coconut oil is melted and almond butter is slightly runny, about 45 seconds. Stir to combine.
Add pumpkin puree and pumpkin pie spice and stir. Add maple syrup and stir again.
Pour mixture onto parchment paper, using a spatula to spread it evenly. Sprinkle any desired toppings on top of the bark before placing into the freezer.
Freeze until the bark hardens, approximately 20 minutes. Break into pieces and enjoy! Store any remaining pieces in an air-tight container in the freezer.

Enjoy! And be sure to check out Justin's website for more delicious seasonal recipes!