Whenever she sees me coming, she already has my little plate waiting for me and we inevitably end up chatting for at least five minutes about the latest Publix Aprons recipe. She asks me if I've made any of her recipes at home recently and I gush over how much we loved the date night chicken or some other fabulous dish.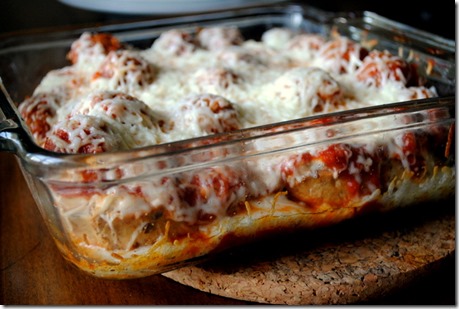 For those of you who don't live in the southeast United States or are unfamiliar with Publix, the grocery store frequently features samples of recipes they create. One person makes the entire recipe in the middle of the grocery store and then offers bites of it to people as they walk by. I'm never one to shy away from samples, so I always take one and am often impressed with just how delicious the recipes are and end up making them at home all the time. Publix, your plan is working!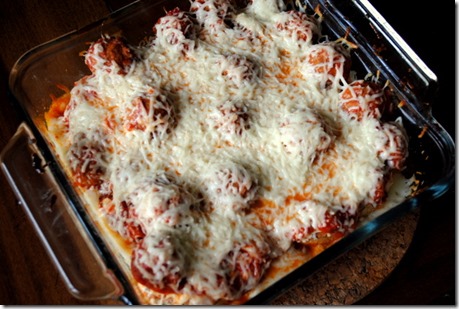 Today's recipe is a lightened up version of Publix's meatball casserole. It's simple to make and was a big hit in our house.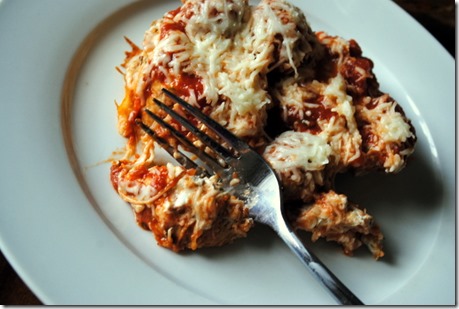 I hope you enjoy it, too!
Print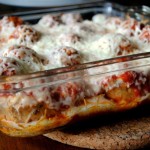 Lightened Up Meatball Casserole
Author:

Total Time:

25 minutes

Yield:

6 servings

Category:

chicken/turkey recipes, dinner, lunch/dinner recipes, recipes

Cuisine:

dinner
---
Description
Today's recipe is a lightened up version of Publix's meatball casserole. It's simple to make and was a big hit in our house.
---
Ingredients
1 (8 ounce) whole wheat baguette
15 – 18 frozen all-natural turkey meatballs
2 cups part-skim shredded mozzarella cheese
2 tablespoons fat-free Greek yogurt
1/2 cup + 2 tablespoons creamy goat cheese (I used Chavrie original goat cheese)
1/2 teaspoon parsley
1/2 teaspoon oregano
1/2 teaspoon basil
18 ounces marinara sauce (3/4 of a standard 24-ounce jar)
---
Instructions
Preheat oven to 400 degrees. Spray 9-inch baking dish with cooking spray.
Cut baguette into one-inch-thick slices and arrange in baking dish, packing tightly to fit.
Combine goat cheese, Greek yogurt and spices and spread mixture over bread slices. Sprinkle with 1 cup mozzarella cheese. Bake 6 – 7 minutes until cheese bubbles.
Cook meatballs according to package microwave directions. Stir marinara sauce into meatballs and pour on top of cheesy bread. Top with remaining cup of mozzarella cheese and bake 5 – 7 minutes until cheese melts and sauce is hot.
Serve and enjoy!
---
Notes
Recipe slightly adapted from Publix Aprons Meatball Casserole.
Keywords: casserole, meatball casserole, meatballs, Publix, Publix's Apron's, recipes, turkey meatballs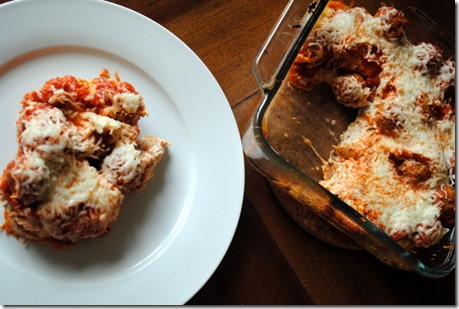 It finally happened. I've become buddies with the free sample lady at Publix.