As I was going to bed last night, I worried that waking up in the 5 a.m. hour would feel like waking up in the 4 a.m. hour thanks to the time change. I don't know if I pumped myself up beforehand or what, but when the alarm went off this morning, I got movin' pretty quickly!
I figured I would feel sluggish, but I think I was more motivated to get to the gym because I knew I had a cardio buddy today!
I am lovin' that Ryan is trying to incorporate more cardio into his workouts because he sure does make my time on the treadmill or the elliptical fly by!
This morning, before my usual BodyPump class, Ryan and I did 20 minutes of cardio on the elliptical and chatted about the week ahead.
BodyPump was only okay today. We did an older release that felt pretty easy, but that wasn't a bad thing because my triceps and shoulders are still sore from Saturday's TRX workout!
Locked Out
After the gym, it was time for Sadie's walk. We left on our walk after packing my lunch and saying goodbye to Ryan. The chilly weather has apparently decided to stick around for a while, so we walked briskly to keep warm.
After a quick 20 minute walk, we arrived home. When I went to reach for my keys, they weren't in my pocket! We were officially locked out.
Someone didn't seem to mind…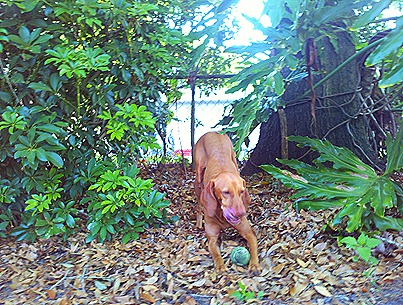 Sadie and I entertained ourselves in the backyard with several rounds of fetch while poor Ryan left work and battled traffic to come let us inside.
Once he arrived, I dashed upstairs to quickly shower.
Breakfast
By the time my shower was over, I was more than ready for breakfast.
On today's menu was baked pumpkin oatmeal topped with chia seeds that I made last night using Katie's recipe. I crumbled it up and served it with a sliced nectarine on top of vanilla Greek yogurt.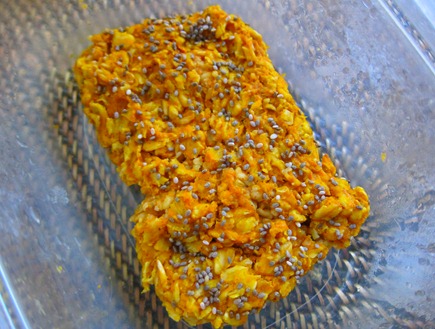 I loved all the different textures and flavors in this bowl!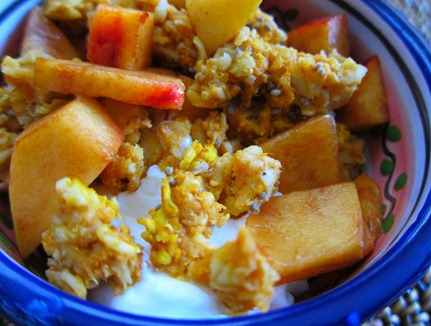 I'm off to rush to work. I'm a little behind today due to the lock out, so off I go!
See ya at lunch!